Keeping Safe In Your Studio
Ideal Environment, Equipment & Clothing
One of the most important safety considerations is keeping your equipment in good working order. Follow manufacturer's instructions and make regular safety checks.
I can't talk about maintenance without mentioning soldering irons.
So many people think that their precious iron looks after itself, week in, week out.
Not so.
My Soldering Iron Maintenance Blueprint mini-course shows the correct way to keep your precious iron in peak – and therefore safe – condition.
By following this simple regime, you'll be reassured AND you'll see your soldering improve alongside your iron's performance.
Have a good light source. If you can see well, safety follows.
Work on a sturdy table, at roughly waist height. Make sure it's not wobbly or unstable.
A rubber-backed carpet under your work area is a good idea if you don't have your own fixed workspace. This stops glass from spreading into your home. Always good!
Use a separate sturdy bin for glass waste, and dispose of it separately.
Having water nearby helps keep things clean and dust-free.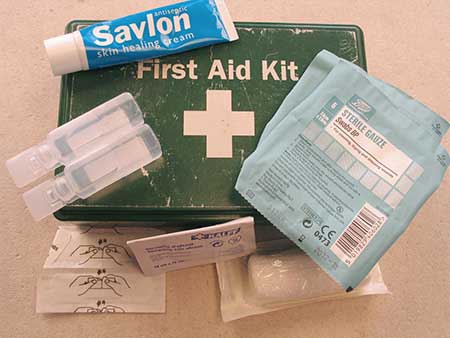 A basic first aid kit is a good idea, containing:
antiseptic, band aid, gauze pads, a couple of larger butterfly-style bandages. A pair of tweezers for removing the occasional splinter. Eye wash.
Wear safety glasses. This prevents you being hit by small glass fragments, hot flux and other such delights 🙂
Wear safety glasses over prescription spectacles. Double the protection!

Wear a dust mask if there is any risk of dust being created.
An apron is a good idea. Or old clothing you keep exclusively for glasswork. This helps keep glass from sneaking into your home environment.
Wash these glass clothes separately.
Wear closed shoes to protect your tender toes from hot solder and sharp glass!
What about gloves?
Some people advise wearing gloves for cutting, but they can make you less sensitive and responsive to the glass. I prefer not to wear gloves for cutting and grozing.
If it makes you feel more confident, find a pair that fit snugly and are rubberised (see photo) to prevent the glass slipping.

Cutting
Safe Working Practices
Dust can be a problem if you're grinding or making the edges safe with a carborundum stone. Use water to dampen the stone and prevent the particles from becoming airborne.
Small cuts are the most common problem. Clean and cover cuts and scrapes immediately with adhesive bandage.

Shards and specks of glass are more likely to cause problems than the bigger pieces you can see more easily. Never wipe shards up with your bare hands! Keep your work surface clear of shards by brushing regularly with a dustpan and bench brush.
Keep a pair of tweezers handy, to remove small splinters (very rare!)
Clean your work area with a damp cloth after each session to prevent glass dust from becoming airborne. This is more effective than brushing or vacuuming.
Wash your hands, arms and face thoroughly after each session.

Handling Glass
Try to handle glass with 'soft' hands. Imagine picking up a small baby hedgehog. If you move slowly and handle it gently, you're unlikely to hurt it, or it you.
When holding sheets, hold them in a vertical position, one hand below, the other on the side. Use protective gloves if you start carrying larger sheets.
Vertical is best for storing glass, too. It's always vulnerable when horizontal.
Don't hold glass above your head, place it on on window sill to look at instead.

If you drop any glass, tempting as it is, never try and catch it! Just move out of the way quickly.
Soldering
Safe Working Practices
Don't solder if pregnant or nursing a baby
Tie long hair back
Cover any cuts or grazes before soldering
Concentrate at all times, and look before you pick up a hot soldering iron!

Take care when you turn projects over. Solder retains its heat so give it time to cool before touching.
Don't overdo the flux, it causes more fumes and can cause splattering of hot solder
Solder on a heat/fire-resistant surface (eg Homasote or similar)
Never leave a hot soldering iron unattended
Use a soldering iron stand to hold your iron in between soldering. Never rest the hot iron on work surfaces
Always check when you place your hot iron in the stand that the wire isn't anywhere near the hot tip. You don't want to melt it.
Ventilation And Fumes
When the flux is burning off it is best to avoid breathing the fumes in.
These fumes can be largely avoided by making sure you have adequate ventilation:
Avoid soldering in tight, airless spaces
Solder near an open window. If possible, two windows are best for moving air, or use a fan.
Buy a dedicated fume extractor from a stained glass supply store
If ventilation is a concern, wear mask or respirator with filters for screening out vapours
When soldering, bend away from the fumes so that you inhale as little as possible
Read and adhere to manufacturers' labels on flux and solder products for additional safety information.
What You Can & Can't Do
Much as you love them, don't allow pets into your work area

Don't let children into your work space alone. They must have adult supervision at all times when working with stained glass materials and tools
Sadly, you can't eat, drink or smoke in your workspace when handling solder and glass. You can listen to music, though.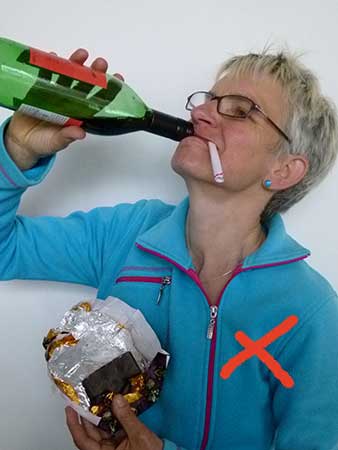 Make sure you keep your hands away from your mouth and eyes when working with solder and glass.
Keep Safe And Enjoy Yourself
Keep it neat! Tidy workers don't get burnt. Besides, it's soothing to work in a pleasant environment.
Be alert! Don't work when you're tired, hungry or otherwise distracted.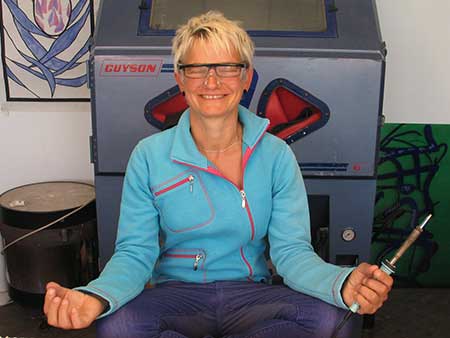 Keep calm! Rushing will prevent you working safely. It's part of the craft of stained glass to take your time and enjoy each step.