Art glass tools are there to make stained glass easy but what about when you need THREE hands? When two just isn't enough. Like soldering a beaded edge on a sun catcher for example… you know the one; you have the iron in one hand and the stained glass in the other – but what about the solder?!!
Here are some ideas for cheap art glass tools that I have gathered from my readers and students over the years. I'm sure you must have some of your own stained glass tool ideas too. Please share and let us know.
Twisting Solder
Try twisting the solder so that it stands up vertically on the bench on its own. Then you can melt solder on to the tip of the iron without putting your stained glass project down.
Using A Hand Clamp
Here's another idea that will solve your 'how can I hold everything' problem. Place the solder in the hand clamp and rest it on your work bench like this: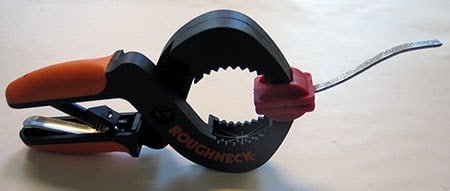 Using A Corner Vise
A brilliant idea for a great box making tool was sent to me by one of my followers Althea Collinsworth.
To hold the pieces of glass perfectly use a corner vise.
You can set it, use it to hold the glass while you solder and then slide the glass out and put new glass in of the same thickness without changing the tension. You just want to tighten it to hold it in place and since the mouths are plastic coated the glass slides in and out easily.
It's just as good and cheaper than the dedicated stained glass box makers you can buy.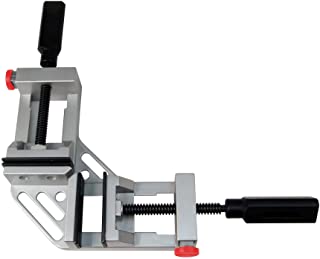 Take a look at this on Amazon here*
Alternatively you could copy this set up from Janusz Niedzielski to get a nice right angle. He places a piece of wire in the 'V' shape to stop solder leaking through to the other side. Ingenious!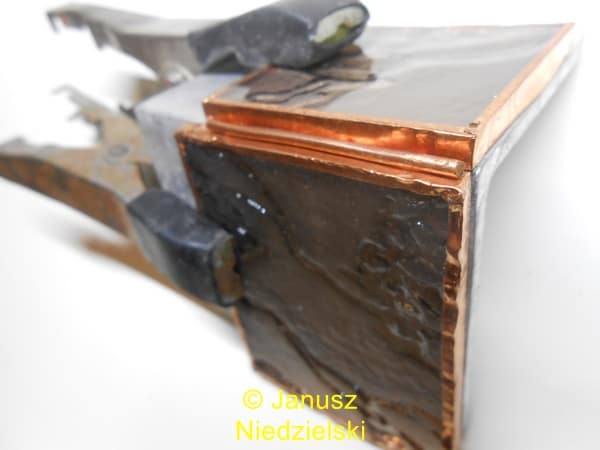 Using A Micro Vise
Gail Koebke suggested this clever idea. It's a tiny vacuum held vise that 'sucks' on to your work bench. It's perfect for stained glass; very handy and good value.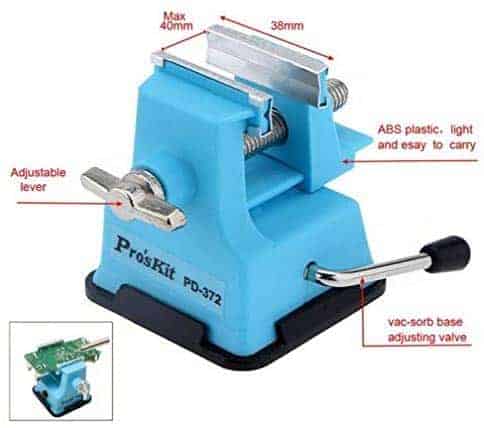 Amazon have the vise here if you like the look of it*
*Just so's you know, if you click and buy through the Amazon links within 24 hrs I get a small % from Amazon, (not you!). Thanks in advance but no worries if you have a local store – I'd always support them first 🙂
Other Stained Glass Tool Ideas
You can use a cardboard box with scrunched up newspaper. How simple and effective is that? SO cheap and cheerful!
Modelling clay moulded to support the glass
Or a dish of dried popping corn to hold small things
Kinetic Sand. This is for children but us stained glassers like to use children's toys 🙂
Here are some very sophisticated ideas for holding 3-D objects from follower (and retired engineer!) Janusz Niedzielski. Big thanks 🙂

One of my readers Ray has kindly sent this clever idea to me. Thanks for sharing Ray. As he says this is a stained glass window upright support – it's nice and simple with only one moving part.
This is another good idea from Janusz Niedzielski You can use plasters to enable you to hold glass blobs with less chance of getting burnt when soldering. The heat will transmit around the sides so be careful as the plasters will only offer a small amount of heat proofing.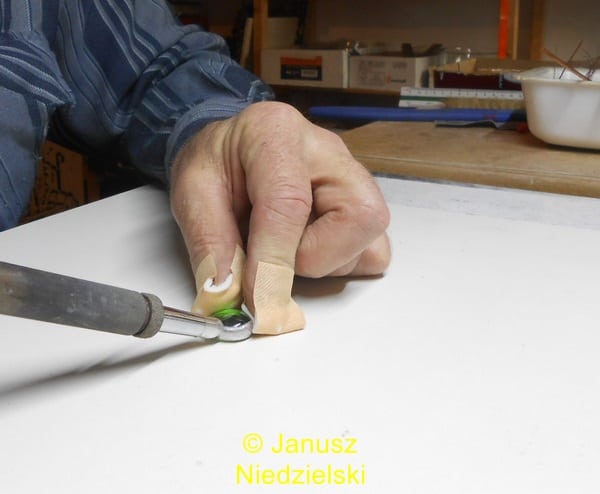 More Art Glass Tools
If leaded glass is your passion, I have a page on Stained Glass Leading Tools here for you.
PIN IT FOR LATER