How to clean lead came joints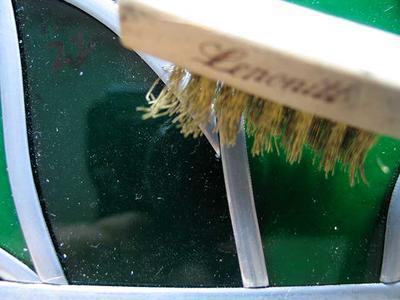 Brushing lead joints
I have a lead came piece that I let sit with flux on the joints and glass. (School started back and I'm a teacher)
What is the best way to clean the piece before using cement and whitening? Thanks!!
Milly's reply: Hi Brittany, I know what you mean about having to leave things – 'life' gets in the way of 'art'!
But it is redeemable. Simply use a wire brush and brush each joint where the flux is. It may scratch the lead a bit, but don't worry too much about that, as the polishing will hide that later.
It's more important to have clean lead came without any oxidisation for soldering on to.
There's a photo on my site that might help you. It's towards the bottom of the soldering page.
When I'm getting the flux off the lead came after soldering, I tend to use a suede brush. There the ones you can buy in shoe stores to buff up your suede shoes! I find them a bit kinder to the lead than the wire ones.
Good luck with retrieving your project.