Beautiful Panel Inspired by Landscape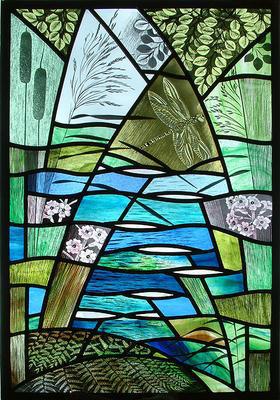 Fairhaven
Another great panel from Julia in Norfolk, UK. There's so much going on here, I don't know where to start. Perhaps with the gorgeous painted details – the grasses and flowers are exquisite. I love the leaves at the top, they bring a lovely light canopy to the scene.
She mostly paints by using a wash, which is painted over the whole piece, and then creating the detail by scraping into the paint, revealing the color underneath. Remember those scratch pads when you were younger, black on top, with different hidden colors underneath, that you had to reveal by scratching? A bit like that, but much more skillful!
She's really beginning to develop her own distinctive style, which is great. When you start being recognized for your art you know you're getting somewhere! If you want to see what I mean, have a look at her Poppies panel.
Panel by Julia Richardson. Inspired by Fairhaven Water Gardens in Norfolk.
Comments for Fairhaven
I had no idea…..
Julia Richardson
I had no idea this technique is called 'scraffito'. Thanks again Milly!
---
LOVELY!!
Karen (floridachi)
This is a great panel!!
I think my favorite is the cattails (typha) peeking up on the upper portion of the glass!
LOVE IT!
---
Absolutely beautiful!
Audrey
Love love love this one. I might have to try your technique! You do scratch it before firing right? I agree, your work is recognizable now.
Milly's comment:
Thanks for your comment Audrey. The scratching technique is called 'scraffito', and you can see how it's done here: Scraffito. It's great fun and very addictive!
---
Sterling!
Larry Stout
Just returned from two weeks in Spain and Morocco. In the latter country, a professional photographer from Namibia raved about his photo ops with such superlatives as "Incredible! Simply amazing! Outstanding!" I think these descriptors apply equally to Julia's splendid glass art! It's truly exquisite!
---
Thank you
Julia Richardson
Thank you Milly! I really appreciate your comments. This panel was made to fit into a free standing wooden frame to fit inside a customers window and can be moved from room to room. The customer lives near Fairhaven and loves visiting the gardens. I went with her on such a trip and took loads of photographs and used them to design the panel.