Your glass cutter is one of the most important parts of your stained glass kit. Cutters come in lots of different shapes so that everyone can find one that suits them.
Some have a hollow shaft that's filled with oil and some don't. Most have tungsten carbide wheels.
Holding Your Glass Cutter
Sometimes big improvements can be made in your cutting accuracy simply by changing the way you hold your glass cutter.
There are many many ways of holding a cutter, but the best one is the one that's right for you. It has to feel comfortable in your hand and act as an extension to your hand.
Here's a 2 minute video showing how to hold the different cutters:

Take control of your cutter
K Star and Toyo Cutters
K Star and Toyo both make oil-filled cutters and both offer pencil and pistol grip cutters. They both have a reservoir for oil which feeds down into the cutter head and on to the wheel.
The only difference is the shape. Pencil cutters are the standard shape and suit people who have no issues with applying pressure with their wrists.
Pistol grip cutters are shaped like a pistol and held like a club rather than a pencil. They are very good for people who may have trouble applying pressure – someone with carpel tunnel syndrome for example.
---
If you're struggling with cutting glass that fits there are many easy-to-learn techniques that will help you get better.
If you don't have a local class my Conquering Curves course has taught lots of people the skills to cut shapes accurately. When you start off with neat shapes that fit well everything else is made easier.
The course fits in with your life and can be done whenever you want. Because it's online you can learn the essential cutting techniques even if you are unable to get to a physical class. You can find out more about it here Conquering Curves.
---
Best Glass Cutter
The cutters I use all the time are made by Toyo. I personally prefer the pencil grip – called the Comfort Grip Supercutter – but others love the pistol grip – called a Pistol Grip SuperCutter. It's all a matter of preference.
The Toyo Comfort Grip Supercutter is the one I recommend.
Buy it here from Amazon (paid link) .
It's lighter and more comfortable than others I've tried and cuts down on cramp
Lasts for ages, with replaceable head. I've had mine for years
It has an ingenious pressure system for dispensing oil, which also enables you to gauge how much pressure you need to score a piece of glass
Very good for general purpose and frequent use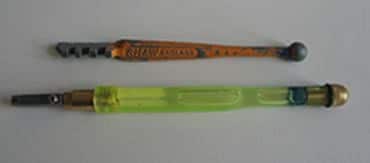 Shaw Cutters
The cheapest cutters are called Shaw cutters and are made of metal. These have steel wheels, not carbide. I would recommend getting one – but not for cutting!
I use mine for tapping and opening up tricky score lines from underneath, as I find the weight of them much better than the plastic oil-filled models.
They are the most basic of cutters and were used for stained glass all the time.
My experience as a teacher has taught me that the newer oil-filled cutters are easier for beginners. Those not used to cutting glass find Shaw cutters difficult to use and so I don't recommend them for beginners.
There are those that swear by them though!
Choosing The Right Cutter Head
wider heads are good for straight lines
narrower heads are better for cutting curves to a pattern
138 degree angle – the most widely available – are suitable for 2mm -10mm glass
Replacement Heads
Cutters will last for ages if you look after them. Don't go over that scoreline again, however tempting!
You'll know when they start becoming blunt because it will become harder and harder for you to make a good scoreline. When this happens you can buy replacement heads that you simply screw on to your cutter. This is a much cheaper option than buying a whole new cutter.
Brass Circle Cutter
I love demonstrating this Circle Cutter tool to my students, it's like magic!
It has a suction pad, a ruler to enable you to measure the diameter of your circle, and a tungsten carbide wheel to create the scoreline as you move it through 360 degrees.
It's a Silberschnitt Circle Cutter (paid link) and is incredibly well made and robust. It has a revolving wheel with multiple replacement heads on it. This means you can simply move the head around when a wheel becomes blunt.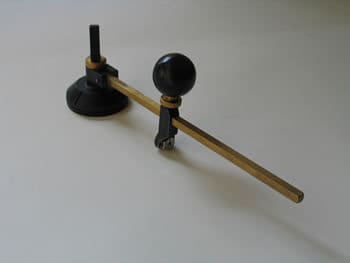 Glass Cutter Oil
Glass cutter oil can be purchased in 200ml bottles. To be honest, I've used various oils when I've been desperate, with no ill effects. Kerosene or sewing machine oil are good household alternatives and much cheaper.
Cutting Mats
These are a bit spongy, and help keep the glass from slipping. They have what looks like graph lines on them so if you're wanting to cut straight lines they are quite useful.
I use spare bits of linoleum left over from various Do It Yourself jobs and have found them to provide a very good surface for cutting on as they are a little bit cushioned and absorb the pressure of the cutting.
A Readers Experience of the Toyo Cutter:
I have also upgraded both my glass cutter and soldering iron (both replaced with products recommended by you) and they make the process so much better. The proper tools really do make a difference. I feel that my pieces look better – that could also be due to practice 🙂 – but there's a lot less frustration with each step.
Hakko FX601-02 soldering iron and the Toyo Supercutter glass cutter both much better quality that what I was using before. Well worth the extra money.
Polly Smith-Blackwell USA in New York State/Chemung County.
Glass Cutter Maintainence
Q. My pistol grip cutter's blade is all "oil gunked". Can the tip and the inside of the cutter be cleaned? And, if so, with what?
A: Try soaking it in oil first, then getting a push pin or interdental brush to dislodge the gunk. Then run the cutter wheel up and down a bit of spare linoleum or a similar cushioned surface. That should do it.
Helpful Resources
Here's a fantastic 3.5 minute video that takes you through all the different cutters available. It also tell you when you need oil for cutting. You might be surprised!

Helpful video showing all the different types of cutter
If you'd like to learn how to cut glass with your new cutter, here's a helpful tutorial showing you how.
There's a big selection of free glass cutting tutorials here