Measuring For A Window
If you want to make stained glass windows that are going to fit into a specific building, it's important to get the measurements accurate right from the beginning. It's best to take the measurements even before you start your design, so that you can scale your design up easily to fit.
Do you need to measure?
You only need to take these measurements to get your panel to fit in a building. If you are learning how to make a stained glass sun catcher, or a hanging panel that doesn't need to fit in a window frame you don't need to take these measurements. You can go straight to Designing or Finding a Pattern. 
1. Measuring The Window Opening
This is quite hard to describe but isn't hard to do once you break it down logically.
If you think about the task in three stages, it might help. You need:
the size of the opening – the Tight Size
the adjustments needed to make room for putty – the Fitting Size
the measurements needed so that the whole of your design is visible – the Sight Size
Once you've done this you can then move on to the final measurement – the Cutline Size – so that your pattern is accurate for cutting. This is worked out in relation to the width of your perimeter lead. I explain this further down the page under Section 3 .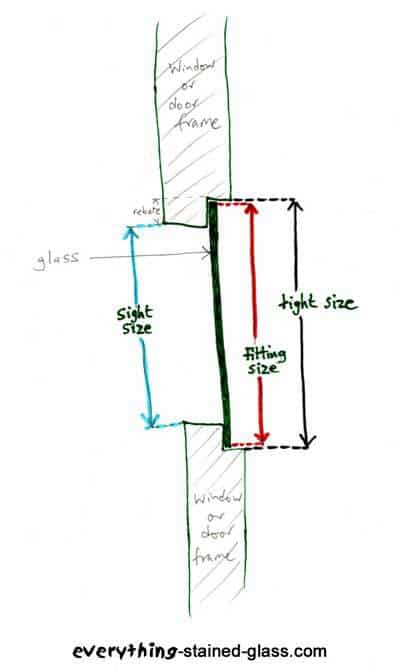 1. the
Tight Size
= the exact size of the window opening you're making your panel for.
Have a good look at the window or door panel. You can probably see that the sheet glass is held in with either putty or a wooden rebate. The drawing above might help. You need to measure not only the glass you can see, but to the edge of the frame underneath the putty or wooden rebate.
This will be your largest measurement.
2. the Sight Size = the size of the glass area that you can actually see.
If you have beading or putty holding the existing glass in around the edges, measure to the inside edge of the beading. The diagram above explains this. You need to know this measurement so that when you make your panel the whole of your design will be visible.
You wouldn't want the tip of a leaf to be chopped off behind beading, you want it all to show.
This measurement is your smallest measurement.
Some people call this the Daylight Size.
3. the Fitting Size

=

the measurements of the outside edge of your stained glass panel.
This is worked out in relation to the Tight Size. 
If you imagine going to a glaziers and asking them to cut you a piece of glass for a window, they never cut the exact, (tight) size of the opening, they always take a bit off around the edge so that there is some 'wiggle' room and for the putty to fit in around it.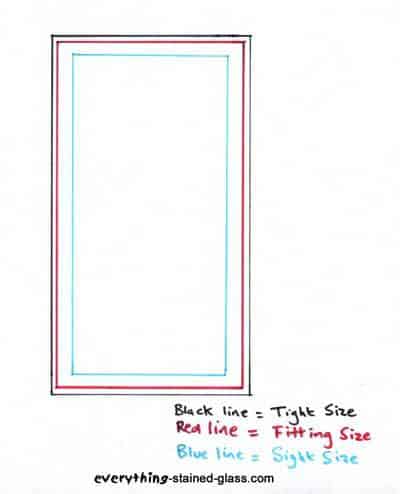 Work out the Fitting Size by subtracting 1/8th inch or 2mm from each edge of the Tight Size. The drawing above might help you visualise what I'm talking about.
This set of measurements will be somewhere in between the Tight and Sight Size.
Once you've got your fitting size measurement, you can forget about the tight size altogether.
2. Things to Remember
Make sure you measure all 4 sides. Some windows are not geometric!
If you are making a pair of windows, measure both. Never assume windows are the same size, especially in older buildings.
Measure the angles to make sure the window is square. Templates can be used for very irregular shaped windows.
3. Taking The Final Measurement – Cutline
Once you're happy with your coloured design (sometimes called a Full Size Cartoon) you need to make a Cutline for cutting the art glass pieces accurately from it. You might call this a pattern.
Traditionally the stained glass artisan would work up a full size cartoon which included all the colours, lead lines and decorative detail needed for the window. This gave them a chance to see the balance of the finished window before committing to glass.
Then a thick sheet of tracing paper would be laid over the whole cartoon (design) and the Cutline traced on it. The lines were traced down the centre of the lead lines. 
the

Cutline

= the line pattern you work from to cut your glass. This measurement has to take into account the width of your perimeter lead or zinc.
If you look at the drawing below, you'll see what I mean.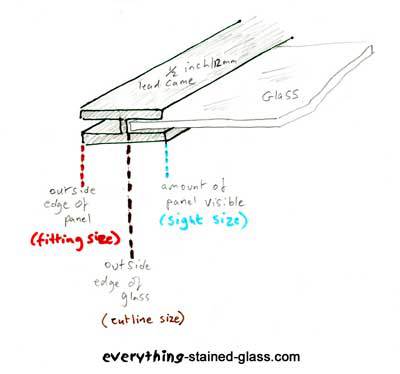 You can see from this diagram that you can't use your Fitting size for cutting glass, otherwise there will be no room for the lead or zinc came, and your panel will end up too big. So you must cut your glass smaller to allow for the border lead or zinc.
How much smaller depends on how wide your border lead is. Let's use the example of 1/2inch (12mm) lead. This is the width that is usually used to edge window panels.
You want to cut your glass to the inside of the heart, so you need to measure 1/4 inch (7mm) in from each edge of the Fitting size for your art glass cutting pattern (Cutline).
This Cutline will be in between your Fitting and Sight size.
Check Your Measurements
It seems very complicated when I explain it, but if you take it a step at a time, you'll see that it's quite logical and obvious. I always get all these measurements worked out – and checked three times! – at the beginning of a project. I write them all down in my sketchbook clearly, making sure I label them.
Once you're happy with them, and are confident they're accurate, you're ready for Designing or Finding a Pattern.
Learn the Lead Came Technique
Learning lead doesn't need that many more tools and is a LOT easier than you think. And so satisfying!
If you haven't tried using lead yet and would like to learn how to make windows to install in buildings but don't have a local class my online Leaded Stained Glass Artistry course has taught many people – even those who have never used lead before – how to make a stained glass panel using lead came.
The course is self-paced and online so you can learn this lovely technique even if you are unable to get to a class. You can find out more about it here Leaded Stained Glass Artistry
Using Zinc? This page on U came has some detail