Favourite Stained Glass Tools & Equipment
My tried and trusted stained glass tools have followed me around for years. We share a history like old friends.
I thought it could be useful to share a few of my favourite recommended tools and – more importantly – why I use them. Just in case you're missing some and aren't sure which to choose.
I will say that when I started I had a handful of ancient borrowed stained glass tools. Only when stained glass got into my bones and become an addiction did I start to invest in better equipment. And even then it was a slow process – I didn't start with the very best tools but got there eventually through trial and error and as my business took off.
I've chosen a selection of my most important everyday stained glass tools and some quirky ones that you may not have thought about or heard of.
Just so's you know, if you click and buy through the links within 24 hrs I get a small % from Amazon. Thanks in advance. If you have a local store use them – I'd always support them first 🙂
New-To-Me Stained Glass Tools & Materials
Each year I try some new tools or materials to see if they help my stained glass. We all have things to learn!
As a result, I'm adding 3 new things to my list of must-haves:
Renaissance Wax
This Renaissance Wax is the best I've tried. It was recommended to me by a friend who restores and looks after paintings. I used it for the first time at the beginning of Lockdown and have been monitoring it ever since. It passes all my tests for protection and delaying oxidation so I'll be adopting it permanently.
It's not cheap but you only use a teeny weeny bit – I used less than I normally do. And it smells a bit so I'd recommend ventilation.
Fun Fact: It was formulated by the British Museum in the 50s to help preserve all their treasures. So it must be tip top excellent.
Oh, and Robert Wear, one of my online students, says this about it: "I finally have my black patina dark and shiny.  I am very fussy (I like your word "fiddly") and am now pleased with the results."
---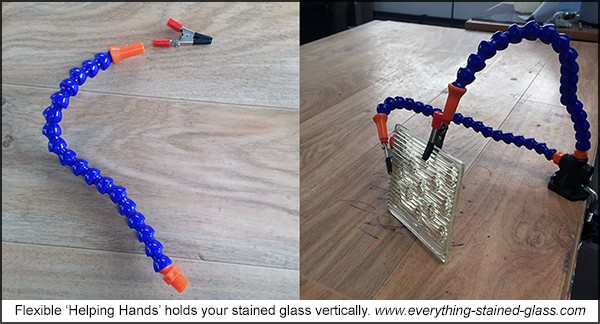 Helping Hand for Soldering
I've tried lots of contraptions for holding stained glass vertically when soldering edges and they all work up to a point… but then I found this!
I love that it's flexible and clamps anywhere on your desk. It makes supporting weirdly shaped sun catchers easy and secure.
I have the 2-handed one and that has been fine to date but I can see a time when I'd need more arms.
You can get the '2-handed' one in the UK here (paid)
I couldn't find any less than 4 hands available in the US. The more the merrier! You can add and detach at your will.
---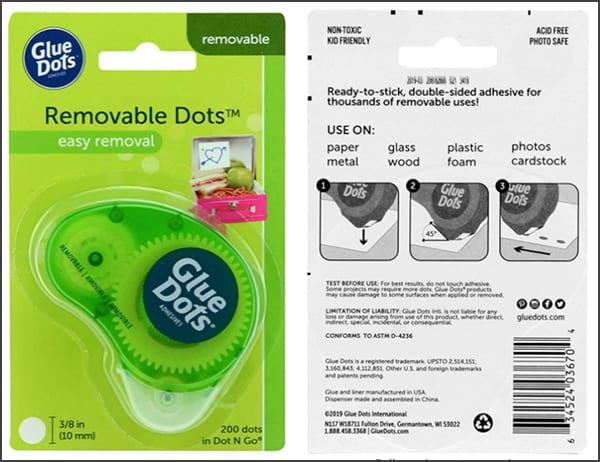 Glue Dots
One of my online students brought these to my attention (thanks Lori!)
They're removable glue dots that you can reposition.
Instead of gluing down your pattern pieces just stick these in the corners and intermittently along the edges if needed.
After cutting the glass you can remove them easily. Make sure you get the Removable ones for this reason.
---
Glass Cutting Tools
Toyo Custom-Grip Supercutter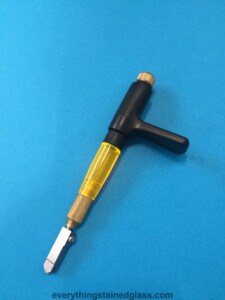 I find the shape of it, with the saddle, very easy to use. It helps both with downward pressure and control. You don't have to grip hard and your hand can relax! It might help those who have problems gripping AND pressing at the same time.
Comfort Grip Supercutter by Toyo

This is the type of cutter I started with 20+ years ago… and I still use it, along with my new find last year (above).
Although you don't need oil to cut glass I prefer it. This Toyo is oil-fed, lightweight, comfortable to use and seems to last forever!
---
Strip and Circle Glass Cutter

This simple strip cutter from Glastar is the perfect tool for making boxes and lamps; I use it for any projects that call for multiple identical geometric shapes. It's accurate and speedy which is precisely what I need for 3-D or geometric projects.
---
Studio Pro 3/8″ Breaker / Grozer Pliers

Grozing is my secret weapon! It speeds you up at the cutting stage and saves your grinder head from hours of grinding. These plier handles are spring-loaded which stops you having to open them up after each grozing action. The jaws last longer than other makes I've tried and they are very reasonably priced.
---
Silberschnitt Glass Cut Running Pliers

I've been using Studio Pro Running Pliers forever and found them both hard-wearing and accurate.
Then I tried Silberschnitt Running Pliers. Well! These pliers are a class above. They take a bit of getting used to because they have an adjustable rubber pad that you twist to follow the direction of the score. Once you've got the hang of it you won't break half as much glass.
They're especially useful for cutting curves and shapes with narrow sections.
---
Glass Grinding Tools

I'm delighted to see that this Inland grinder is available again – they were impossible to get for a good while.
Before I got my Glastar All Star G8 (which I also love) I used one of these for years and years. It's still going!
I'm adding it to this list because it's a reliable, solid grinder – at a very reasonable price – that I couldn't have done without when I first started out.
---
Grinder Cookie

I was so dubious about this space-ship-shaped 'thing' when I first saw it.
I couldn't see how it would help hold those tiny bits of glass to the grinder head without filing my fingers off…
…but it does, perfectly.
I now use this all the time when grinding small pieces of glass.
---
Soldering Tools and Materials

This is a little-known gem. It magically removes that build up of black gunk that occasionally gathers on your iron tip.
I don't use it instead of a damp sponge, I use it every now and then when the gunk won't come off with the sponge. A small tip; leave the lid off once you've opened it – you won't get it back on otherwise!
---
Hakko Solder Reel Stand

I use this nifty solder holder instead of a third hand! It speeds my seams up and means that my solder is always to hand when I want a small amount on the end of my iron.
It's really good quality too, which pleases me.
---
Hakko FX-601

I have a range of soldering irons but this is the most versatile one. The temperature dial means that I can easily adjust the temperature to the job in hand.
It's light, heats up quickly and – most importantly – maintains a consistent temperature for soldering smooth seams.
This is another new(ish) addition to my essential tools and one I wouldn't be without now.
View on Amazon (paid link): Hakko FX 601
A Readers Experience of the Hakko:
I have also upgraded both my glass cutter and soldering iron (both replaced with products recommended by you) and they make the process so much better. The proper tools really do make a difference. I feel that my pieces look better – that could also be due to practice 🙂 – but there's a lot less frustration with each step.
Hakko FX601-02 soldering iron and the Toyo Supercutter glass cutter  both much better quality that what I was using before. Well worth the extra money.
Polly Smith-Blackwell USA in New York State/Chemung County.
---
Lead Came Tools and Materials

These angle cutters were a relatively late addition to my 'essential tools' list. I use them to cut long tapering angles in lead came.
They don't squash the came and use less effort than either a knife or nippers because of the razor sharp blade.
I found a very reasonably priced version in the UK Amazon here – the exact ones I have aren't available anymore but these are tried and tested.
---
Rutland Stove Polish for Lead Came

This may be a new one for you. I use Rutland stove polish to blacken off my leaded panels. Not copper foiled solder seams. It works better on lead came than black patina and polishes up to a gorgeous shine.
---
So now you have some of the tools I use to make my creative stained glass work. I'd like to stress one thing though; tools don't magic up quality and creativity.
My instinctive reaction to questions about the tools I use is typically "it doesn't matter". Tiffany Studios didn't create stunning windows because of their tools. Harry Clarke's delicate genius wasn't reliant on the latest gadget. They didn't have access to HALF the tools we use!
Stained glass tools can make things better and easier but they can also be a distraction. Tools are maybe 5% of the equation at most, the rest is you creating beautiful work.
I too have a fascination for what tools people use so I do understand. My own personal mantra is this; first I work at the skill I want to develop, then and only then do I dive a little into what tools could make it better. Oftentimes I'll end up using the same tools I started with, even if it's not seen as the 'best' or most luxurious. Like using a simple lead stretcher like this one rather than the more complex (and expensive!) Stanton Stretcher like this one .
More of Milly's Recommended Tools
If you click and buy through the links within 24 hrs I get a small % from Amazon (not you!). Thanks in advance but no worries if you have a local store – I'd always support them first 🙂
Chartres Cathedral Book
Not a tool but something I'm excited to share with you. It's a delightful retelling of the Good Samaritan story through lots and LOTS of images of the stained glass in the cathedral. All on glossy paper. It's pretty special. You can have a look at it at Amazon here – but only in the US I'm afraid 🙁

Stained Glass Safety
Heavy duty respirator for soldering
Design and Pattern Prep
31 Weekend Stained Glass Project book
Louis Comfort Tiffany: Treasures from the Driehaus Collection
Bird Designs Stained Glass Pattern Book
How to design stained glass book
Precision Craft Knife with 5 spare blades
Cutting
Breman Precision Stainless Steel Cork Back Ruler (18″)
These are perfectly fine if you can't stretch to the Silberschnitt cut runners just yet.
A luxury and something to move on to when you have everything single stained glass tool in the universe!
Grinding
These aren't for grinding but they're very useful for deadening the edges of glass to make it safe to foil.
Assembling
Copper Foil Technique
If you're right at the beginning of learning stained glass you might want to choose a kit rather than each tool separately. This one is contains solid and reliable tools and materials to get you started: Stained Glass Start-Up Kit
Good for holding your projects in place before and during soldering.
Morton Layout Add Ons 12″ & 3″ for Stained Glass
Studio Pro 1/4″ Copper Foil – 1.25 Mil
Great for adding decorative detail to your work with foil overlay.
Lead Came Technique
Ultimate Lead Upgrade Tool Kit
Professional Weighted Lead Knife for Stained Glass Work
Horseshoe Nails for Stained Glass
Stop Blocks for Lead and Glass
1/2 pint of black Stained Glass Putty
Soldering
Finishing
Copper Foil Technique
A revelation. You can now clean flux off your work without soap and water.
Novacan Super Brite Copper Patina For Solder – 8 Oz
Great for final polish if you're not using patina.
Lead Came Technique
Novacan Black Patina For Lead And Solder – 8 Oz
This is for LEAD and not for copper foil soldered seams.
Framing and Hanging
Stainless Steel Open Jump Rings
Selling Stained Glass
How to price crafts …
A Beginners Guide To Making Money With Art Glass
Etching Glass
Grafix 9 X 12″ Stencil Film, 4-Pack
Rub n Etch Glass Etching Stencils
Just so's you know, if you click and buy through the links within 24 hrs I get a small % from Amazon (not you!). Thanks in advance but no worries if you have a local store – I'd always support them first 🙂
Go here for more explanations of tools used for the copper foil method
You'll find the lead came tools discussed here