Weatherproof Your Stained Glass Panel
Up until now, your panel has been a bit delicate and easily harmed. The cementing stage will make it strong and waterproof.
A black putty mixture is pushed under the lead came, which hardens to make the stain glass panel firm.
Click here to go to recipes for making your own stained glass cement
What You Need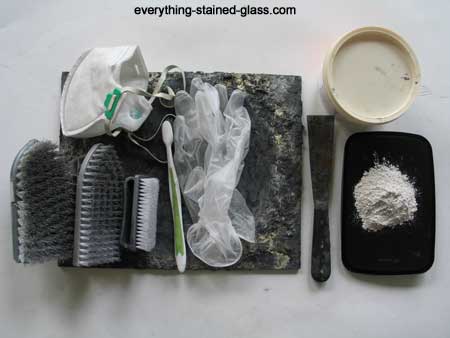 Tub of black cement
Piece of toughened glass or a board for mixing
Mixing knife
Fid
Latex gloves
A couple of scrubbing brushes, nail brush or old toothbrush 6. Whiting (chalk powder)
Dustpan and brush 8. Newspaper 9. Dust mask.
If you want to mix your own cement, replace the ready-made black cement with:
Mineral spirit (White spirit (UK) = Mineral spirits (US, Canada) = Mineral turpentine (AU/NZ). Generic name = paint thinner), Linseed boiled, Whiting (chalk dust) and Lamp black or black poster/powder paint. The recipe is below.
---
If you're new to using lead came as a technique I would highly recommend you give it a try. It will add a great deal to your skill set and give you the best of both stained glass worlds – foil and lead.
If you don't have a local class my Leaded Stained Glass Artistry course has taught many people – even those who have never used lead before – how to make a stained glass panel using lead came. The course is self-paced and online so you can learn this lovely technique even if you are unable to get to a class. You can find out more about it here Leaded Stained Glass Artistry.
---
Cementing A Lead Came Panel
1. Mixing The Cement
If you're going to do a lot of lead came panels, it's cheaper to make your own cement (see below). Otherwise you can buy a pot of ready made black cement at any stain glass suppliers.

– The ready made cement has to be mixed for about 15 minutes. It's easier to take some out and mix it with a strong knife on a board.
Mix Your Own Cement Recipes
If you make leaded stained glass you can save lots of $$ by making your own putty for stained glass. Make sure you just make the amount you need as it doesn't keep. I have 2 recipes here for you to choose from, one with and one without mineral (white) spirit.
The main ingredients for leaded light cement are boiled linseed oil and whiting. Boiled linseed oil dries quicker than linseed oil – hence its inclusion in the recipes.
Mineral spirits also help accelerate the drying process but aren't essential. They help if you have a quick turnaround on the panel and want it to dry quicker. I add 5-10% white spirit (mineral spirits).
You might want to do one with, one without, to see which you prefer. It's not going to do any damage so good to experiment to find your own preferred way.
Cement Recipe 1
1/4 cup mineral spirit (white spirit)
1/4 cup linseed boiled
2 cups of whiting
Spoonful of lamp black or black poster paint.
Cement Recipe 2
Alternatively you could try this one as a starting point. Be prepared to experiment:
1 oz = 1/8 cup of boiled linseed oil
1 oz = 1/8 cup of raw linseed oil
4 oz = 6 Tbs whiting. 6 Tbs is runny; between 8–9 Tbs is thicker.
Mixing Method
Add whiting to the linseed oil and mineral spirits (if using).
Mix, either by hand or you can use an old mixer if you have one with a bread hook. Don't bake it!!! Add more whiting to get the preferred consistency. Add more whiting if you prefer your cement thicker.  You don't want it to be too thick (think PlayDough). Once mixed it needs to be of a consistency that's easy to push under the came.
You don't want it too stiff otherwise it's difficult to push it under the flanges of the lead.
When it's mixed together, add a spoonful of black powder paint. This is to colour the cement it has no other function.
2. Brushing Cement Under The Stain Glass Lead Came
Place your panel on some newspaper.
Using either an old toothbrush or a scrubbing brush, start pushing the cement under the leaves of the lead. Plastic nail brushes are great for this.
Work the cement in across the leads. If you brush up and down the length of the lead you will remove the putty you're trying to put in.

Don't worry if you get more black cement in one side than the other, it's normal and adds to the texture of the panel.
If you have enough time, it's best to cement both sides at once and clean up afterwards.
You can do one side at a time as long as you clean it thoroughly before stopping. If you leave the cement on too long it starts to harden and is difficult to clean off the lead came.
3. Trapping The Cement Under The Lead Came
Scrape away the excess cement with the fid. This can be reused if sealed tightly in your putty pot.

Use the flat end of the fid and gently push down each side of the lead onto the glass.
You can break your glass at this point, so don't push too hard.
Don't worry too much with this if you're using narrow lead – 3/16 (5mm) – as there's not enough width to push down.
4. Cleaning Up
Sprinkle with whiting (chalk dust) and rub over the whole panel so the chalk dust absorbs the linseed oil.
Trace round each glass shape with the 'beak' of the fid to loosen the spare cement.

With firm pressure, brush this spare cement off with a scrubbing brush. If you can find one with short bristles they work very well. As above, brush across, not along the length of the leads.
Make sure you get all the putty off the lead came before it hardens and becomes tricky to remove.
Turn the stain glass panel over and do the same on the other side.
Some of the putty will squeeze through, but don't worry as you are yet to do the final clean.
5. Drying The Cement
Once you've cleaned all the leads and glass with the whiting you're finished for now.
Leave the stain glass panel for about three days so that the cement can dry and harden.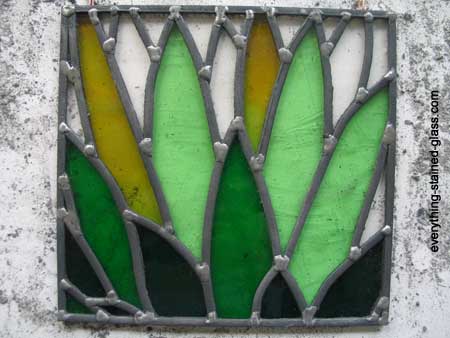 Helpful Resources
Here's a 48 second video showing how to cement stain glass. There's a couple of things to watch out for:
Usually the cement is a bit runnier than this.
Using a knife isn't recommended, as you might scratch the glass and it's not very flexible for pushing the cement.
But all the same, it might be helpful and give you some idea of the process.
Short video showing how to cement a stain glass panel
Once your panel has dried for 2-3 days you're ready for the final stage Cleaning and Polishing.