Polishing Lead Came
The final step of stained glass making really adds class to your panel. It is done after the black cement has dried and hardened.
The cleaning gets rid of any black cement that has squeezed out from under the lead came during drying. The polishing blackens the lead and the solder joins and makes the whole panel sparkle.
What You Need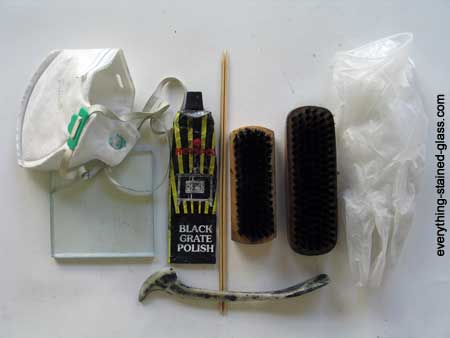 Black graphite polish (grate blackener) available from stained glass suppliers, two shoe brushes, fid, wooden skewer (or similar), dust mask, latex gloves, newspaper, dustpan and brush.
Stained Glass Making – Final Clean and Polish
1. Picking out
How far you go with this process is up to you. Some people spend ages on it, others prefer the 'softer' look of a leaded panel that has rounded puttied corners.

– Trace around the shapes with the wooden skewer.
– Use the fid to remove any hardened black cement that has squeezed through during the cementing process.
---
If you're new to using lead came as a technique I would highly recommend you give it a try. It will add a great deal to your skill set and give you the best of both stained glass worlds – foil and lead.
If you don't have a local class my Leaded Stained Glass Artistry course has taught many people – even those who have never used lead before – how to make a stained glass panel using lead came. The course is self-paced and online so you can learn this lovely technique even if you are unable to get to a class. You can find out more about it here Leaded Stained Glass Artistry.
---

– Brush off any dry bits of cement.
– Hold the panel up to the light or put on a light box to make sure you have scraped off all the cement.

2. Blackening the leads
– Squeeze a bit of the black graphite polish onto a piece of scrap sheetglass.
– Dab one of the shoe brushes into it. You don't want to get too much on to the panel.

– Brush along the lead came, taking care to cover the solder joints.
– Leave for half an hour to allow the graphite polish to dry.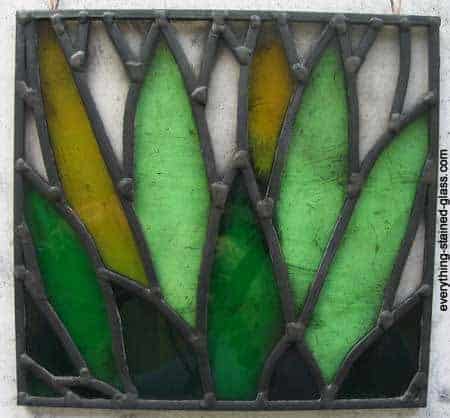 3. Polishing the lead came
– Take the other (clean) shoe brush and brush both the stained glass and lead came.
– This needs quite a lot of effort. Work at it until you can touch the panel without getting black fingers.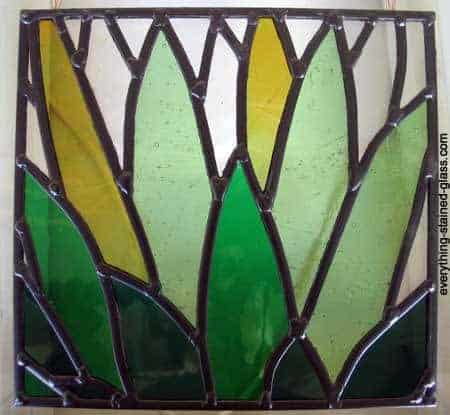 That's it. Everything is shining and your stain glass panel is finished. All that's left to do is hang it in the window and invite everyone round to your house to admire it! Big congratulations 🙂