How to Avoid Devitrification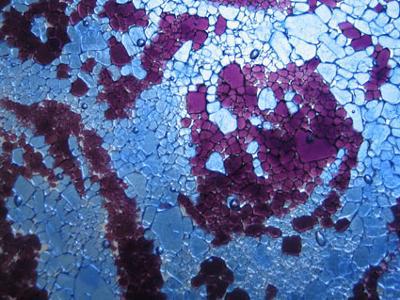 Fused table top, detail
I am so frustrated and I didn't have this issue with the same firing schedule in the cooler weather – now that the weather is hotter outside, I'm getting a white, rough scum on the bottom of my fused, 1 layer glass cabs!! Is there a firing schedule that will avoid this. I don't understand why this is happening. All my pieces were coming out the kiln fine in the winter/spring and now that the summer has arrived I'm now getting yucky pieces!! Can you please help with a kiln firing schedule for me? Thank you, Leslie
Milly's reply:
Firstly, are you using the same kiln wash / separator or ceramic fibre paper as before? Thinfire paper can cause dullness on the bottom of fused glass, particularly if you try and reuse it. Has the kiln or kiln shelf got damp – maybe with humid heat?! Do you get that in Lansdale?!
The first step in avoiding devitrification is cleanliness – I can't stress how important this is. If all your glass is spotless, you could try a devitrification spray before fusing glass. You can buy them ready mixed, spray it on thinly and wait for it to dry thoroughly before firing.
Devitrification occurs when you hold the glass at the fusing temperature too long. You don't say what type of glass you're using, but a full fuse temperature is around 1450F/788C to 1500F/816C. Hold for 10mins, and cool as fast as possible. You could crash cool at this stage by opening the glass kiln door, but wear goggles, fire resistant gloves and any protective clothing you can get your hands on!
I hope this helps a bit – it's really annoying when something that has worked suddenly stops working, and you haven't changed anything… Grr.
Is Batt Wash The Same As Kiln Wash?
Is bat wash the same as kiln wash, which is used to keep drips of glaze from sticking to the kiln shelf? If not, what is bat wash, and what is in it?
Milly's reply:
Hi Stephanie, yes, exactly the same thing. If you want to make your own, mix equal parts of kaolin and alumina hydrate, storing in an airtight container. Find them in any ceramics supplier.
Mix 4/5 parts water to the powder when you're ready to use. Use exactly the same any kiln wash, to protect your kiln shelf, slumping molds or fused glass molds.
Don't forget to remove the kiln wash after each firing as it can discolour glass in subsequent firings.
Can I fire glass in my ceramic kiln?
by Deborah
(Mooresville, IN )
Is it possible to convert an old ceramics kiln over to a glass kiln? I have an old kiln that uses cones. Is there any such thing as cones for glass? I do stained glass, but I would love to learn fusing. Where would I be able to buy cones if this is possible?
Milly's reply:
Yes you can use your ceramic kiln to fire glass. Strictly speaking, there isn't such a thing as a 'glass kiln' – they're all insulated boxes with heating elements – it's the shape of them that makes them more appropriate for one material or technique than another.
For example, the best type of kiln for fusing has a flat bed with a lid holding the heating elements, so that the glass can be uniformly heated. For sculptural kiln formed glass art you would be better off with an upright kiln with elements all around the chamber so that the three dimensional object heats up from all angles at once. All you have to beware of is any remnants of clay – glass has to be scrupulously clean!
With regard to cones – yes you can use these, but a digital controller is much easier, although it's good to know what's going on inside the kiln. Have a look at my previous answer about Kiln Firings Using Cones to get you started. Stain glass suppliers or a standard kiln supplies store should stock cones. Firing schedules for fusing glass have a top temperature of between 780-820C, depending on what type of stained glass you're using. Hope that helps you start with glass.
Easy Slumping Mould Idea
by Tina Walker
(Brisbane, Australia)
I have been working with glass for 10 years now and done a bit of most techniques. I teach leadlight, copperfoil, stained (painted and fired) glass and fusing and slumping, beadmaking, sandblasting… you get the drift. Despite this, I have never ventured into kiln casting, or more specifically which mould materials are easiest to use and are the most suitable for different projects.
I was trying to dream up something new and challenging to make for our upcoming exhibition and I thought about a Lalique inspired fan light. I was considering making a clear panel that is sandblasted and/or an engraved from behind. This would be eventually be mounted in a fan light base. Then I thought doing some kiln carving first could make it easier and require the removal of far less glass to get the desired result.
What do you think of this idea??? (possibly more trouble than it is worth!!! But simplicity isn't what keeps us all enthralled with glass, is it?!)
Thanks for your thoughts.
Milly's suggestion: Hi Tina, sounds like you're hooked too! The easy path is never the most satisfying…
Your idea sounds great. How about starting off with ceramic fibre paper moulds? (I hope that translates across the world, and that you know what I mean?)
They're really easy to do – have a look at the bottom of this page for Mold Making Instructions.
Basically, you're creating a relief in fibre paper that you then place your glass over and slump. The more complicated plaster recipes are at the top of the page.
You can add sandblasting/engraving afterwards if you want to elaborate. Here's a Kiln Firing Schedule for glass carving that might start you off.
Good luck with your exhibition, it sounds really exciting. Post some pics of it on my site!