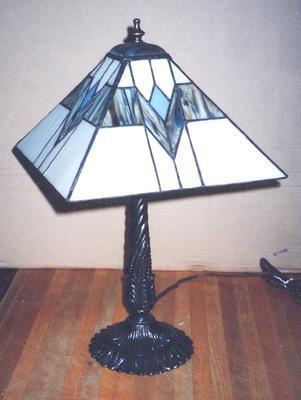 I'm making a four sided lamp. Can I patina the individual sides before assembling the four pieces? It would seem easier and then patina the joints after assembly. Thanks Frank Wolf
Milly's reply:
Thanks for your question Frank, it's a good one.
It does seem more sensible, but I wouldn't advise it. This is because it's impossible to stop the flux from spoiling the cleaning and patina you've already done. You'll end up having to clean the whole lot again anyway.
Some tips on cleaning and patina:
It's best to apply patina right after soldering, to prevent oxidation. Try to make sure you have enough time to do the whole soldering, cleaning and patina processes. If you can't spare this time, you can put the clean and dry lampshade in a plastic bag to protect it until you can patina.
Plastic cement mixing tubs are cheap and good for washing lamps in, as they won't damage the lamp.
Wash in soapy water, and then sprinkle bits of the wet lamp with baking soda before scrubbing it off with a small nail brush. This takes some time, going both across and along the solder lines. Repeat a couple of times for each section before rinsing the lamp clean.
Then apply the patina immediately!
Good luck with your lamp.