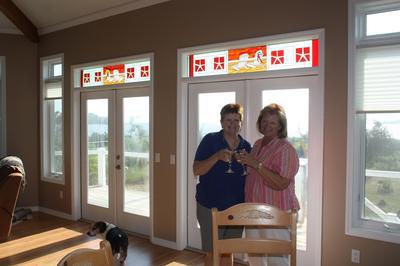 My first comissioned piece. This is the piece I had asked you questions about as far as reinforcing the panels. I learned a lot with this project .152 hours! After expenses I think I made about $2 per hour. Definitely a labor of love. This was for a dear friend so it was worth it.Leslie Overby
Milly's reply:
It's so nice to see a piece finished, thanks for posting! I get lots of questions but often don't get to see the finished result, so this is really nice.
It's so cheery! Makes me want to pack my suitcase and fly to the seaside. I bet Nancy was really thrilled with it, and thinks of you every time she sees it. The celebration looks fun.
When I first started I did a few commissions for next to nothing. A bit like you, I always saw it as gathering experience and a learning opportunity.
It's also good for starting a portfolio… lots of previous work to show future customers.
Good luck with getting more commissions. By the look of this, you won't have any trouble.