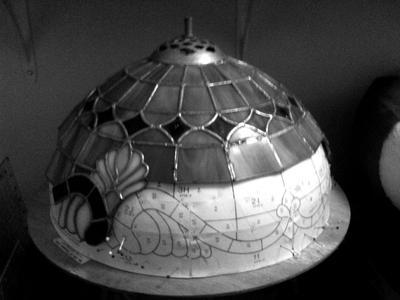 Tiffany style lampshade by  Robert Jameson
I have a lamp shade half done but haven't worked on it for over five years. I would like to restart the project but was wondering what procedures I should use. I guess I need new foil but can I continue soldering the new to the old without doing some sort of rejuvenation such as an acid wash? Are there solutions I can use?
Milly's reply:
Wow, that looks great so far! Impressive.
To answer your question, yes, you can pick up old projects without an acid wash. The main thing is to make sure that the existing solder is washed thoroughly of all oxides before you try to solder to it.
You can use baking soda in the water mix to help the cleaning process, or copper sulphate if you're desperate. Be health and safety conscious if you do so.
You can find out in detail how to clean your work by going to my Patina and Polish tutorial. You only need to do the first step, Cleaning.
It would be great to see your finished lamp in glorious color once you're done. Good luck.