For A Sparkling Stained Glass Finish
This stained glass tutorial exposes the myth of polish and wax. In I share expert tips on polishing, applying patina and waxing copper foiled projects. This is the last thing to do before hanging your finished panel up for everyone to admire. It takes a fair bit of effort, but – as always – is worth spending time on to get a sparkling even finish.
Stained glass patina comes in black and copper, with each needing a slightly different process. This stained glass tutorial concentrates on copper, with additional notes about what to do if using black patina.
Jump down for Frequently Asked Questions about Patina
---
If you struggle to get an even finish with patina or suffer with that horrible white residue I have some ideas to help you out. You might find them surprising.
My Stained Glass Made Perfect course has helped many people achieve a better finish to their projects. After all that effort you deserve a shiny panel! The course is self-paced and online so you can learn these polish and patina techniques even if you are unable to get to a class. You can find out more about it here Stained Glass Made Perfect.
---
What You Need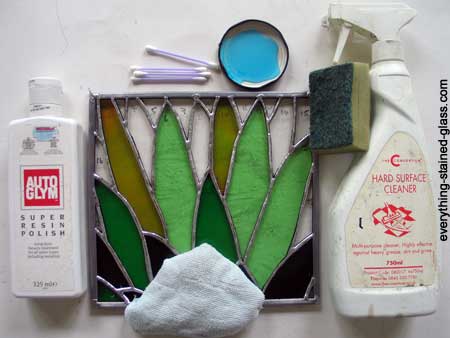 Green scrubby, Q-tips, Copper Patina (paid link), Wax, Polish, Soft cloth, Toothbrush, All Purpose cleaner, Paper towels, Access to water.
Make sure you've got the correct patina. There's different Black Patina for lead and solder (paid link) and another type of black patina for zinc (paid link). Patina doesn't work on lead free solder.
Stained Glass Tutorial – Patina and Polish
1. Cleaning Tutorial
It's very important to do this thoroughly to remove any acids from the flux. Baking soda in the water can help reduce the white 'crusting' that sometimes forms. Some people swear by copper sulphate for cleaning. If you don't have access to water you can use Flux remover Kwik-Cleaner (paid link). It works really well and helps prevent mouldy patina.

Clean all the flux off the solder with all purpose cleaner. You can buy flux remover for this, but all purpose cleaner works just as well
Put lots of cleaning fluid on and make sure it froths up
Go over every solder seam thoroughly. You can use a toothbrush if it helps
Dry it off with a paper towel
Your solder should now be silver
Next you have to polish the solder. Yes, you did read that correctly; polish first before patina.
Exposing The Polish and Wax Myth
Most people – including me many moons ago – were taught to polish last thing. But I'd like you to think again about this…
Polish contains an abrasive element. As such it is better used for the final clean before patina or wax. It gets rid of the very last of the grime off your solder lines. That's why the cloth still picks up black dirt when polishing.
Some people complain that their final polish removes the patina they've just put on… can you see why this is happening? Correct; because the abrasive element removes the patina.
They go around in circles putting patina on and accidentally polishing it off.
Roadmap
After experimenting over the years with different polishes, patinas and waxes I have developed this roadmap:
Clean >> Polish >>> Patina (optional, if you want your solder lines a colour other than silver) >>> Wax
You may have to experiment with the different brands but I'm confident that this roadmap will help you produce a lasting shiny finish.
2. Polishing Tutorial
I use a standard car polish. If you're using black patina, you don't need to polish at this stage, go straight to 3. below.

Put some polish on a soft rag and rub over the panel
Keep buffing it up until the black residue all but disappears (where does all that black come from?!)
If you want your panel silver, you're done with this stage – only waxing left!
3. Stained Glass Patina Tutorial
Some people have trouble with patina being dull or not 'taking'. This could be down to minerals in the water where you are. If this is the case, try buying distilled water and using it for the final rinse. I've found that there's always a degree of experimentation with stained glass!

With a Q-tip or cheap brush, apply the copper patina to the solder seams.
Don't be mean with the patina, and make sure that you cover every last bit of the solder
Dry thoroughly with paper towel
Let the panel air dry before the final polish with wax. I leave mine on my easel so that both sides can dry
4. Final Buff Up With Wax

Repeat 2. above, but this time using wax instead of polish.
Let the wax dry completely before buffing
For ongoing sparkliness, simply repeat these Final Buff Up instructions every so ofter to make your panel as good as new.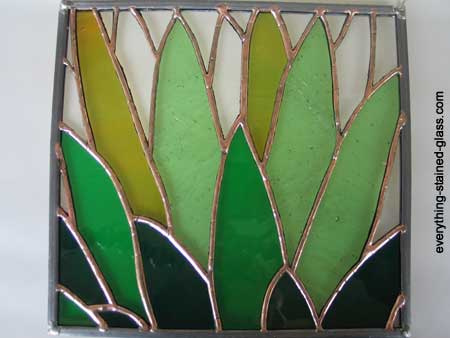 FAQ – Common Patina Questions Answered
1. Question: My zinc is blotchy after patina
Milly's Answer:
A good even, black zinc patina is notoriously elusive so you might have to experiment a bit with the different ingredients. This method works for me:
Clean the zinc with fine damp steel wool, wipe the zinc to clean all particles off the surface. Use gloves and a mask
Apply one coat of patina – I recommend Novacan Black Patina for Zinc
Let it dry and then go over the zinc a second time with steel wool
Wipe with cloth
Apply a second coat of patina
If the colour isn't even, repeat the process
2. Question: How do I get stained glass flux off so that it doesn't produce white mould?
Milly's Answer:
You can use KwikClean to get the flux off (recommended), or soap and water.
Baking soda sprinkled on before washing can help with white mould.
I use polish to rub off all the invisible gunk off the solder lines before applying patina. Then wax to finish.
3. Question: Does patina stain glass & leave a film on it?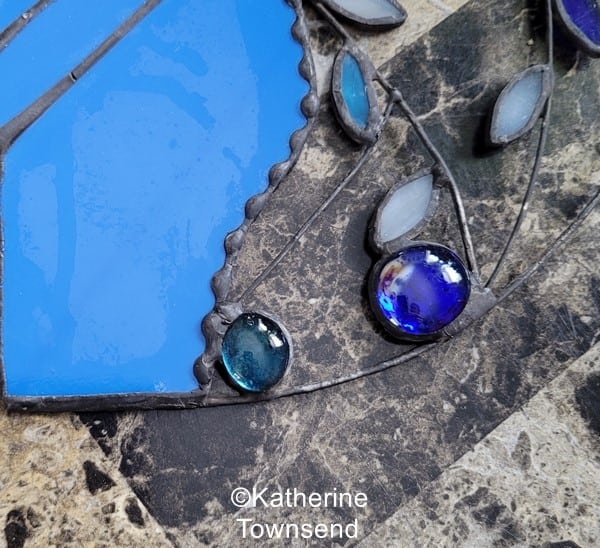 Milly's Answer:
Yes. Patina can stain certain glass if it's not washed off the glass soon after applying (see blue glass in image, above)
I always advise doing tests beforehand if you're unsure but removing stained glass patina swiftly off the glass should fix the problem.
If it's too late and the glass is stained, try powdered Bar Keepers Friend here (paid link)
It is a non-abrasive stain remover. Sprinkle some of the powder where you need it, add a little water to make a paste, rub the mixture around the stained area on both sides of the glass, let it dry to a haze, and rinse several times with cool water.
I haven't tried this so can't vouch for this.
4. Question: My stained glass patina ends up whitish & cloudy
Milly's Answer:
Stained glass; sometimes you do EVERYTHING the same as before and suddenly you have white mould. Sigh.
White mould is normally the result of not removing the flux well enough rather than the patina.
To get rid of it you'll have to rub the patina off. Using one of those green scrubber things is less horrid than using steel wool.
You could try a different wax, I recently found Renaissance Wax which is used for heritage works. It seems to offer good protection for the seams.
You can read about it here:
https://everythingstainedglass.com/recommended-tools
5. Question: How do you use a Dremmel to make stained glass polishing easier?
Milly's Answer: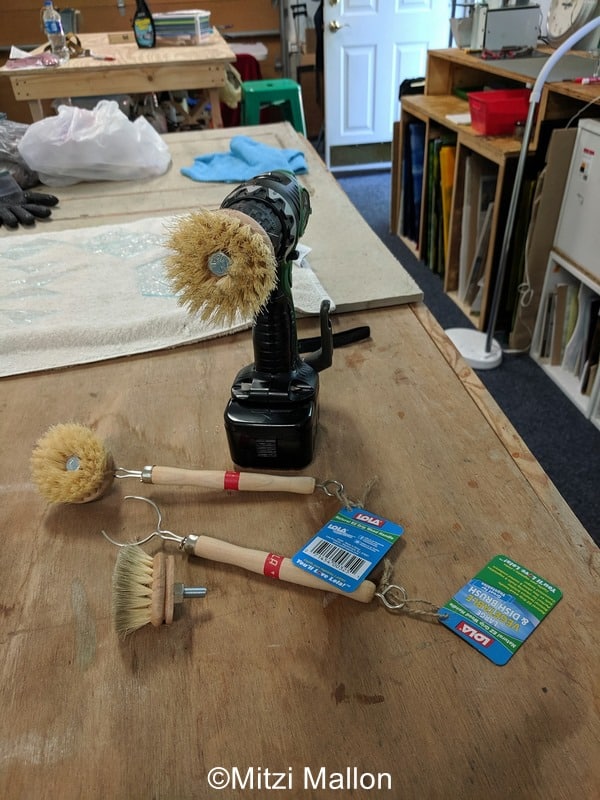 There are some amazingly creative solutions to be had here. I still use muscle but am definitely going to move to machine power soon 😉
These inexpensive vegetable brushes – see image (paid link) work extremely well. Drill a hole in middle of the brush, add a nut and bolt. Make sure the bolt is long enough to be inserted into the drill. The bristles are natural and don't cause any problems to the glass or solder lines. When wax builds up in the brush, wash it in hot soapy water to clean. Thanks Mitzi Mallon.
You can also use a cloth buffing wheel in a standard drill, shoe shine brushes and horse grooming brushes.
Helpful Resources
At 9 minutes, this stained glass tutorial is a bit long, but if you come in at 2mins 30secs you'll hit the most useful bit. It's definitely worth watching.
Stained glass video tutorial on patina
You're done! You now have a bright shiny copper masterpiece ready to hang. Congratulations 🙂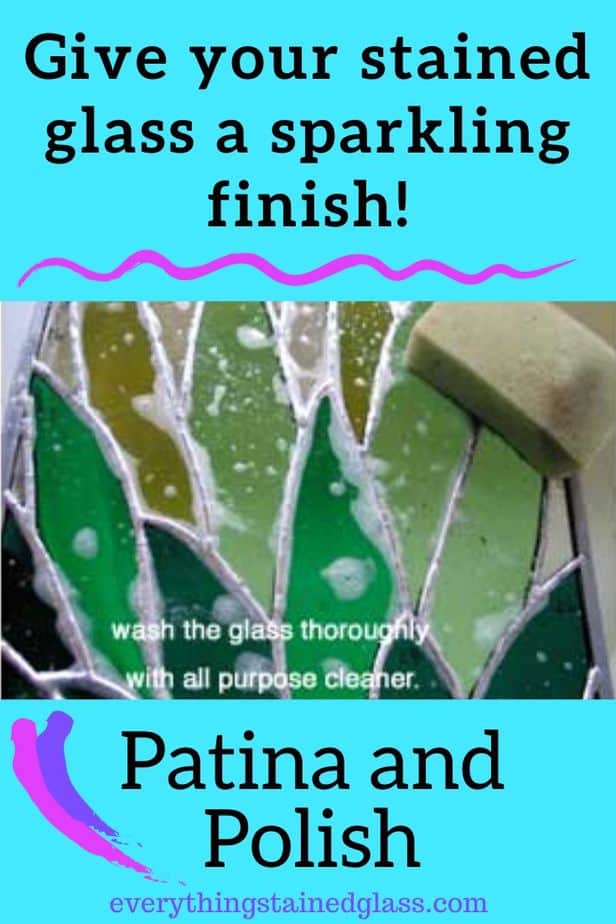 Stained Glass Soldering Temperature