Stained glass lamps are a spectacular way to add colour and light into your room without the difficulty of installation. Here's a great video on using agates in stained glass lamps.
Using Agates in Stained Glass Lamps
Stained Glass Lamp Bases – Unique Bamboo Idea
Stained glass lamp bases made from bamboo are a new one on me! The combination is stunning. The colourful stained glass together with the bamboo is truly unique.
I have to confess it's not my idea. I was sent an image by an Everything Stained Glass visitor and had to share it with you.
If you've always wanted to make stained glass lamps but have never tried, I can recommend this beginner's book by Michael Johnstone (paid link). It comes with a selection of full-size patterns and lots of photos illustrating the processes one by one.
Bamboo Stained Glass Lamp Bases
Here is Floor van Asten's explanation of how he makes them:
"I happened to buy some bamboo for my little pond and got the idea to combine bamboo and stained glass.
The idea was quite simple. To make some holes in the bamboo, put stained glass in and fix some LED lights behind it.
I found some cheap LED lights and found them easy to install.
This piece of bamboo contained 3 compartments and I decided to make an opening in each part. I had to make a connection between the inner compartments by making holes between the separate parts.
I still had some spare glass which I copper foiled. After soldering it together I glued it on to the bamboo. The result you can see on picture Number 1.
More Experimenting With The Stained Glass Lamp Bases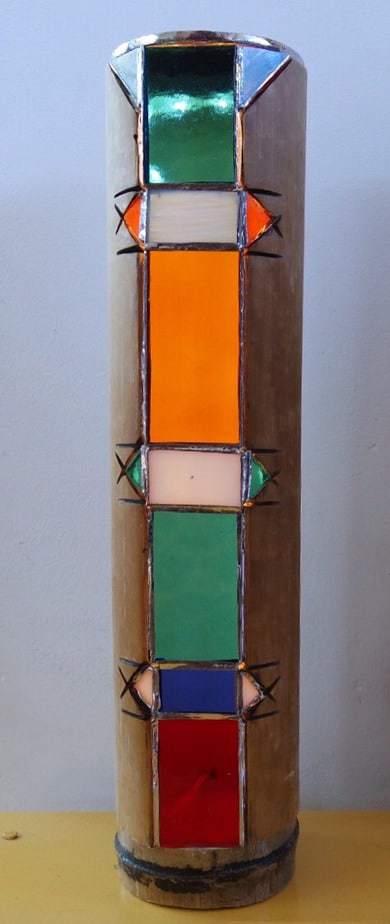 I found I enjoyed creating stained glass lamps the most. So I continued testing out my ideas with bamboo and stained glass.
Here are my next two experimental lamps. (Numbers 2 and 3)
For these two lamps I did not use glue to fix the stained glass to the bamboo. I used copper foil on the edges of the bamboo instead.
There are still problems. Gluing it is not exactly the right thing to do because it tends to unstick when you heat it with the soldering iron!
I'm working at finding another solution for that in the future.
I still have lots to discover and to perfect. I hope it will be a long lasting source of creating beautiful and precious objects."
Helpful Resources
The Association of Stained Glass Lamp Artists is the MOST fantastic collection of advice and tips about making stained glass lamps that I've found. You can learn things about soldering, stained glass lamp bases, cutting and all sorts. A gem.
Learn how to solder a stained glass beaded seam here