Help needed with firing schedule
I need help with a firing schedule, to include annealing. I am staining some replacement diamond shapes in the old type German cathedral glass (minster glass) and I cannot find out the strain and annealing points so that I can fire the glass safely. I am using Reusche bistre brown and silver stain, so as there will be two firings I do not want to take any chances. Any help you can give me would be appreciated.Irene McBride
Milly's answer:
Thanks for your question Irene. There's lots of factors to take into account when firing glass, especially with regard to the kiln. Check them out on my Kiln Firing Schedule page.
Firing glass twice is no problem, so no worries there, and if your glass is machine – rather than handmade – it's quite robust.
Assuming it's simple glass paint mixed with water, I'd recommend the following (first figures in C, second in F):
Segment 1. 300/570 ph to 660(matt)-675(shiny) /1220-1250. Soak 5 mins.
Segment 2. Full to 560/1040. Soak 5 mins.
Segment 3. 10/50ph to 530/986. No soak. Off.
You can follow the same kiln firing schedule for stain, but top temperature in Segment 1 should be 560-600/1040/1112, depending on which type you're using. You must test stain first!
Painting Tutorials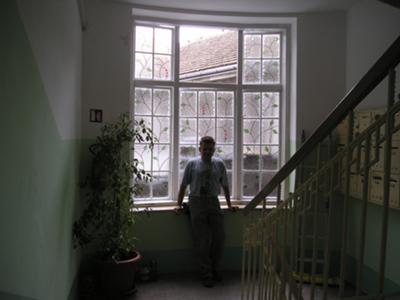 Stained Glass Window With Man (Darko Vilupek)
I am working with glass for years but only Tiffany technique. Now I need to learn painting because I work in the church and need draw Saints eyes, nose and mouth. How can I learn? Do you have instruction in print version? And where can I buy tools and materials the nearest to Croatia?
Milly's reply: Wow, Darko, that's a lovely project to learn glass painting for! I have done a series of tutorials on painting . If you go to Painting On Glass, there's four tutorials that take you through the whole process from mixing paint to line work, shading and kiln firing schedules. Read the pages in this order –
1. painting glass,
2. glass painting instructions,
3. stain glass painting and
4. glass painting techniques.
You can print them out if that would help?
As for where to buy tools and materials in Croatia? Difficult! I've had a look on the web and can't find any. Have you thought of getting some from the UK? There's Creative Glass Guild in Bristol, or Creative Glass in Kent – I'm sure they'll send you what you want. That's a last resort if you can't find any suppliers in Croatia. Sorry I can't be more help with that, but good luck with your project – I'd love to see how it looks when you've finished.
Can you mix paint and sandblasting?
I am working on a project that will have essentially two layers — one with painted imagery and one with text. I'd like to create the text by sandblasting or etching (leaving clear letters). My question is whether the painting should be done on a separate layer and fused in the kiln to the textured layer. I'm told that painting on sandblasted glass is a bear. Any suggestions? Love your site.
Milly's reply:
I love text and layers, so this sounds right up my street! If you fuse sandblasted or textured layers, you effectively melt away any sandblasting or texture, so that's not the best way to go.
Can you not keep the layers separate, or do they have to be joined together? If you could keep them apart, there's much to be gained from a gap between layers – it adds a depth that you don't get otherwise. Have a look at one of my
Striking Glass pieces to see the effect of a gap.
If you want to end up with one piece of glass, why not do the painting on one side, fire it, and then cover it with a resist to protect the glass paint before sandblasting or acid etching the other side?
Hope this is helpful.
Painting a Scene on Glass
I wish to paint a scene on glass then use it in a leaded glass window. I made a leaded panel about 20 years ago and would like to replace it. The window is approximately 43″ wide x 38″ high.
My questions are: What type of paint do I need? Where can I purchase it? What type of an oven do you to set the paint to the glass?
Thank you, Frank Crisafulli
Milly's reply:
Glass paints – or glass enamels – are what you're looking for if you want your painting to be fired on permanently in a kiln. Firms such as Thompsons, Heraeus and Ferro make these – ask stained glass suppliers for contact details.
If you're thinking of the paints that are semi-permanent and that fire in a regular oven, try Pebeo's Vitrea 160 paints or Porcelaine Paints. You can buy them from stained glass suppliers or craft stores, and they fire at about 300 degrees F/150 degrees C. Put your glass in a cold oven and heat up slowly, to prevent thermal shock.
Good luck, let me know how you get on.
Painting starter kit on Amazon
If you are just getting started there is this Peter Mcgrain Deluxe Paint Starter Kit (paid link) on Amazon