History Of Stunning Medieval Windows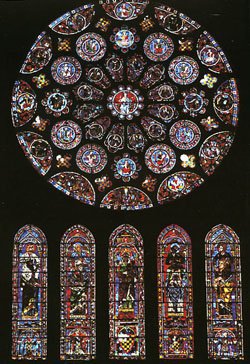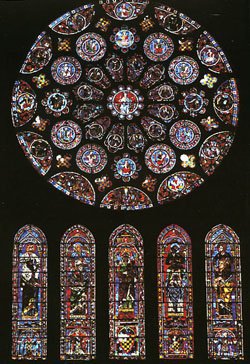 Chartres Cathedral is the home of the most famous medieval stained glass windows in the world. Hardly surprising, when you think of the amazing feat of its construction – every single piece of the window has some painting on it, either forming part of the religious narrative or for decorative purposes. In fact, there was so much painting to do, that the traditional three tonal procedure of firing the trace lines, followed by two matt applications was largely abandoned.
Instead, basic trace lines were augmented with a simple wash, and sometimes even the wash was left out.
This gave the work a freer style, but meant a loss in legibility from below, as the figures weren't so well defined.
Chartres Cathedral was rebuilt in 1194 after a near-devastating fire, and the stained glass created from between c.1200-1240.
New developments in architecture meant bigger windows – and boy, did they capitalise on that! The religious significance of stained glass is largely lost to us today, but it's worth quoting the Bishop of Durand de Mende here, to underline just how serious a role it had in the early 13th century: 'stained glass windows, through which the clarity of the sun is transmitted, signify the Holy Scriptures, which banish evil from us and enlighten our being'.
Whether you're religious or not, I defy anyone to resist the power of stained glass to uplift and enlighten – banishing evil is a slightly more tricky proposition though!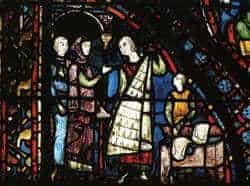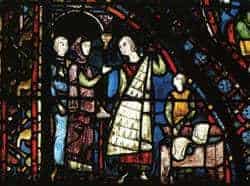 Another important role of medieval stained glass was to impart religious stories to a largely illiterate populace, and here there was some attempt to create a coherent visual scheme.
The upper windows of the apse were devoted to the Glorification of the Virgin Mary – in fact the whole cathedral was dedicated to her – and the western wall of the nave concentrated on the Life and Passion of Christ, with the rose above featuring the Last Judgement.
However, all hopes of a logical scheme went to pot when the tastes and preferences of individual donors kicked in. Here we see fur merchants happily going about their business – it's like having a full-page advert in a national newspaper, shouting 'wealth' and 'success'. You can't knock it too much though – without this patronage it's doubtful that there would have been so many windows or that they would've been finished in such an amazingly short space of time.
Helpful Resources
This short video from the World Heritage Site gives a really good overview of the cathedral stained glass scheme, with delightful details of Noah's Ark and the individual animals on board. Nice English accent, too.
1 | 2 | 3 | 4 | 5 | 6 | 7 | View All