How to solder a ring to a stained glass panel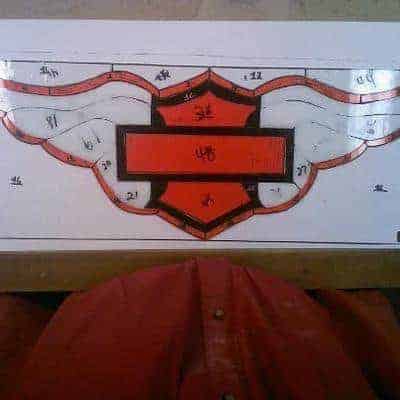 I am probably what one would call a beginner when it comes to stained glass although, I love doing it and have actually been commissioned to do several pieces over the past year.
I am currently working on a Harley Davidson Logo. It is done except for the hangers.
I used the copper foil method for the piece itself. Then I outlined it with U-lead to finish the edges. My problem is this – I can't seem to get the chain to attach. I can usually just use solder and get it to stay but I have been completely unsuccessful this time. It is a rather wide piece, as it spans about 30 inches.
What would you suggest as far as a way to hang the piece?
Thanks for your advice!
I have attached a picture of the piece before I did the soldering. I am not doing the large surrounding pieces I just did the logo. By Pam
(Berwick, PA)
Milly's reply: Thanks for your question. You don't look like a beginner to me!
You say that you 'can't get the chain to attach', but don't tell me what's happening. So, here's a couple of suggestions, but come back to me with more detail if I haven't answered your question.
Is it the same type of chain that you normally use? If not, are you sure that the metal it's made of is compatible with using solder? Some metals won't 'take' solder.
Have you cleaned the U-lead with a wire brush before attempting to solder? It may have oxidised, forming a surface that prevents solder from adhering easily and well.
I hope this doesn't insult you, as I can see you've done lots of stained glass before – are you using flux on the join? Solder won't stick without it.
Um… If it's not any of the above, have you thought about attaching a hook that WILL solder on, and then attaching a wire to that?
I've also got two tutorials on this site about adding hooks, which might help. Don't know if you've already seen them:
Adding Hooks To Zinc Frame. This one will work for lead came, too.
Fixing Hooks To Suncatchers. This one is for copperfoil, but might be of some use.
Hope that answers your question.