Making Jump Rings And Adding Hooks to Stained Glass
These stained glass instructions show you how to make and solder hooks on to a zinc frame. It uses a simple, nearly invisible method of adding hooks to stained glass to allow hanging that shows off your beautiful stained glass in the best possible light.
The rings in this stained glass tutorial are made from recycled copper wire stripped from electrical wiring. Alternatively – and this is my favourite option – you can use spools of pre-tinned copper wire (try gauge 14 or 16 if you have a smaller item to hang) which is easier than stripping and tinning your own, cheaper than buying ready-made rings AND more flexible with regards to size!) or you can buy ready made pre-tinned rings -the easiest but most expensive option. (paid link).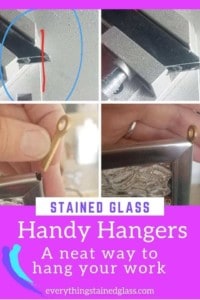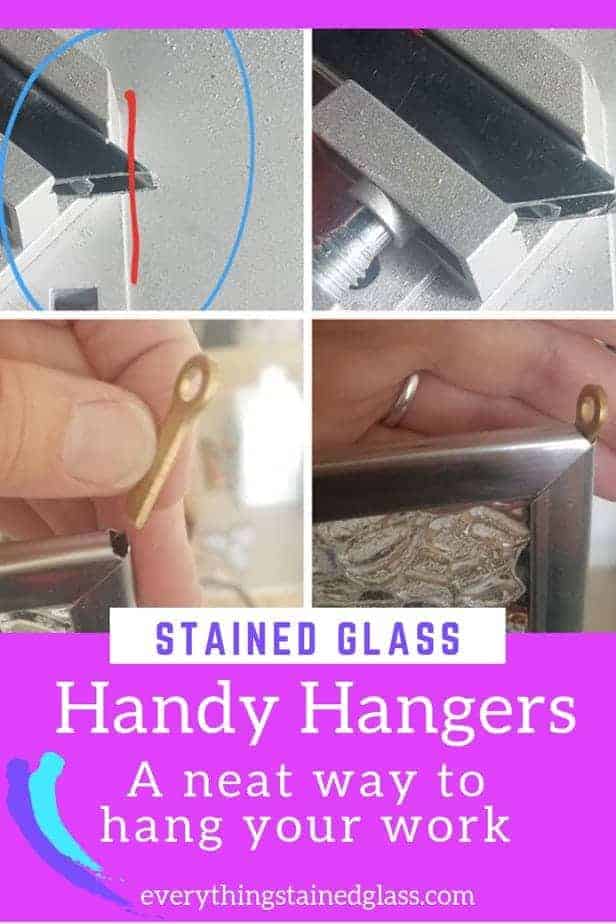 What You Need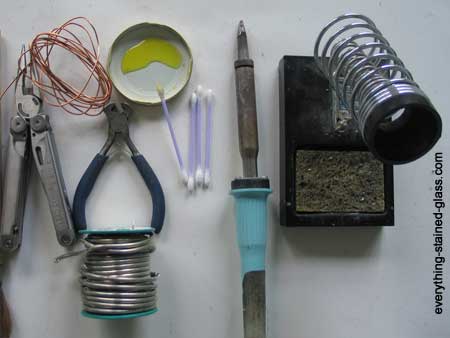 (Some paid links below)
Flux
Wet sponge for cleaning tip
Q-tips or cheap brush to apply the flux
Copper wire (either bought or recycled)
Needle nose pliers
Wire cutters
Adding Hooks To Stained Glass
1. Making the Hooks
These discreet hooks are going to follow the 45 degree angle at the corner of your panel instead of the more usual circular hoops.
Use of round nosed pliers (small ones available at craft shops and larger ones, size of the typical needle nose pliers, available at some tool stores) can ensure crinkle-free and nick-free bends in homemade hanging loops.

Cut off a length of copper wire with wire cutters
Using the pliers, bend it into a U-shape
Measure the length needed by putting it over the top corner of your panel
Cut off the excess
2. Instruction for Tinning Hooks
This both strengthens the wire and stops the copper from corroding. You don't need to do this if you've bought pre-tinned rings or wire.

Flux each hook
Add stained glass solder to your iron tip
Holding the hook with the pliers, cover it on both sides with a thin coating of solder
3. Attaching the Rings
Balance or hold the hook over the top corner at a 45 degree angle
Melt a bit of solder on top

Hold the iron over it for a couple of seconds to smooth it out
Turn over and do the same to the other side
Hold the panel vertically and neaten up the area carefully with a corner of the iron tip
Repeat the steps above for the opposite corner
It would be negligent of me to not to mention Soldering Iron Maintenance when talking about soldering zinc. Following a simple maintenance regime is probably the easiest way to improve your soldering, full stop. 
To help you gain the most out of your precious soldering iron I've crafted a mini $14 course called Soldering Iron Maintenance Blueprint. It helps you:
prolong the life of your iron
save money on replacement tips
improve safety
Check out the Iron Maintenance Blueprint mini-course here
Be excited; there's a MUCH bigger hidden benefit waiting for you… a happy iron = better soldering 🙂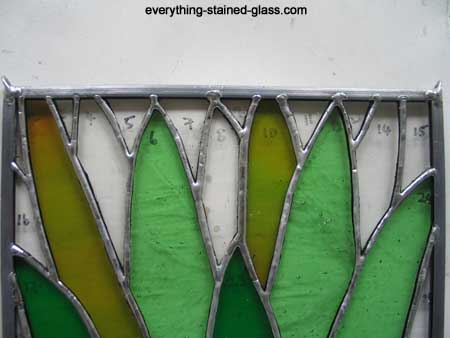 That's it! I'd recommend attaching 2 separate pieces of wire to hang your precious panel so that if one should break (yikes!) the other one will prevent it from falling (phew!)

Handy Hangers with a Zinc Frame
One of my online students Georgia Hamilton has very kindly sent me these images showing how she cleverly makes a handy hanger tuck nice and securely into the corner of the zinc frame.
Here are the instructions for adding hooks to stained glass (images below):
cut all the framing pieces with mitered corners with a mini cut-off saw, a 2inch Mini Bench Top Cut-Off Saw by Drillmaster
flip the piece that will be the top rail and nip the corner off each end. This creates a small pocket for the Handy Hanger to drop into
steel wool the Handy Hangers before you tin them. This helps it take the solder much better
use liquid (not gel) flux for tinning as it tins more evenly
solder the Handy Hangers to the inside of each side rail
This may not be as pleasing to the eye as some other types of hangers but it creates a really secure fixing.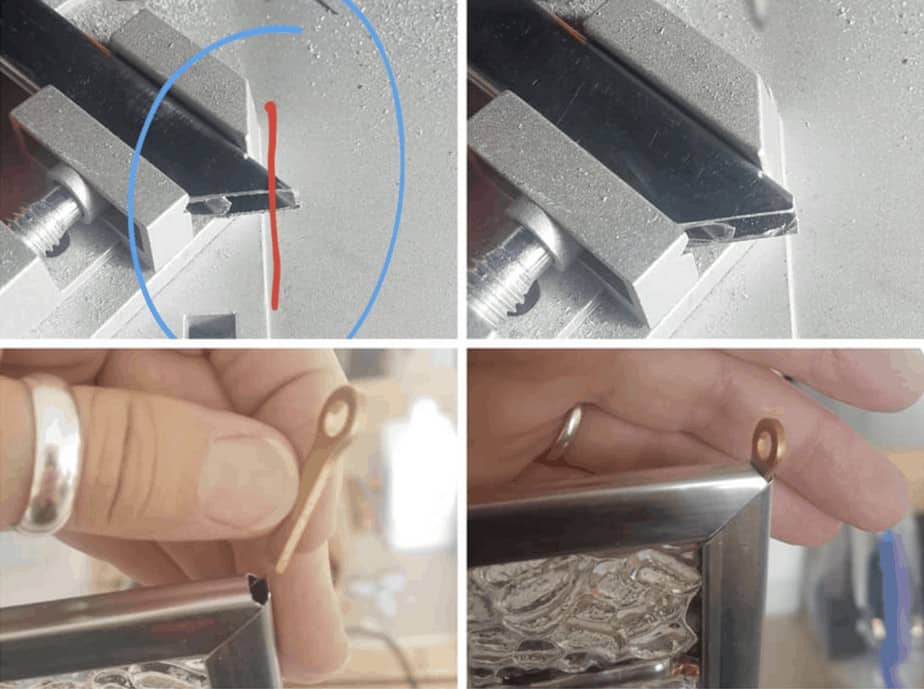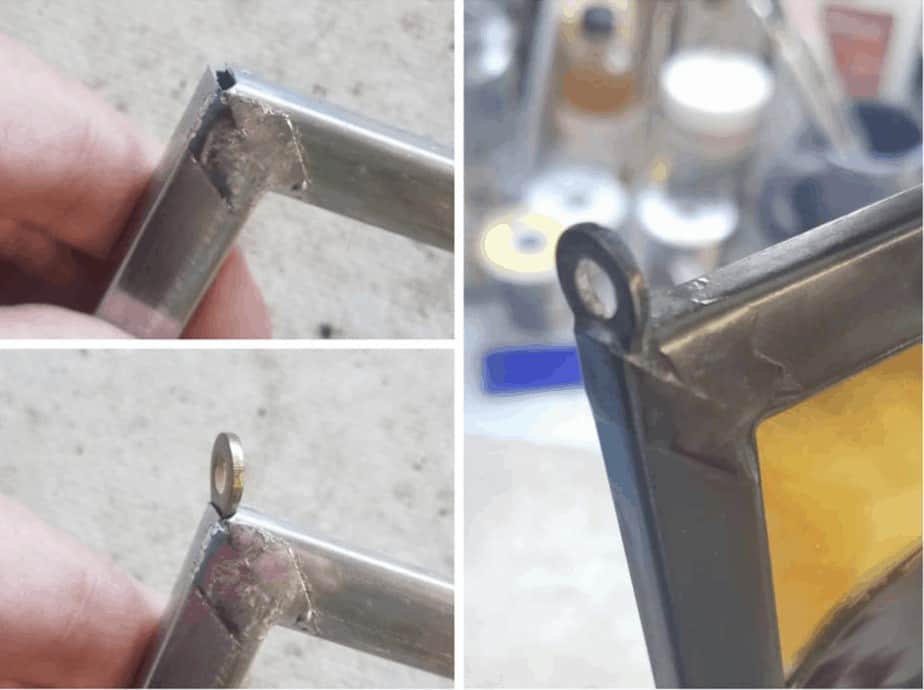 For added security you can clean the inside of the zinc where the hanger is going to go, put some solder inside the zinc and then reflow it when you insert the hanger. This gives you peace of mind knowing that it is soldered inside the channel.
Tips from Readers:
Abby suggests something like these ring crimp terminals (paid link) . She says just crimp the bottom so it fits in between the framing. They're made from tin plated copper that can be crimped or soldered.
Sherren Says:
I create my own , with 14 gauge Copper wire … Use various shapes to elevate the pc.
Works very well for me    As most of my work is Fused ( 90% " ish " ). I use H channel Zinc framing too.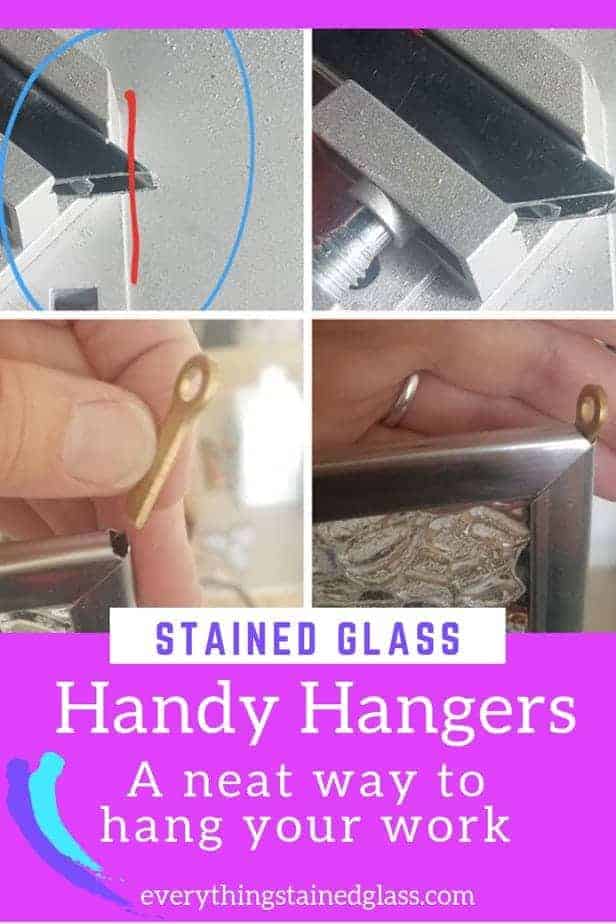 Now you're ready for the final step – making your panel gleam and shine. Go to the patina and polishing instruction to finish off your panel.
How To Frame With Stained Glass Zinc Came
How to Solder Jump Rings To A Stained Glass Sun Catcher