Methods For Repairing Broken Stained Glass
Fixing broken stained glass is a necessary evil. With glass as a material breakages are inevitable. You know the scenario; you're happily soldering away on your latest piece only to turn it and realise there's a crack in the glass. And you don't have enough art glass to replace it. This is what happened to one of my readers Ken Keith. He wrote to me asking for suggestions to fix it.
Click the link below to go to fixing broken stained glass with foil:
Foil Repair
Luckily, there is a way to fix this broken stained glass without dismantling your work and driving 75 miles for replacement glass.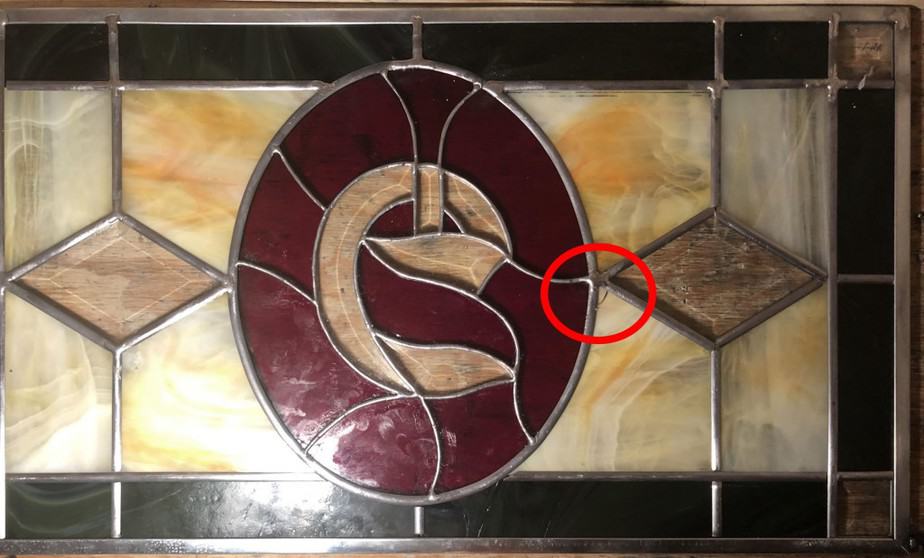 You can see the crack in close up here: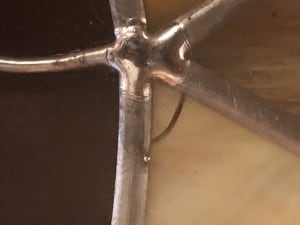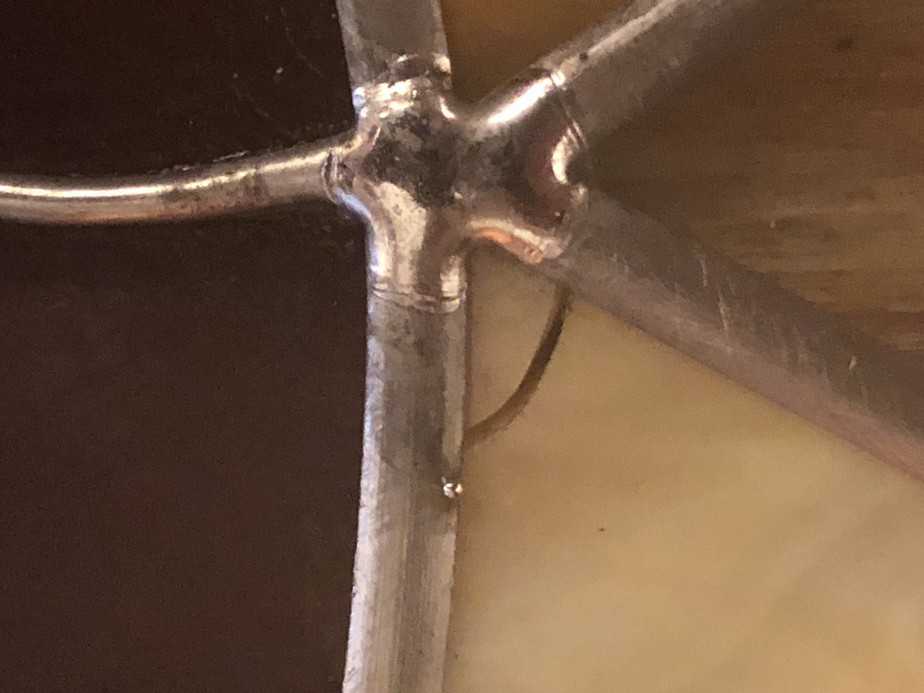 Milly's Quick Tip For Fixing Broken Stained Glass
Rather than having to undo your work there is a simple fix:
Find a spare piece of interior lead came longer than the crack
Cut the top face/flange off a this piece of lead came with either a lead knife, nippers or lead angle cutters
To do this, I use a SHARP lead knife or for this job I particularly like these Lead Angle Cutters ( affiliate link from Amazon) in the US. If you're in the UK I found a pair here from UK Amazon (affiliate link) – at a very reasonable price considering the price I paid for mine!
Shape the flange to fit over the crack and trim it to butt up to the adjoining lead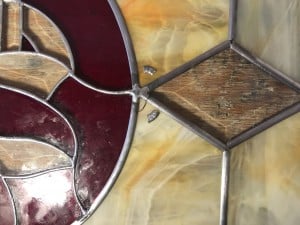 Solder it at either end to hold it securely in place
Turn over and repeat on the backside
Cement, clean and polish as normal
Adjusting The Design
As this is a geometric panel, I suggested add matching 'false' leads on the other side of the panel to even the design up visually. You can see how this balances the design below.

---
If you're new to using lead came as a technique I would highly recommend you give it a try. It will add a great deal to your skill set and give you the best of both stained glass worlds – foil and lead.
If you don't have a local class my Leaded Stained Glass Artistry course has taught many people – even those who have never used lead before – how to make a stained glass panel using lead came. The course is self-paced and online so you can learn this lovely technique even if you are unable to get to a class. You can find out more about it here Leaded Stained Glass Artistry.
---
The client loved the finished stained glass window. I don't know about you, but I think the additional 'false' leads actually ADD to the overall design! They give it a nice bit of detail in the centre.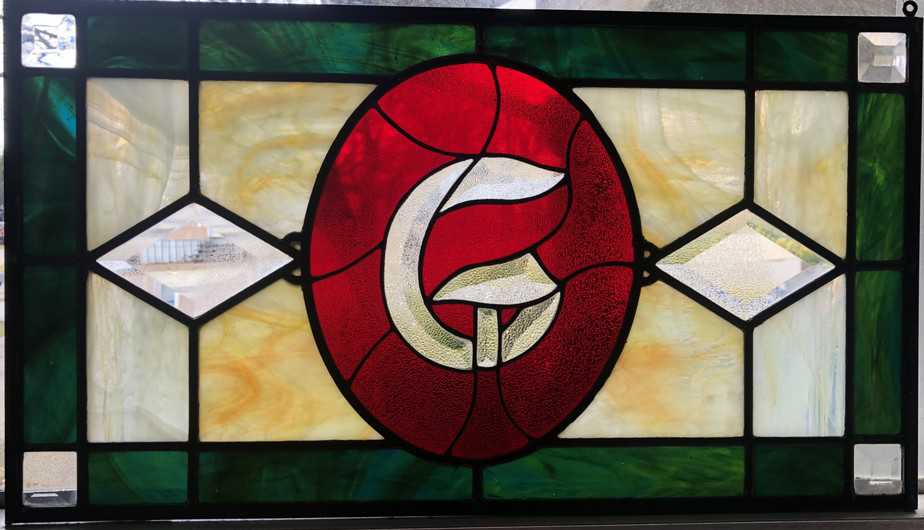 This is a very good method for lead came when the broken stained glass window doesn't have to be weather proof. If the window is an external window and DOES need weather proofing,  you'll need to remove the piece of glass and replace I'm afraid.

Fixing Broken Stained Glass – Foil
These instructions are for how to remove and replace a cracked piece of stained glass in a foiled panel. This is a more permanent fix to the one suggested above. This is the stained glass repair you need to do if the panel is going outside or if it's for a commission.
Break out the cracked piece. Make multiple criss-cross scores. Tap a small hole with the ball end of your cutter so that you can pull the easy bits of glass out with pliers. Wear goggles of course.
There might be some stubborn bits left but they'll come out during the next step.
Use a hot iron to melt the bulk of the solder off by using gravity and flicking it away from the panel. Be careful and wear gloves.
Next remove the redundant foil with pliers – needle nose are good. Ease an end of the old foil out, grab it with the pliers, and tease the foil away as you melt the solder. With luck this foil will come off in one piece.
If you end up disrupting the foil around the surrounding pieces don't worry, you can remove and replace it. It's just a bit more work.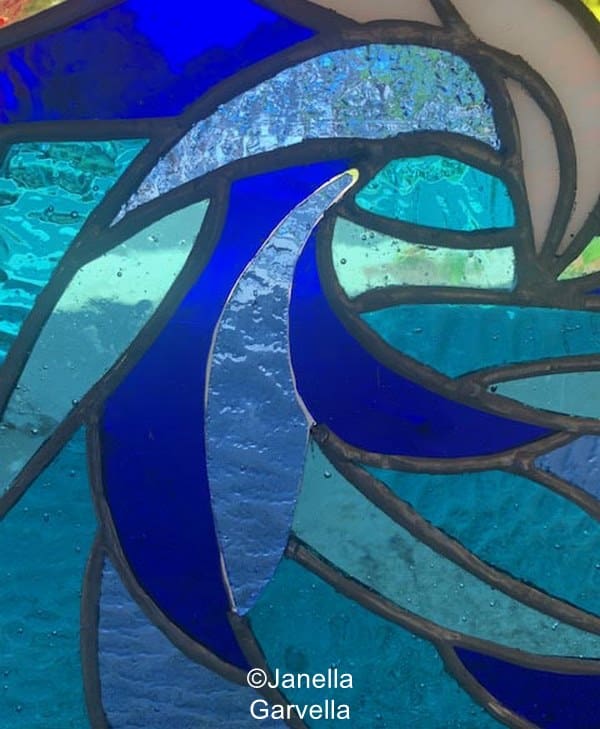 After the solder and foil is removed, clean the area well.
Now make a pattern for your replacement glass. Slip a piece of paper under the hole in the panel and trace the shape of glass to be replaced.
Cut, foil and resolder.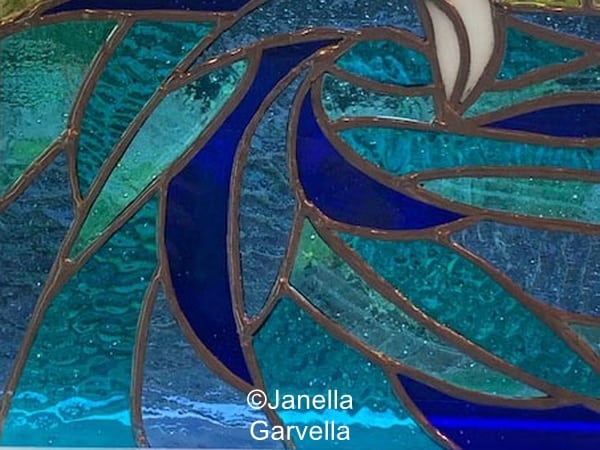 That's it. You now have the skills to fix any broken stained glass. No need to feel that dread when you hear that sickening click ever again 🙂
PIN IT FOR LATER!

More Resources
A more permanent fix for leaded stained glass can be found by going to the amazing Karal's site. He has a page on how to do leaded repairs to help you.
If you struggle with cutting accurate angles in lead came there's a page for you here.