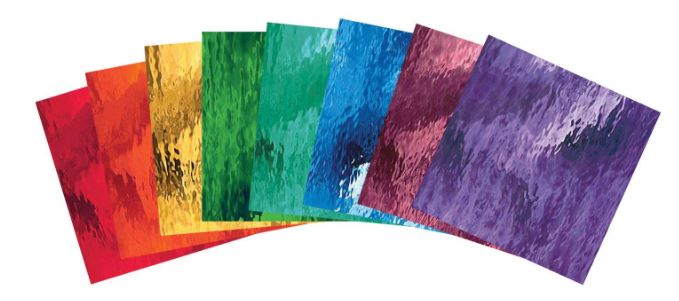 How do you work out how much stained glass you need for your next project? This page will help you calculate how much glass to buy before you get started on your stained glass piece. It's important that you don't run out half way through and end up having to use glass that doesn't quite match. Yikes!
Calculate How Much Stained Glass You Need – Method 1
The method below might help you:
Colour your design/pattern with your proposed glass choices first. This will help you visualise what percentage of each colour you need.
Multiply the height by width to get the total area. You can do this in inches to get square inches if you find it easier than feet.
Add between 15 – 25% for wastage (this varies, depending on whether the pattern has mostly straight lines, whether there's lots of difficult cuts, whether the glass you're using is easy or difficult to cut)
You might want to increase this to 30% to be totally sure you won't run out if your cutting is a bit 'rusty'!
You now have a new total – the area + 30%
Now work out by eye the % of each of the colours. E.g.: red = 25%, blue = 25%, clear = 50%. They need to total 100%
Then work out the area needed for each colour:
Let's take the easy one (clear = 50%). Divide your total (the area + 30%) by 2 to get 50%. That's the amount of clear you need – in square inches!
To get it into square feet, divide it by 144. That gives you the area of clear you need.
This isn't as complicated as it sounds if you do it step by step. It will at the very least give you a ball park figure to start from.
Work Out How Much Stained Glass You Need – Method 2
If you want to save time and be really accurate then using stained glass design software is the solution. These programmes do WAY more than just calculate glass usage but this is a very useful feature for working out costs.
My favourite is Rapid Resizer. It's web based which is better as there's nothing to download and it's kept bang up to date. It has a lot of very useful features and, particularly close to my heart, it works on a Mac which I use.
Inside Rapid Resizer (affiliate)* you can create a pattern from a blank slate or upload an existing image. You then set the size of the pattern and add glass choices from a database of glass available inside the programme. It then calculates the amount of glass you need and automatically re-calculates if you change the dimensions of the piece. Like magic!
Once you have the glass requirement you can price it up using your local store price list. It also lets you print the glass estimate so you can take it to the shop easily.
This image gives you an idea of the glass selection function: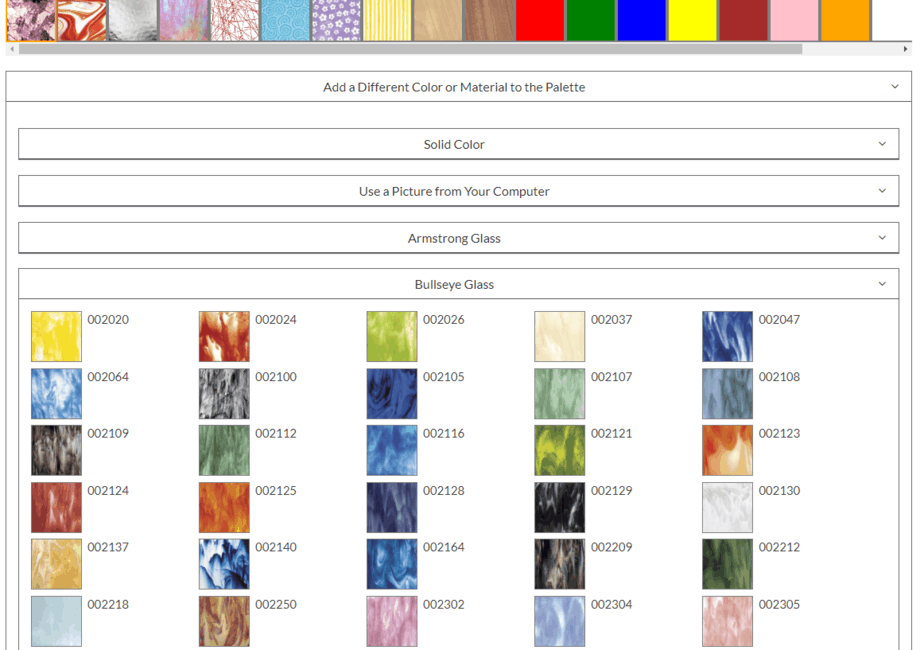 As an aside, Rapid Resizer does some wizzy things! I especially like the way you can set a measurement for a portion of your image, say you want the centre of a mandala to be 5″ – it then resizes the rest of the pattern around that correctly. No more figuring out all the geometry.
Here's a glimpse of how easy it is to see the glass calculations in the programme: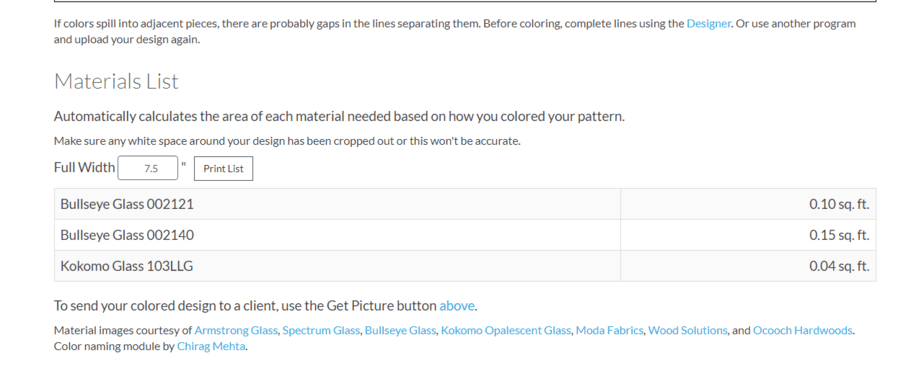 Why Rapid Resizer?
There are other options for glass pattern designing and pricing but I prefer Rapid Resizer * as it's easy to use – and that's saying something from me! It also has a raft of very valuable features. It works on a Mac, which is essential for me and it is very simple to resize and print patterns to any size.
If you'd like to find out more I've written a tutorial on all the things Rapid Resizer does on this page.
There is also a range of different levels so you can get on to meet your specific needs rather than a 'one size fits all'. There's even a free version so you can give it a try first. Crucial for me is that the support is first class. I've had a fair bit of contact with the owner and developer of the software and he's always been very generous with his time and willing to answer questions which I find very reassuring.
* Affiliate Transparency: if you decide to get Rapid Resizer (affiliate) through one of my links I will earn a small commission from the company but feel free to find the product through a Google search if you'd prefer that.
Estimate How Much Stained Glass You Need – Formula 3
Another way you can estimate how much stained glass you need is favoured by those who find maths a bit difficult. It's more of a visual calculation:
Lay your stained glass pattern out on a work surface

Cut some 12″ squares out of tracing paper. Cut one for each colour you're using.
Trace the pattern pieces on to the tracing paper according to colour. You may need more than one square for each colour if it's a fair-sized pattern.

This will give you a rough estimate of how much stained glass you need.

Add an additional percentage to cover breakage and wastage.
It's always safer to have 'extra' glass, rather then 'just enough'.
Add your comments below sharing what method YOU use to calculate how much stained glass you need. Thanks in advance.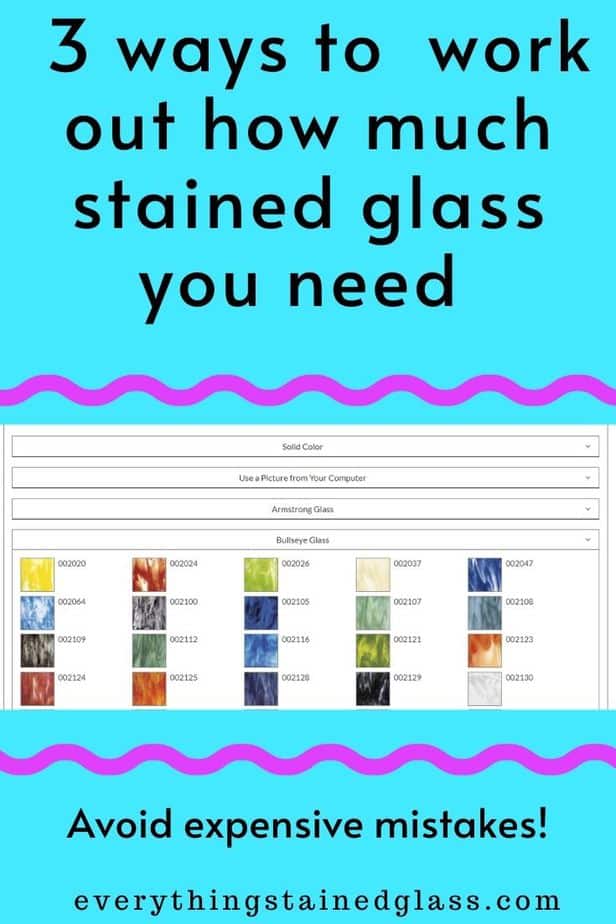 Learn about Pricing Stained Glass here
Find out about stained glass software to help you design and print full size patterns from home.