Is a Paragon Kiln Suitable for Firing Stained Glass?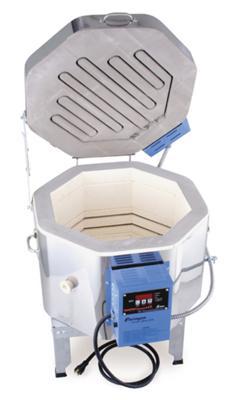 I recently bought a Paragon kiln – the Fusion 8 model for hot glass. I was under the impression that I could only use certain types of glass, such as: Spectrum, Bullseye etc……but my question is….
Can I use regular stained glass in my kiln? I can't seem to find my answer anywhere and what I have read, said NO….because it could let off toxic fumes. I work inside my 2 car garage, tall ceilings and plenty of ventilation if I open garage door. So if you could answer this for me, that would be so helpful.
Milly's reply:
This question brings up some really important points, so thanks for that. Firstly, you can put any type of glass in any kiln, so yes, your Paragon kiln will fire all types of glass. My first kiln was a used kiln – I bought it from a potter – and I successfully used it for all different types of glass for fusing, painting and staining for many years. So that's the good news. It might help to have a look at my Kiln Firing Schedule page to give you some idea about what happens inside your kiln before you get started.
Secondly, with the correct kiln firing schedule, your Paragon kiln can be used for all types of processes – not just fusing. You'll find a schedule for firing stained glass paint at the bottom of this page on my site: Stained Glass Paint With regard to the fumes, it's always adviseable to vent a kiln – ie leave the bungs open – up to about 300C, whatever you're firing. There's always something to burn off! For example, the fusing glue or the flux from the enamel. A garage is good, leaving the doors open is an extra precaution that is always a good idea. Keep safety in mind and you'll be fine.
Hope that helps. Feel free to ask any more questions, it helps other readers too.