When you copper foil stained glass lots of questions come up that you weren't taught how to deal with. Queries such as these:
What size foil do I need?
How do I store stained glass foil?
Where do I start foiling on a piece?
Scroll down to find a whole list of answers to help improve your stained glass copper foiling.
Stained Glass Copper Foil Width
Knowing which size copper foil to use for the variety of glass pieces is important. There are structural and aesthetic choices to be made.
If you aim for the copper foil overlap on the glass to be between 1/32" and 1/16" you'll be spot on.
3/16" – 1/4" foil works well for most standard copper foil stained glass pieces.
If you have a wider overlap you may find that the width of the solder is too wide when you start assembling the piece together.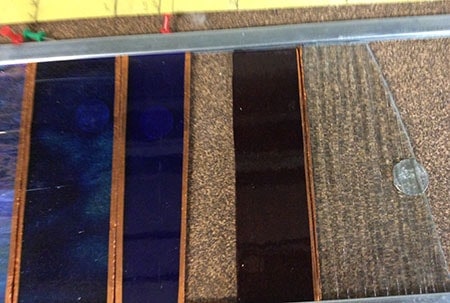 At some point, you may want to emphasise an area in your design. You can vary the line thickness to make it more interesting or to highlight an area. Say for example you had a panel with an owl in a tree. You can use wider foil around the owl to create a thicker line and bring attention to it.
Just keep in mind that you don't want to weigh a panel down with too much solder in one concentrated area as it can compromise the sturdiness of the panel.
Copper Foiling Thick Glass
Has this happened to you? You're working on a stained glass project and suddenly realise you have a very thick piece of glass. You need wider copper foil but don't want to waste time going shopping. Argh!
All is not lost.
Simply wrap overlapping foil around the edge of the glass until the edges are properly covered. Then solder as normal. Here's a 2 minute video showing you how:
---
If you're struggling with any foiling techniques there are lots of things you can do to get better.
If you don't have easy access to a class my Stained Glass Made Perfect course has helped many people improve the strength and neatness of their copper foiling. Not forgetting all the other techniques too!
The online course is self-paced so you can learn these foiling techniques even if you can't get to a physical class. You can find out more about it here Stained Glass Made Perfect.
---
Storing Copper Foil
Stained glass copper foil can start to deteriorate if left out in the elements. You can lengthen the life of your foil by:
using a ziplock bag or similar to keep it airtight
buying a paint can from Home Depot (unused) and store your copper foil in it. The rolls fit perfectly and when the lid is secured in place, it helps maintain the foil.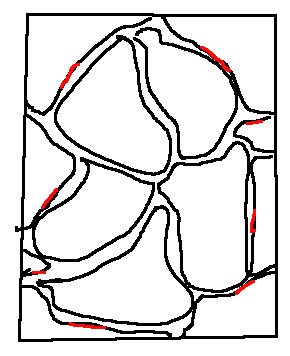 Where To Start Foiling
When you copper foil stained glass it's best to start foiling away from the outside edge as this makes for stronger adhesion.
This is because the foil isn't joined on the outside edge where is is more likely to come loose.
The red lines on the numbered edge pieces are an example of where to start the foiling.
Copper Foiling Textured Glass
Do you know how to copper foil stained glass that is heavily textured?
If you've tried this you'll know that the foil breaks as you try to go from high to low. Even with shallow textured glass (ripples) the foil sometimes breaks as it goes across the ripples instead of nicely contouring to it.
There are a couple of solutions:
For heavily textured pieces you can trim the foil with sharp scissors before you crimp and burnish.
Use a cork for crimping textured glass as it is softer and provides pressure while reducing tearing.
A rubber eraser on the end of a pencil. It cleans the foil too!  This works for croc glass as well as other highly textured glass.
Tilt the glass through the grinder at an angle of 30-45 degrees, flip it and do the same to the other side. This is especially good for something like croc glass where the "bubbles" sit high.
Better still, you can use a rippled glass grinder bit (paid link) to remove the heavy texture on the glass before foiling. This really helps with foil adhesion. Before you buy a rippled bit make sure it will fit your grinder.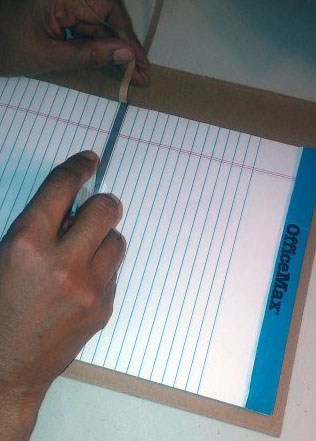 Centring Foil
When you copper foil stained glass by hand it can be hard to centre the foil. A simple trick was sent by one of my students to help with this. Use lined paper as a guide!
Do You Grind Before Foiling?
This is an interesting question and one I get asked A LOT. My answer might save you HOURS of time grinding and cleaning.
When you copper foil stained glass you do not have to have a rough surface for the foil to stick to. Foil actually sticks better to a cleanly broken edge than to a ground edge.
You do not need to grind every piece of glass.
It's okay to only grind to fit.
I grind to fit glass pieces to a pattern or when assembling to fit glass into lead came.
I'm delighted when a cut is accurate enough first time. It leaves a lovely clean unadulterated surface for the foil to stick to perfectly.
Try This
If you don't believe me stick a bit of foil on top of a clean sheet of glass and try getting it off.
It sticks, doesn't it?! Hopefully that will prove to you that foil sticks to shiny glass. Your shiny cut edges are fine without grinding.
Just be careful of your fingers. You can just deaden the sharp edges off with a wet scythe stone to avoid cutting yourself and to prevent sharp edges cutting the foil.
Ground edges need to be thoroughly cleaned before foiling.
Copper Foil Coming Off Edges
Sometimes when you copper foil stained glass the foil comes away from the edge. This is a common problem which often happens when finishing or soldering.
Soldering
If you solder too slowly or go over the solder repeatedly the foil glue melts and becomes unstuck. It's worth remembering that the glue is there to hold the foil in place until it's soldered. It doesn't serve to keep it on once it's been heated.
Try increasing the width of the outside foil a tiny bit too. That will give the solder more stability.
If you tin the edges rather than creating a beaded edge.
"Tinning" means covering them with a thin coating of solder. "Beading" is a rounded edge of solder that 'clings' to the edge of the stained glass and is much stronger.
I have a video on how to do a beaded edge on this page.
Finishing
Be gentle when cleaning and polishing. If you're too rough the stained glass copper foil can come off.
There are more answers about copper foil not sticking here.