Stained Glass Copper Foil Tips
Oxidised Copper Foil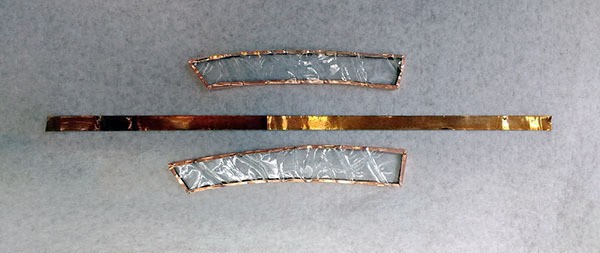 When stained glass copper foil oxidises it's difficult to solder. What is the best thing to do when this happens? You might be surprised to learn that this simple vinegar and salt trick can help you.
Try the following on your oxidised stained glass copper foil and see the magic for yourself:
mix a quarter cup of white vinegar and a quarter teaspoon of table salt until the salt dissolves

dip the pieces of foiled glass into the mixture and swirl it around for about 30 seconds

rinse the pieces with water and dry them

that's it! They are now ready to solder together
When Gail Koebke shared this with us she said 'all the ugly oxidation was gone and I was left with bright shiny copper'. You can see this in the shiny shapes, above. She also added that, despite the foil being old, the above procedure didn't stop it sticking.
If it works for old stained glass copper foil, it will work for new!
One note of caution; don't get the vinegar/salt solution on any soldered work as it will turn it black. It might work as a black patina, though!
More Tips for Oxidised Stained Glass Copper Foil
Keep the foiled pieces in a sealed bag – a zip loc or a plastic bag to prevent air getting to it.

Mr Clean Magic Eraser has been recommended for cleaning foil. They're cheap and don't smell. Watch out though, they do shred easily.

Use fine steel wool and rub the foil until it shines copper again. Use a mask and wear gloves, it's horrid stuff and makes lots of fine particles.


Hoover or sweep up all those particles thoroughly before soldering – they get everywhere
Patina Discolouring On Panels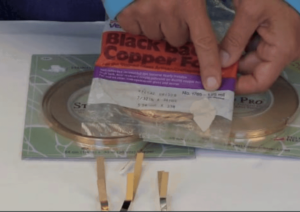 Q: When I wash my finished piece of stained glass, dry it, and apply the black patina and wash again, a month later, there appears a whitish stain, like the solder is leaking, when I rub this away or re-polish it, most of the stain goes away. How can I prevent this from happening?
Milly's reply:
There are a couple of options here. You can wash after soldering to neutralise the flux, scrubbing with a general purpose household soap (e.g. Dawn) with one of those green pan scrubbers until it froths up. Dry thoroughly with a paper or lint-free towel.
Or you can use Kwik Clean to clean off the flux. This is great for larger panels as you don't have the problem of rinsing off.
Then use a polish to get rid of the invisible black dirt. Don't ask me how, but it's there! This can be done with either 1. a dedicated metal polish like Simichrome which comes in a tube. You might've seen it recommended elsewhere for stained glass use:

Or 2. you can use a standard car polish. Either way, you need to buff it repeatedly until no more black comes off. At this point it should look beautifully silver. If you want the finished work to remain silver, you've almost finished. Just wax it to give it a layer of protection against further oxidation, and you're done.
If you want copper or black patina, now's the time to apply it. Make sure you dry it off the excess with a paper towel as some glass is liable to staining. Let the patina dry.
Then wax the panel as above, leaving the wax to dry for a few minutes before buffing up.
If you're using lead came, you need to polish it as shown on my site here: Polishing.