Framing Round Projects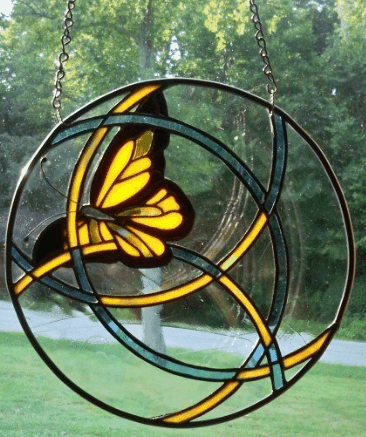 I'm making some round stained glass and want to know what metal framing material is best. I've used zinc for my square projects and they are fairly easy to do. So far, I've used a metal 9 inch in diameter rigid ring for my round projects but my glass cuts are not so good and I end up using far more solder to make the project fit into the circle than I'd like.
Is there a flexible edging material that will conform to my finished round product? I see that Delphi sells a coiled spool of lead hobby edging. I think its $25 for 80 lineal feet. Is that my best bet? Thanks for your help.
Milly's reply: Hi Ed, thanks for your question. Yes, I'd definitely go for the leaded edging. That way you can accommodate your slightly errant cutting! I'm assuming you don't have to buy 80 ft?!
In the UK lead comes in 6ft lengths, and you can buy what's called 'U' shaped lead, which is specifically used for the outside of stained glass projects that are going to hang in a window, rather than the 'H' shaped stained glass lead, which is used for panels that are fitted into buildings. My Lead Came page might shed some further light on the matter. Hope that answers your question, and good luck with the cutting.
Comments for Framing Round Projects
---
If you're new to using lead came as a technique I would highly recommend you give it a try. It will add a great deal to your skill set and give you the best of both stained glass worlds – foil and lead.
If you don't have a local class my Leaded Stained Glass Artistry course has taught many people – even those who have never used lead before – how to make a stained glass panel using lead came. The course is self-paced and online so you can learn this lovely technique even if you are unable to get to a class. You can find out more about it here Leaded Stained Glass Artistry.
---
Decorative frame for circle
Kathy Fitzelle
Use H lead came. The largest looks best. Stretch it first then put end in drill and twist slowly until desired look. Tack solder about every 2 inches. Looks great, adds a new element to design. Another idea is twist a couple of lengths of tinned wire in a drill, not too tight, and tack solder around the circle in the same way. Also looks great.
Framing Copper Foil with wire
James Kissel
You don't say in your post whether you are using lead cames, or copper foil. With copper foil, you can solder a pre-tinned copper wire around the outside. Just tack it at one point in the middle of a piece of glass, and bend and tack it until you are back at the starting point. Cut the wire just short of the original tacked end and tack it in place. Fill in the gaps with more solder, while bending the wire to minimize any gaps between the wire and the foil. Turn over and solder any gaps on the back side of your panel. Finally build a bead to suit you style.
Easy to describe, but this operation requires at least three hands. 😉
Take care not to use too much heat, or you can undo previous work and/or crack you glass.