What Kiln Should I Buy?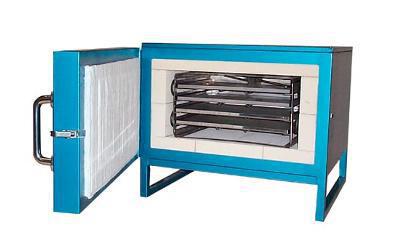 Glass painting kiln
I would like to start painting on glass but don't know what kiln to buy. I need to have a kiln that will run on a 13amp plug but is not so small that I will want to buy a larger one in a year's time. The more I investigate kilns the more confused I get!
Milly's reply: How I understand your dilemma! What you really need to do is to answer a couple of questions:
What will you use the kiln for, now and in the future?
If you answered painting on glass ONLY – and not fusing – then go for something dedicated to painting, like the picture I've uploaded above.
If you answered that you MIGHT want to do fusing in the future, then you need to go for a hobby fuser that will reach the desired temperatures.
With regard to size – I'd always recommend going for the largest you can afford and accommodate. We always push to the limit, so make sure they're as big as possible.
I hope this is of some use in you quest. Happy painting.
Recycled Window Glass OK for Glass Painting?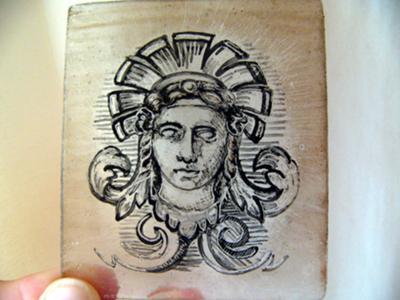 Painted head by lInda
Hi! My name is Linda, I am teaching myself kiln-fired, painted glass.
I am also a fan of salvage and recycle. Can UV coated or matte picture glass be painted on and fired? Is the matte a coating or a texture? If the matte is a coating, could it damage my kiln? (small Paragon.) Could I be anymore annoying?
Thanks for any assistance!
Milly's reply: Well, I laughed! Not annoying, but very funny… I love your thirst for knowledge. Recycling is the way forward, great stuff. They're all good questions, too.
I've put all sorts of glass into my kiln, including recycled smashed telephone box glass (the bad old days!) and have never had any problem. Make sure it's not the UV laminate, though (a thin film encased between two layers of glass)
If you can decifer which side the UV coating is on, it's best to paint on the other side, not because it will wreck your kiln, but because it may interfere with the colour of the enamels.
The worst thing about picture glass is that it's very thin and easily broken. The matte effect won't cause any problem. Good luck with your projects and keep up the recycling.
Which Glass Kiln?
I'm just looking for some insider knowledge on what you consider the best kiln for firing painted pieces in. I'm looking at buying a kiln, a good second hand or a new one,but I have no experience myself yet, of firing. (My college tutor is in control of that so far) All advice greatly appreciated. Lisa
Milly's comment: Thanks for your question Lisa. I suppose it depends on a few things… how big your work is/could be in the future, and what processes you might want to use.
You can fire glass in any kiln. A digital controller makes it easier, but you can fire glass using cones.
Having said that, there are different specialist glass kilns for different processes – flat bed ones are good for fusing as the heat is evenly spread, upright box ones are better for casting, and – traditionally – painting is fired in an upright with numerous closely-packed shelves (see photo).
If you think that you will never, ever, ever (!) do anything apart from painting techniques, then a glass kiln like this is your best option.
If you think that in the future, you might try some other 'warm glass' processes – slumping and fusing – then a flat bed is a better option, as you can fire paint in them very well.
If casting 3-D objects is a possibility, then an upright casting kiln is best – you could buy additional shelves to fire painted glass on.
As for makes – Kilncare, Paragon, Laser, they all make good kilns. If you can't afford a new one, any second hand kiln will be ok to start with. I had a round Hobbycraft one I bought from a ceramicist for years before I moved on to a flat bed.
Flat bed kilns don't often come up for sale, but old pottery ones do! Hope that helps.