Stained glass soldering boards require two things:
to be sturdy enough to hold your stained glass in place
to have a degree of heat resistance
Homasote makes perfect stained glass soldering boards. Made from pressed fibreboard, Homasote is safe to use for soldering and good for assembling. You can even cut glass on it.
Funnily enough, for a product that's similar in make up to papier-mâché, Homasote board is heat proof. It's made from recycled paper compressed under a high heat and pressure. Glue holds the whole lot together.
Homasote is a brand name for the product known as "cellulose based fibre wall board". As you've probably guessed, Homasote board was initially used for the building trade and has been high-jacked by stained glass! Amazon.com sell them here (paid link)
Stained Glass Assembly with Homasote Board
Copper Foil Method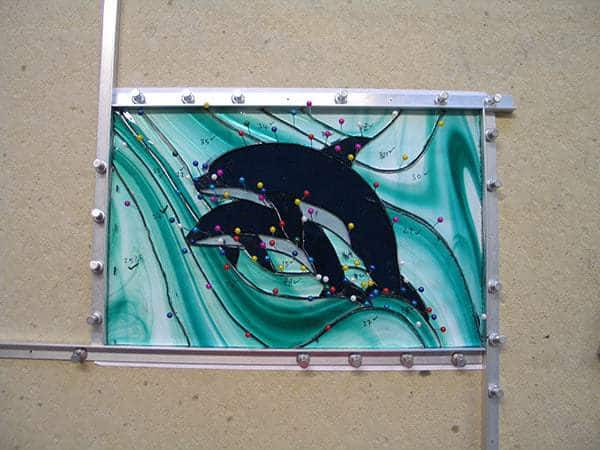 The surface of the Homasote board isn't rock solid. This means you can easily tap nails or push pins into it to hold your stained glass securely in place before soldering.
Because of this, Homasote board is particularly good for copper foiled projects.
Pins easily hold a freeform sun catcher in place prior to soldering. Just place them at regular intervals around the edge of your work before tack soldering.
For square or rectangular panels you can use Homasote board along with Layout Blocks to hold the panel in place. Tap nails along the overlapping layout blocks to create a perfectly square panel. This overlapping configuration is shown in the image above.
TIP: Adjustable Homasote Board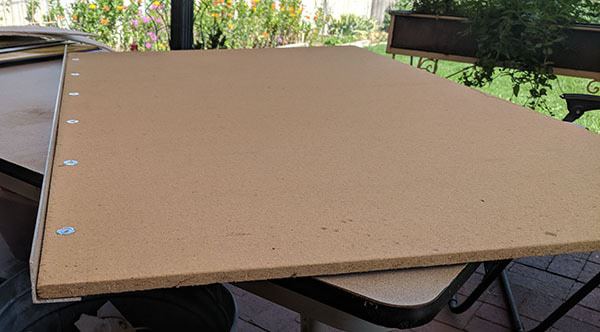 Take a look at the adjustable board above sent in by reader Carole Jackmason.
It has a permanent baton attached to the left hand side of the board. When you're ready to assemble your stained glass panel just nail in a layout block at right angles to the baton and you're ready to start.
Your stained glass panel can be as big or small as you like with less fuss.
Lead Came Method
You can use Homasote board for the lead came method but I wouldn't recommend it.
This is because the surface of the board isn't hard enough to withstand the pushing and pulling needed to assemble a lead came panel.
The nails or pins will dislodge during assembly. Annoying!
I'd recommend chip board for the lead came method. It's harder and more robust. Bang the nails in hard with the top end of the lead knife or a hammer and they'll remain in place during assembly.
Alternative Stained Glass Soldering Boards
Drywall
Sometimes known by wallboard or brand name Sheetrock – drywall is a heat resistant board used in the building trade. Made from gypsum powder pressed between two thick pieces of paper, it is very lightweight which is a plus!
It's not quite as adaptable as Homasote board because you can't cut glass on it and in my experience it doesn't take pins well and can chip and dust.
Rigid Foam Insulation Board
Alternatively you can use rigid foam board covered with butcher paper. Like Homasote, the surface isn't solid so you can easily push pins or nails into it to hold your stained glass in position.
It won't last for too long but you can easily replace it. A very lightweight solution for smaller projects. This would be a good alternative if you can't find homasote.
TIP:
To make drywall and rigid foam stained glass soldering boards last longer, cover the whole piece with wide masking tape all over, including the edges.
The board will last for years if you take the time to do this.
More Ideas For Stained Glass Soldering Boards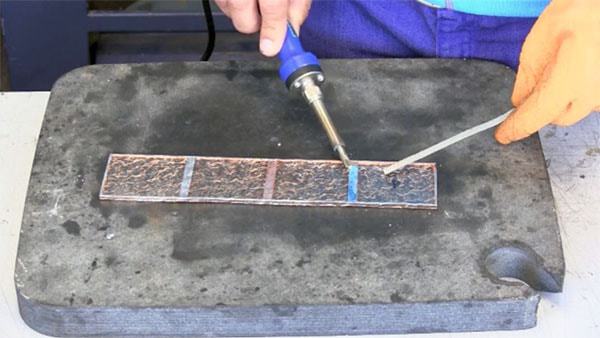 You don't need to nail your stained glass to the board to hold it in place. For smaller projects you can use masking tape to secure the pieces before tack soldering.
I use left over scraps of a granite kitchen top for these smaller projects that don't need a jig.
Dwayne Brandly teaches stained glass and has kindly shared this tip with us. He makes work boards for his students to make their class projects on.
He glues cork on one side of the board.
This is good for cutting on and doing the tack solder or completing one side of the project.
He glues smooth laminate on the other side.
This side is great for burnishing the foil. The smoothness of the surface means that students can slide the piece around without worrying the foil will catch on the cork and rip off as they move it around.
See how to make your own Layout Bars in this post here
Click her to see how to get your panel square and fitting
Find out about other stained glass tools and materials