What materials do I need to start making stained glass?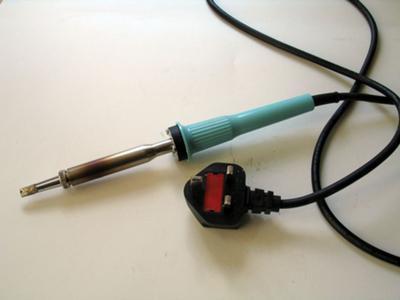 Soldering Iron
Milly's reply: Luckily I've written pages to answer your question about materials for a starter kit. If you click on the following links, you'll find not only the essential items for making stained glass, but also buying advice so that you can choose the tools and materials that are most suited to you. Here you go: Kits and Tools.
Hope that helps.
Cleaning Gryphon Saw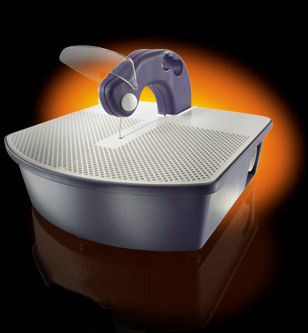 Gryphon stained glass saw
This is more to do with clean up of tools. I recently purchased a used Gryphon C-40 saw. I want to make sure it is safe, running smoothly and clean. Is there any trick of the trade to loosen up hardened glass grounds to allow a quick and complete cleaning? I imagine this would apply to grinder reservoirs too.
Milly's reply:
Thanks for your question Peter. I use an old palette knife to break down the hardened slurry of ground glass that accumulates after use.
For these saws it's recommended that you clean them by following these steps:
removing the platform and cover
remove the blade
remove the top assembly by pulling straight up
pour the dirty water away, but not down the sink as it can clog pipes
use a paper towel to remove slurry
rinse out bottom assembly with garden hose if needed
don't use any solvents – just clean with soapy water
if you take off the guide holder, make sure you clean it meticulously before putting it back so that it fits flush.
Hope that helps and that your saw is now twinkly and running smoothly.
Which suppliers can I get glass from?
I have the paint for glass and all the other materials, but I do not have the glass – I can not seem to find it anywhere. I'm only in the 10th grade I made an art project last year that was stained glass and fell in love with this type of art. I love all art but this one seems to interest me the most!
Milly's reply:
You don't say where you're from, but if you're from the US, there's lots of suppliers who are happy to do mail order. Delphi Glass – www.delphiglass.com – sell just about everything you can think of regarding art glass, and in the UK, Creative Glass Guild – www.creativeglassguild.co.uk – are the same.
It's great that you're interested in stained glass. I hope you have lots of fun learning about it and all the amazing things you can do. Is there anyone who can help you with finding out more – a teacher who can point you in the right direction (to a local supplier for example; they sometimes offer short courses to get you started on new techniques.)
Kits for Reproduction Tiffany Lamp
I adore Tiffany lamps and would like, if possible to make my own reproduction lamp, but to do this I will need pointing in the right direction. I am a moderately skilled artist and am capable of designing my own pattern for the lamp. I have little knowledge when it comes to working with glass. I need advice on where to get the stained glass from, what tools I'll need and where to get solder from….etc. Charlotte
Milly's reply: Thanks for your question Charlotte. This is when I wish I'd written a book on the copper foiling technique!
With regard to tools, I do have a couple of pages on the tools you'll need to get started, including buying advice. The starter kits page goes through the available kits that you can buy, suggesting which ones would be best for different types of projects. The second link goes into a bit more detail about the individual tools you need, so that you know what to do with them once you've got them.
Here's the links to the relevant pages: Stained Glass Starter Kits and Stained Glass Tools.
You don't say where you are in the UK, but you can get all this stuff online. Some suppliers – Creative Glass Guild for example – sell a stained glass starter kit specifically for foiling. They post 'stained' (coloured) glass too, it's easy for smaller projects such as Tiffany lampwork. Delphi Glass in the US sell just about everything to do with stained glass, so they're a good bet if you're in the States.
Hope that helps and good luck.
Tools for Beginners
I took a stained glass class 25 or so years ago and made a panel. I'm interested in taking it up again with an eye to possibly doing it as a retirement hobby or business. The tools seem to have changed A LOT since my first class. What tools (and manufacturers) would you suggest, and is there anything you can tell me about what I should look for in a stained glass class? Any help is greatly appreciated! Ron
Milly's answer:
Welcome back to the world of stained glass Ron! Yes, the tools have changed over the last 25 years, but it could be worse – you could be in computers…
Have you checked my Stained Glass Tools hub page? Right at the bottom you'll see a link to Stained Glass Kits which will give you a run-down of the essential tools you need, and also you'll find separate pages on glass cutters, stained glass grinders, soldering irons and other miscellaneous tools. The pages contain buying advice and information, but if there's anything else you need to know, get in touch.
With regard to classes, as you've done it before, you might want an intermediate – rather than a beginners – class. Structure is important for learning, so make sure the classes are well planned and organised.
I think designing is what will set you apart from the competition when you start your business, so choose a class that will allow you lots of creative ideas, and avoid those solely working to patterns.
If you're thinking of learning painting too, make sure you find out all about firing schedules and where to source materials and hire kilns. Most tutors should be more than willing to give all this information out – and more!
Good luck, and let me know how you get on.
Stain Glass Suppliers in Brittany
Does anyone know where I can buy stained glass tools and materials in Brittany?
Milly's reply:
Hi Tillys, thanks for your question. I'm not sure about whether there are any suppliers actually in Brittany, but I've just seen that my local supplier has started sending his stained glass materials etc to Europe. If you can't find anything more local, and don't mind not seeing what you're buying, this might be your best best. The company is called Creative Glass Guild, based in Bristol. I hope this helps.