Increase Your Cutting Options
You've got your stained glass pattern and you're wondering how to approach cutting glass shapes. Is it best to use a template? And if so, do you stick the template on or do you trace around it? What about the "English method" that you've heard of but don't quite understand?
There's always more than one way to do the same thing in stained glass, and cutting glass shapes is no exception. The good news is that you can start with the one that suits you best and as you build up your skills and confidence you can add the others.
Before you know it you'll be ready to cut any shape in any glass.
---
If you're struggling with accurate cutting there are many easy-to-learn techniques that will help you get better.
If you don't have a local class my short Conquering Curves course has taught lots of people the skills to cut shapes accurately. And we all know how important neatly fitting shapes are!
The course is self-paced and online so you can learn these cutting techniques even if you are unable to get to a class. You can find out more about it here Conquering Curves.
---
1. Cutting Stained Glass Shapes – Tracing Method
Carefully drawing around each template shape on to the stained glass before cutting just inside the traced line.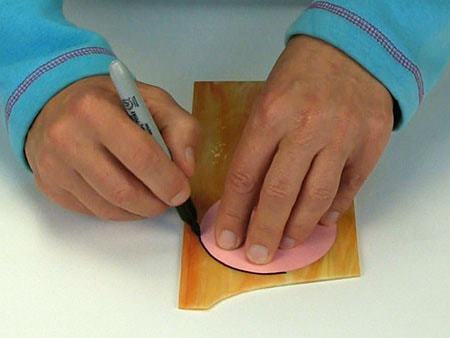 When best to use the Tracing Method?
Works with either light cathedral (transparent) or opaque stained glass that you can't see through.
If you're using it with dark cathedral glass you'll have to use a pen that will show up on the dark colour. Those gold Sharpie permanent pens are good for this (affiliate). The marks are waterproof and you can remove them with paint thinner – odourless!
If you're using glass that's very irregular it's sometimes hard to trace as accurately as you need to cut stained glass shapes for a perfect fit.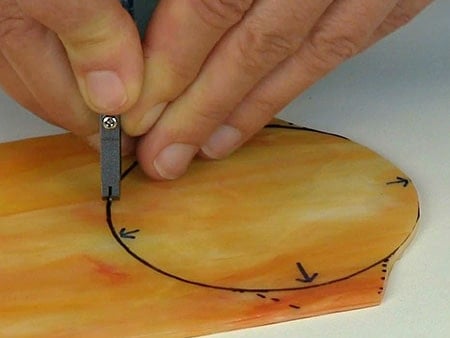 The technique is very simple:
I'm assuming that you can already cut glass. If you can't here's my glass cutting tutorial for you.
Cut out all the individual shapes in your pattern from stock paper (thin card). You can do this either with regular scissors or with foil pattern cutting shears.
Make sure that these template shapes are 1/32″ (1mm) smaller all the way around than the shapes on your pattern. This is to allow for the thickness of the foil when you wrap it around the glass.
You can see more detailed instructions for cutting your pattern here.
Put the templates on the pattern all at the same time to check their accuracy.
Hold your template shapes absolutely still on the glass – taking care to get the grain direction going the correct way – and draw around it with a fine permanent pen (Sharpie)
Then cut – and this is very important – on the inside of the black line.
If you don't do this, your glass shapes won't have that 1/32″ (1mm) gap in between them that you need to get your stained glass project to fit together. It will all get bigger and bigger and bigger!
Repeat for each of the stained glass shapes.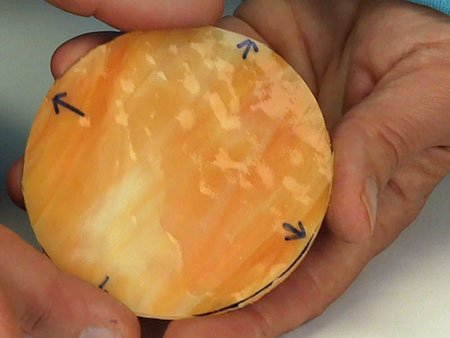 Summing Up
Lots of people find this method the easiest and most versatile but it can add time because you have to cut all the template shapes out first.
It can also lead to some accuracy problems as the templates can move when being traced or the pen is too thick.
2. Cutting Stained Glass Shapes – Templates Method
Sticking the templates on with glue before using their edge as a guide for cutting glass shapes.
When best to use this cutting glass shapes method?
Works for any type or darkness of glass
Not good if you're wanting to be quick as this is the slowest method of cutting glass shapes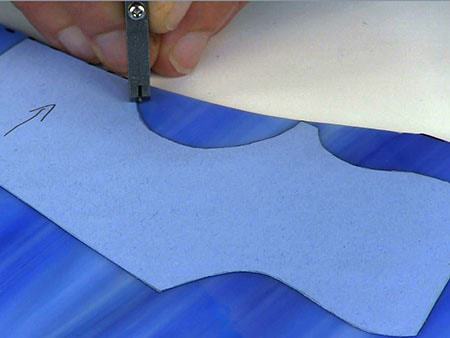 This is what you do:
Cut out your templates from stock paper or thin card exactly the same as numbers 1-3 above.
Using rubber cement (Copydex in the UK) or a glue stick, stick a template on your chosen piece of glass.
Wait for the glue to adhere if necessary.
Now make the score with the cutter wheel snug up against the template. If the wheel slips onto the template simply stop and replace it back to where it slipped off.
Continue around the whole shape in this manner.
If necessary, you can grind the edges a couple of times before the template gets wet and soggy.
Repeat for every shape.
Remove template only when you're happy that the shapes all fit together.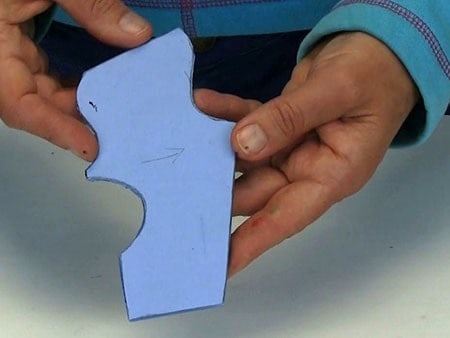 Summing Up
This method of cutting glass shapes is reliable and consistently produces very accurate results. It can also be used on all types of glass which is a big plus.
The downside is that it is very time-consuming. But then having ill-fitting shapes wastes both time AND glass!
3. Cutting Glass Shapes – The English Method
Placing the glass directly on top of the pattern and looking down through the glass to cut the shapes freehand.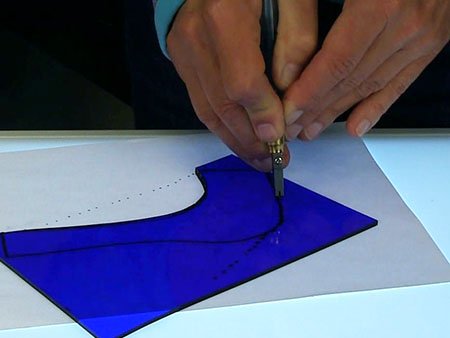 When best to use this?
Works well for light transparent (cathedral) glass that isn't too textured
If you have a light box it works well with dark cathedral glass too
You can't use this technique for opaque glass that you can't see through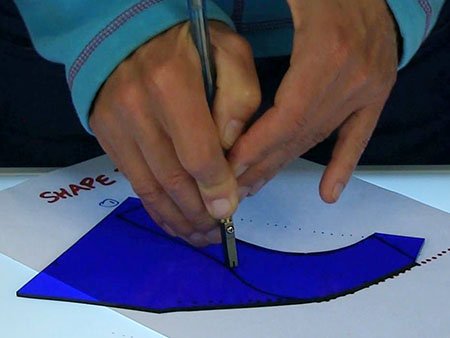 How to do it:
If you are using dark transparent glass place your pattern on the light box. If you can see through the glass you can do this on your work bench instead of a light box
Put the glass on top of the pattern
Making sure that you are directly above the pattern and can easily see where you're going, make the scoreline
Don't rush, go slow and steady. It's not a race!
Be careful to cut on the inside of the black pattern line to ensure that your shapes are the correct size
Repeat for each cut
Groze or grind the edges as necessary to tidy up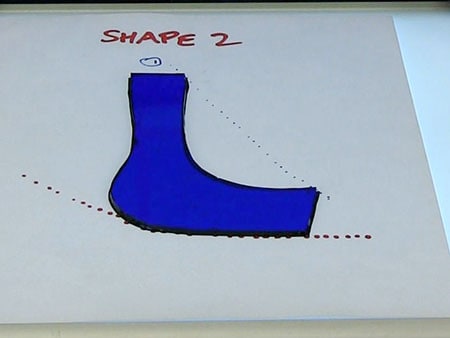 Lightboxes for Stained Glass
Vaughan Dibble, one of my online students, kindly sent this idea for a home made light box.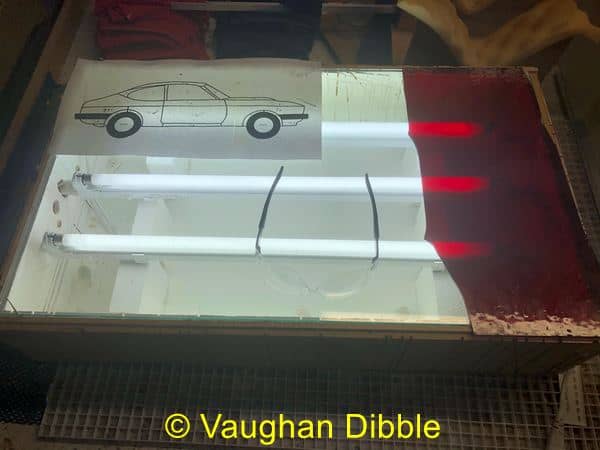 Summing Up
It's a great way of cutting transparent glass quickly as there's no extra steps – no cutting templates, no tracing around them and no sticking them on.
But there are some drawbacks.
It takes a lot of practice to become accurate at this method so results can be a little disappointing when you first give it a go.
It is only good for transparent glass which rules out all the opaques – a lot of glass!
Conclusion
If you do persevere and learn all 3 techniques you will have the best thing for a stained glass artist – options.
Your question won't be 'can I cut that shape' anymore, it will be 'which is the best method to use to cut that shape?'. And you'll have the confidence to cut them all.
There are lots more tutorials showing you How To Cut Stained Glass here.
Return to Everything Stained Glass Home Page.