Copper Foil vs Hobby Came Explained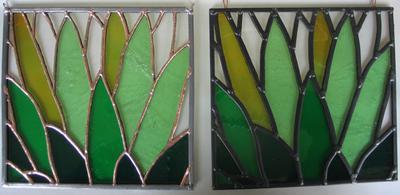 I am a copper foil guy and have not used lead came before. What are the advantages and disadvantages over copper foil?
Milly's Reply:
Great question, thanks Joe. It's really a question of personal choice, but some things lend themselves more to copper foil than lead came.
The difference in how it looks
You can see by the photo above that the same panel looks quite different with the two different techniques.
Copper foil is much more delicate, and is more uneven. This is great for organic patterns – flowers etc.
Lead came has heavier, more regular lines. The lead gives a great textural feel to the piece. Good for more graphic designs.
So it's good to think about what you want you piece to look like before you choose the technique.
Which is best for what?
Although copper foil is structurally stronger, lead came is used for external windows as it's made waterproof by the cementing process.
I would make larger windows with lead as they're quicker to make. It's estimated that it takes about one third less time than foil.
Copper foil is a more contemporary technique that is very good for 3-D work – boxes, kaleidoscopes etc. Particularly lamps. I wouldn't do a lamp with lead, too heavy and sags!
Copper foil is also good for fiddly work, and freeform sun catchers. It's harder to make freeform shapes with lead came, although it can be done.
Learn both!
So, it's really a question of personal preference. People tend to stick to the technique they've learnt first. I'm a great believer in learning both, so that you have choices. That way you can choose the best for each project and not be limited.
You can also mix the two if you wish, you do the fiddly bits in copper foil and the larger pieces in lead came.
I admire you wanting to learn something new, so often it's easier to stick with what we know. Here's my Making Stained Glass tutorial hub covering all the leading techniques in order. I've just completely revamped them, with videos and photos, so hopefully they'll be of use to you.
---
If you're new to using lead came as a technique I would highly recommend you give it a try. It will add a great deal to your skill set and give you the best of both stained glass worlds – foil and lead.
If you don't have a local class my Leaded Stained Glass Artistry course has taught many people – even those who have never used lead before – how to make a stained glass panel using lead came. The course is self-paced and online so you can learn this lovely technique even if you are unable to get to a class. You can find out more about it here Leaded Stained Glass Artistry.
---
Questions for Copper Foil vs. Hobby Came
Hobby Came Advantages
I'm a stained glass artist who prefers copper foil over lead. However, when constructing a stained glass angel with a base I love working with the hobby came as it gives a smooth line and you can use a bevel cut on the edges of the hobby for the sleeves and the wings. As well there is a lot less solder to use in the construction.
Milly says: Thanks M Fox for your thoughts – very good point made about the hobby came. It does make a lovely edge – easier than a beaded edge and neater too.
---
Stretching Hobby Came
A friend game me some hobby came to use on sun catchers. Do I have to stretch this like larger lead came?
Milly replies: Yes you do have to stretch it but be careful as it really doesn't need much otherwise it snaps!
---
Is Hobby Came Different to Ordinary Lead?
Is Hobby Came different than just lead came? I have finished a round piece that needs to be framed in came and have u shape came in a roll that I thought I'd use, BUT… then heard about hobby came and am wondering if it is less thick??
Milly's reply: Yes, hobby came has a very narrow profile and is designed to finish off the edges of sun catchers neatly.
If your piece is a panel, rather than a small sun catcher, it's best to frame it with the standard lead came.