The Secrets Of Neat Copper Foiling
This instruction on how to make stained glass shows you how to wrap and burnish your stained glass pieces neatly with copper foil. This is so that you can solder around each piece and join them all together.
There's also information on all the different colours, widths and weights of foil available, to help you choose the right one for your project.
Want to know how to foil very small pieces? Then click here
---
If you're new to stained glass or coming back to it after some time out there are many things you can learn to make it a more rewarding experience.
If you don't have a local class my Stained Glass Made Perfect course has helped numerous beginners and refreshers master the essential techniques and progress to making more complex work. The course is self-paced and online so you can learn these techniques even if you don't have a physical class close by. You can find out more about it here Stained Glass Made Perfect.
---
Foiling Complex Shapes – Video
Starting the foil in the correct place can help prevent it from pulling away at the edges. Learn how to foil tricky shapes evenly and for maximum strength.
---
What You Need For Copper Foiling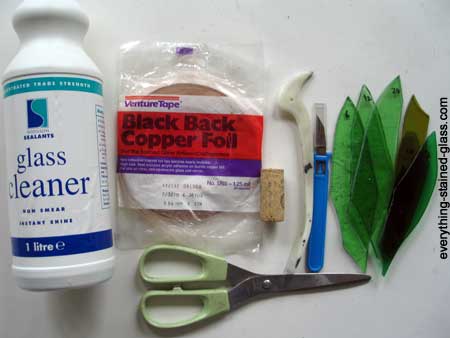 A roll of copper foil – 7/32″ wide is a good starting point, Cleaner, Scissors, Fid or spare wine cork, Craft knife, Cut and ground art glass pieces, Your pattern.
Instruction To Make Stained Glass – Foiling
Copper foil tape comes on a roll and has a backing that you peel away to expose a sticky side.
It's worth spending some time making the foil as neat as possible at this stage, as any gaps or uneven areas will show up during soldering. I like to use Venture Tape, like this one (Amazon Affiliate Link) or Edco.
1 Wrapping The Glass
Clean each piece with rubbing alcohol to get rid of any grease that will stop the foil sticking
Roughly roll out and cut enough tape for your piece of stained glass with a small overlap
Peel a bit of the tape away from the backing and place the edge of the glass in the centre

Start anywhere except for on an outer edge of your panel or on a corner of the piece. This will make the panel stronger
Press down and continue around the whole piece, checking that the tape is staying centred and pressing down the outside edge as you go
When you get back to the beginning, make sure that the overlapping bit of tape lines up exactly


Top Tip
If you have trouble centring the foil you might want to use a piece of lined paper as a guide like this photo below: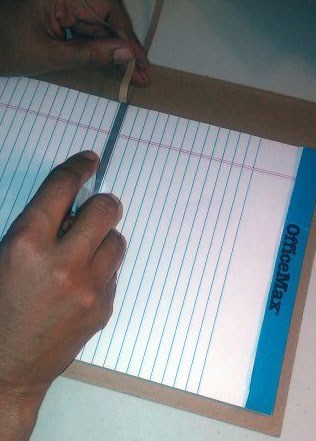 2 Folding The Foil Over By Hand
Squeeze the foil on to the back and front edges with your finger and thumb. This is called 'crimping'.
Make sure that the corners are neat by folding each side over first. Think of darts and dress-making!
3 Burnishing The Stained Glass Copper Foil
Now you need to burnish the edges to make them stick firmly.

Using a fid (you can use a wine cork or pencil for this) go over the outside edge, to make sure it is stuck properly
Then do the same for both the back and front edges
Trim any uneven bits carefully with a craft knife
The neater your foil, the better your solder will look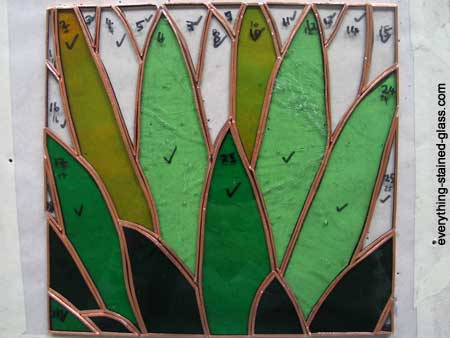 Copper foil for stained glass is available in widths from 1/8" (3mm) to ½" (13mm).
Beginners like working with 7/32″ and 1/4″ widths.
It also comes in different weights, from the thinnest 1mil to the heaviest 1.5mil.
Beginners often use I.5mil as it doesn't tear as easily and works well on unground edges.
You can also buy silver, brass and black-backed foil. This is especially good if you are using transparent glass as you won't want to see copper through it.
It's best to think ahead and choose foil with a backing colour to match the colour of the patina you will be using, so that they blend together perfectly.
Tips for Copper Foiling Small Shapes
One of my students asked in the Stained Glass Hub* if anyone had any ideas on how to foil small shapes. I've compiled all their suggestions and added some of my own to share with you.
*The Stained Glass Hub Facebook Group is an (optional) private group for students of my online classes
If the small piece is surrounded by other foiled pieces you might not need to foil them. This is because the solder from those surrounding pieces may lock them in place. If these tiny pieces go next to each other, you have another option. You can lay pieces of foil across the top edges like an overlay and run a bead of solder on the top.
Use the narrowest foil possible. You still may have to trim some off with a craft knife to keep them from getting buried in solder.
Practise PATIENCE 😄
Jacqueline Conn Lawton constructed a holder for your foil on homasote board like the one pictured below.
Pull out a length of foil. Put the glass on its' edge and center it as you go. You can sit or stand directly over it to check it's centered.
For Glass Blobs, keep them more to the flat side rather than centered. Then simply roll them on the foil. When they're all done, put them all in a container without burnishing first and shake it. They bang against each other and burnish themselves.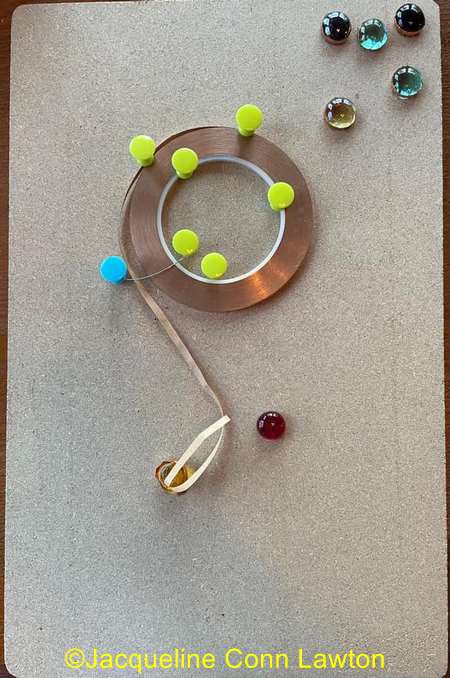 With very small pieces, take a strip of 7/32 foil and cut it in half lengthwise, then foil. It's tight on the edge but enough to solder. This way you don't have much foil to trim away.
Use Overlay or Wire Rather Than Cutting
You can leave a larger shape. Rather than struggling to cut individual little shapes – say petals – you can cut 1 larger glass shape for 2 petals Then stick thin foil overlay on the glass to make it look like 2 petals.
Remember to go slow on the soldering of overlays. The heat from the solder has a way of cracking the glass underneath.
If you're unsure what a foil overlay is, click here.
The photos below from Wes Eller show perfectly how you can use overlays to avoid cutting and foiling numerous fiddly shapes.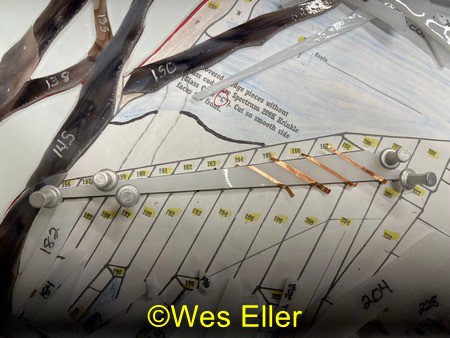 Cut the 2 long sections with several small pieces into 2 larger, long pieces.
Lightly grind and clean the edges with alcohol.
Line them up on the pattern.
Cut several short foil strips and lay them where the cut lines would have gone.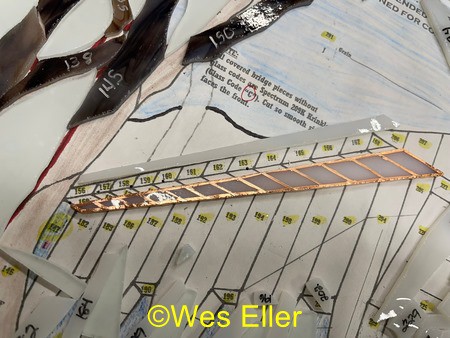 Then burnish the foil strips to the glass, making sure the edges are secure.
Foil the 2 pieces as normal, covering the burnished strips all along the edges.
VOILÁ, the problem of foiling small pieces is solved 🙂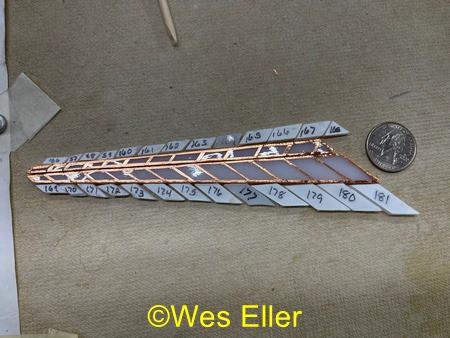 Don't forget the underside of the piece shows as a single piece, as it has no overlay on it. This may not matter if it's a plated piece (as in this case) or if the backside can't easily be seen.
If it DOES matter you could always do overlay on both sides of the panel.
Thanks to online students Gail Koebke Lynn Boucher Jacqueline Conn Lawton Scott Sucher Nancy McPherson Deb Minez Lin Krz Kathy Corbin Nelson and Wes Eller for their suggestions.
Helpful Resources
Here's a really helpful instruction to make stained glass video, showing you the copper foil and soldering process. It lasts 2mins 30seconds.
The only thing I would be wary of is starting the foil off right at the corner of a shape, as it makes the joining of the two ends of tape together a bit more tricky.

A short video of foiling and soldering processes
Once you're happy that you've foiled, crimped and burnished as neatly as you can, you're ready for the next step, Stained Glass Soldering.