A perfect scoreline makes EVERYTHING easier. But how much pressure should you use when you make a score on the glass?
This is a question that I get asked a LOT, so I decided to make a video with a useful Pressure Test for you to try.
It's worth remembering that each sheet of glass needs slightly different pressure applied. Some will make the 'sssssh' sound and some – like Bullseye opaques for example – don't make a noise at all.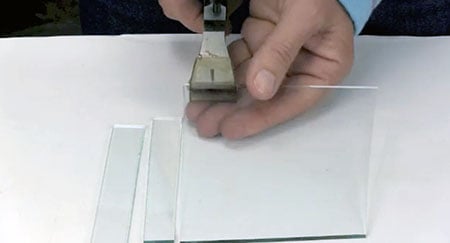 ---
If you're having trouble with your cutting accuracy there are lots of tips you can learn to help you get better.
If you don't have a local class my Conquering Curves course has taught lots of people the skills to cut glass accurately. And not only accurately but without excess effort. How nice is that!
The class is self-paced and online so you can learn these cutting tricks even if you are unable to get to a class. You can find out more about it here: Conquering Curves.
---
Take the Pressure Test
So it's a good idea to try this Pressure Test out when your project includes a new type of stained glass that you haven't cut before. Cut a small piece off and test away! It will give you a feel for how that particular glass responds and how much pressure you need to apply for a perfect scoreline.
In the long run you'll cut more accurately and waste less glass.
Glass Cutting Checklist
I could blind you with the science of wheel sizes, angles and the mechanics of force but I don't think that's what you need. Rather you need a simple cutting checklist to help you along.
Stand up to cut if you can


This will help you maintain consistent pressure along the whole score. The optimum height for your cutting table is somewhere between your hips and waist

The cutter wheel must be rolling freely


Check before you start scoring

Different brands of glass, different thickness and different colours behave… differently!


Cut off a small piece of any new-to-you glass to see how it behaves. It will save you glass in the long run

Keep your cutter perpendicular to the glass


Don't lean to the left or to the right as this results in an angled break. A perfect scoreline gives a straight break.

Keep an EVEN pressure throughout the length of the score


If the pressure varies the depth of the fissure will vary and the glass will break randomly instead of along the score line

A score that will result in a good, strong and clean edge is practically invisible from the surface of the glass
You should see it if you look at the glass from an angle


A white line is indicative of a gouge rather than a true fissure. This is the result of pressing too hard and will not give a good break – the edge will be chipped and weak

The depth of the fissure is linked to the speed of the cut. The faster the wheel rolls, the deeper the cut
If you're speedy, don't press so hard! If you're slower, press harder. There's no 'right' and 'wrong' – you might cut a straight line quickly and lightly and a difficult shape slowly, pressing harder.


Consistency of pressure is the key

I'm assuming you know not to run along a score twice?


This will gouge or crush the glass, it won't break cleanly and it will ruin your precious cutter wheel. You can go across a score, just not along it.

It may not be you!


There are – very, VERY occasionally – sheets of glass that simply misbehave. This is normally due to insufficient annealing (cooling down). This happens less and less these days but it's worth being aware of as a possibility.
Summing Up Cutting Glass Pressure
Author Joseph Farrell put it brilliantly: "The secret of all power is – save your force."
Get creating that perfect scoreline. Watch the 3 minute video above and take the Pressure Test!
Go here for a list of my other cutting glass tutorials – there are lots of them 🙂