Soldering Problems – Quick Tips
Nothing is more annoying than spending hours designing, cutting and assembling a piece, only to feel disappointed at the end because stained glass soldering problems have spoilt the final finish.
Here are some suggestions for the most common problems and questions I get asked which will hopefully give you some quick answers to your soldering problems. This page will continue to grow as I add more.
But first… I can't talk about 'avoiding common mistakes' without mentioning Iron Maintenance.
So many people think that their precious iron looks after itself, week in, week out.
Not so.
My Soldering Iron Maintenance Blueprint mini-course shows the correct way to keep your precious iron in peak condition
The amazing thing is, by following this simple regime, you'll see your soldering improve along with your iron's performance – you might not even HAVE any soldering problems 🙂 
Click the links below to go to the section:
Solder Leaking Through
Thick Solder Lines
Corroded Copper Foil
Soldering Zinc Came
Left Over Solder
Solder Leaking Through To Other Side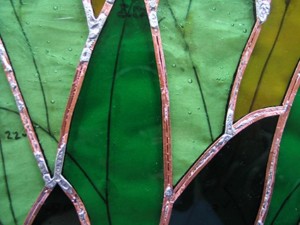 1. Your cutting could be the culprit with this soldering problem. Inaccurate cutting leaves wider gaps for the solder to flow through to the back side.
2. Your iron might be too hot, causing the solder to melt too quickly. Turn the rheostat down to somewhere between 700 – 750F (360 on a Hakko FX-701) or check you've got the correct temperature tip in if it's a thermostatically controlled one (#7 for Weller 100W). If all this is ok, get the iron checked out by an expert.
3. Liquid flux is more likely than gel flux to cause this particular of the soldering problems. Try a different type of flux and check the difference.
4. You might simply be soldering too slowly causing the solder to melt too quickly in one place. See #5 if you think this is causing you difficulties.
5. It might be your solder type. 60/40 flows more easily than 50/50 and can cause soldering problems if you go too slowly. You could try soldering the backside first with 50/50 then turning over and doing the front with 60/40.
60/40 solder on Amazon (*paid link)
50/50 solder on Amazon (*paid link)
Solution
Tack solder your piece securely together
Lift it carefully using a board if necessary
Place a slightly damp towel or flannel under the piece while you're soldering. It will cool the solder when it touches it and stop it pooling through to the other side.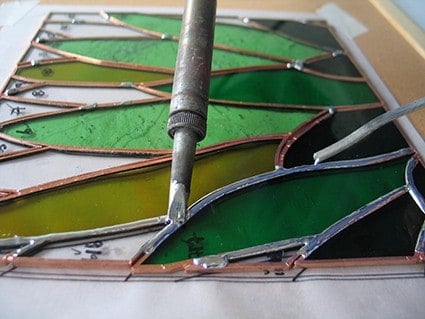 Thick Solder Lines – A Common Soldering Problem
Question from a reader:
I was hoping to get some advice from you. I made a piece and it's got quite thick solder lines on it, but it turns out my soldering iron isn't actually hot enough to be able to properly smooth out the thick lines. Have you got any advice on how to improve this situation? Would something like sandpaper even be able to smooth down the lumpy solder? Any and all advice is greatly appreciated!
I've attached a picture of the unfortunate piece that went wrong… I would normally never do solder so thick but for this piece it was specifically to try and make it look more like the Pokéball it's supposed to be!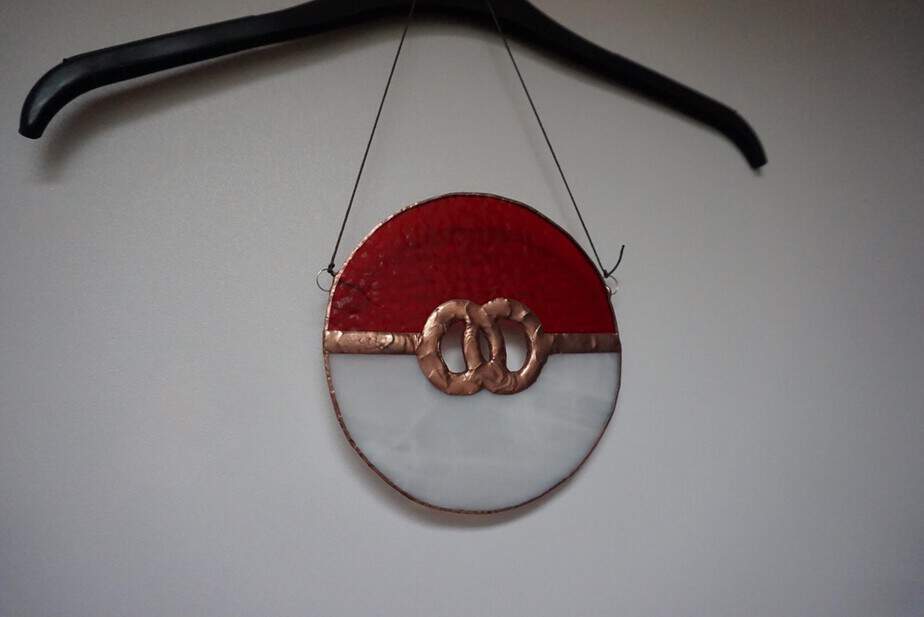 Milly's suggestions:
Sandpaper won't work as it isn't robust enough to rub solder smooth
Try slowing down when you're soldering to allow the solder to melt
If your iron won't get hot enough even if you slow right down, try a larger tip. They impart more heat.
Make sure your tip is clean. I use the MG Tip Tinner below. It's pretty miraculous how it shines the iron tip 🙂
Tip Tinner from Amazon (*paid link)
Corroded Copper Foil
Question from a reader:
Recently I was doing a lamp shade. After initial soldering, I had to stop working on it for several days. When I returned, the copper seams were corroded and could not be soldered. It took a long time to clean the seams and re-solder the pieces.
Milly's suggestion:
Ouch. Lesson learned: do not stop soldering half way if at all possible.
Wipe the flux off the foil if you are stopping. If you have to stop before you have finished wash the work to clean the seams from flux so that it doesn't corrode the copper foil. Kwik-Clean Flux/Patina remover (*paid link) is great for this task if you don't want to bother with soap and water.
Problems Soldering U Profile Zinc Came
U profile zinc came is for the edge frame of your piece. It should take solder. However, It takes longer to heat up so try this:
When soldering zinc, hold your iron on the zinc a little longer than you would on lead.
When soldering zinc to lead, touch the zinc came first to heat it a bit before touching the lead too. The zinc might turn dark and almost look scorched, but this will clean up.
Zinc takes longer to heat up so on the corner, zinc to zinc, hold your iron on the zinc to warm the zinc and activate the flux. Then put the solder on the zinc, iron on top and melt the solder.
Practice with some scrap zinc and lead.
Zinc doesn't melt like lead so perhaps if you are having problems you're doing it too quickly?
What To Do With Left Over Solder?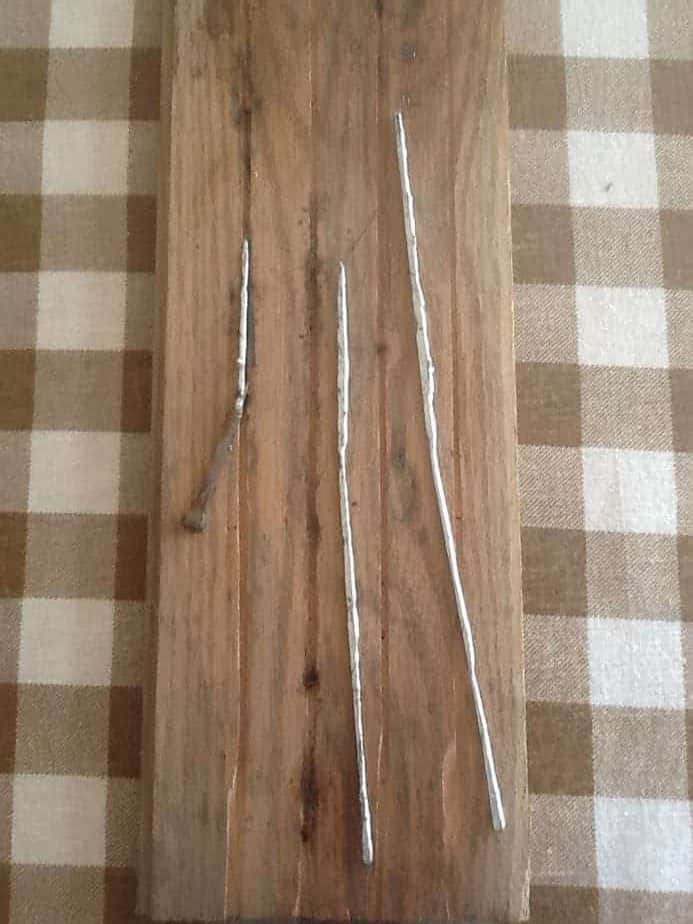 Here's a great tip sent to me by reader Vicki Farrell
Cut shallow grooves into a length of board
Gather your left over bits of solder and spread them near the grooves
With a hot iron pull the bits into the grooves creating nice long solder sticks. You don't need flux
When cool, just pry them out with a horse shoe nail
You can also solder the sticks to the end of the solder on a spool so you don't have to hold on to a hot end.
These sticks are so much easier to use than trying to pick up bits and blobs of solder left overs!
Thanks Vicki.
Feel free to add any comments about how you tackle soldering problems below. Thanks in advance 🙂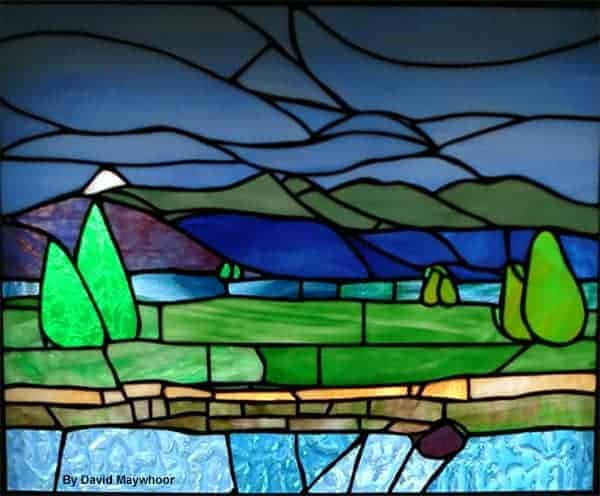 More Soldering Articles
Stained Glass Soldering Techniques – The Key to Smooth Soldering
Best Stained Glass Soldering Iron
Solder Stained Glass Beaded Edges
I hope that helps!