What REALLY makes a smooth solder seam?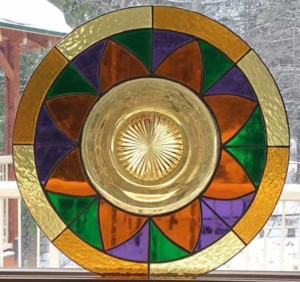 You all know that lumpy solder seam feeling. You try and TRY to improve your stained glass soldering techniques but STILL you can't get a nice smooth finish.
Well I have a secret for you.
It's a tiny but crucial tip – taken from my Stained Glass Made Perfect Course – that will improve your stained glass soldering techniques and help you get over the hump and start producing smooth, even seams to be proud of.
You'll see that it isn't a question of speed, or the right flux or the correct solder – although these things help.
It's all about controlling the heat of the solder with the angle of the soldering iron tip.
Click here for Answers to 7 Common Soldering Problems
Stained Glass Soldering Techniques
Have a look at the Video Tip below and give it a go yourself. Play around with the angle of the tip. Try it flat, try the corner, try the side. This will help you:
see how the solder behaves differently.
learn how much heat is transferred to the solder with the different angles.
start to control of your soldering iron.
And with that control comes smooth, even solder seams.
You might not have instant success but if you keep at it I can guarantee that your stained glass soldering techniques will improve.
P.S. If you got value from this free sample class, please Pin on Pinterest or Share on Facebook with your friends and fellow glassers who want to make stained glass to be proud of. Thanks.
More Stained Glass Soldering Techniques
Try looking just ahead of the iron's tip, not directly at the tip, as you move the iron along the seam.
It's like driving. The more road you can see ahead, the more anticipating you can do and the better you drive. It's the same with feeding solder to the tip.
Don't be afraid to move your panel so that you get the best angle for running the bead. If you're in the wrong position it will make soldering smoothly more difficult.
This might challenge you but try holding the iron like a pencil and drawing it towards yourself. Rest your soldering hand on the bench to stop it wobbling as you go. You might find that this gives you better control. As always; find what suits YOU, not anyone else.
Try dropping a series of blobs along the seam and joining them up to make the smooth seam.
That way you don't have to worry about feeding the solder. This is the technique students find most helpful in the Stained Glass Made Perfect course.
Try flat soldering the front side first, making sure that the gaps are filled. Wipe of flux, turn over and bead Side 2. This is now easier as there's no gaps for the solder to get sucked into. See image below.
Go back to Side 1 and run the bead. This is now easier as there's a solid base that makes running a smooth seam easier.
By beading Side 2 first you get a soldering warm up and can identify problem areas to pay attention to when you go back to Side 1.
If you get the hang of this you may find in time that you don't need to tin first.
Soldering Tips For Smooth Seams
Experiment with temperature to suit YOU. Find the temperature that works for you. This will change depending on what you're doing too. Edges, internal seams, decorative soldering. They all need slight adjustments in temperature and speed.
Too much flux can cause problems. Flux will splutter and can get trapped in the gap between glass and spit when you solder side 2.
Make sure you keep the iron tip clean by wiping it frequently on a damp sponge to remove the build up of residue.
Check that your iron is maintaining a constant temperature. Weller soldering irons have the reputation of cool spots and it's another thing to factor in. The Hakko FX 601 maintains a very even temperature which helps.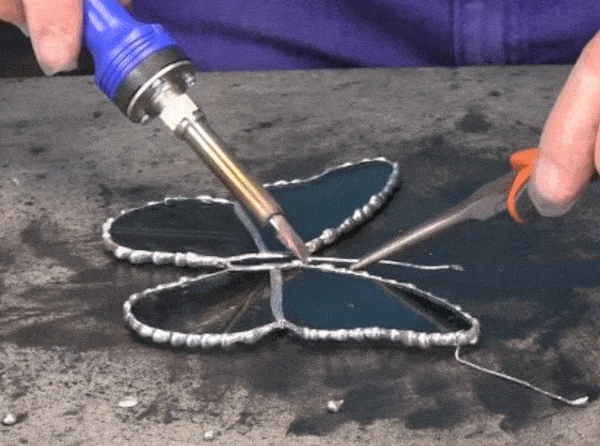 Learning To Relax
Don't worry about doing the seam in one pass. It creates too much pressure. Try making a run of solder over the seam without worrying about smoothness. Then go back and make the bead on the second run. As long as you let the solder cool down in between you can go over it a few times.
Let go of expectations, it's liberating!
Learn to slow down, you'll make smoother lines if you do. Because glass expands at the edges when heated it's very VERY unlikely that you'll crack the glass. Soldering overlay in the middle of a shape is much more likely to crack the glass so you have to speed up a bit with that.
Answers to 7 Common Soldering Problems
Question 1: My solder won't stick to foil
Milly's Answer:
Never fear, there are various things you can try, some more elaborate than others. Make sure you've eliminated these 3 general pointers first:
Check that your iron temperature isn't too low or hitting a 'cold spot'
Soldering in a very cold room can affect it too
Check that your iron tip is clean
This 'solder not sticking' problem is nearly always caused by the glue from the foil. It can leak outwards and upwards. This can get on fingers and spread further, preventing solder from sticking.
To remove this glue before soldering you can try a variety of approaches:
1.
Use a magic eraser or alcohol to clean the foil before fluxing and soldering.
Then apply flux. This also helps clean the foil. Gel or paste fluxes are best if you have this problem.
Leave it on for a minute or so before reapplying and soldering.
2.
Wipe the foil with a lacquer thinner or acetone. Acetone is very aggressive so be sure to vent the area well.
Apply gel/paste flux and solder.
3.
Fine steel wool can work. It makes a mess so try the other options first.
Dampen it down, use a mask and make sure you clean up all the bits afterwards before flux and solder.
Try them and see which one works best for your particular situation.
Question 2: My solder won't stick to zinc
Milly's Answer:
First eliminate the 3 general soldering pointers above.
Then try the following:
Immediately after cutting, briskly wash the zinc with alcohol, to remove the oil present after manufacture.
Scrub lightly with a brash brush at each joint and use paste flux. Try Nokorode paste flux.
Question 3: Is it okay to use 50\50 solder for tinning and go over it with 60\40 solder?
Milly's Answer:
Yes, that's absolutely fine. You can also do the back side first in 50/50 and then the front with 60/40.
That way you fill any gaps with the cheaper solder and finish off with the better finishing solder.
Question 4: How do you remove solder to take something apart?
Milly's Answer:
Use gravity to melt the bulk of it off.
Hold one end up and heat and 'scrape' the solder down off the seams.
Safely flick the excess off. Repeat for all seams.
Then use the soldering iron tip perpendicular to the seam to ease it apart.
You can insert aluminium strips (cut up a drinks can) in between the seams as you go. This ensures that the pieces don't stick back together as you go.

Wear gloves and ventilate the space when soldering.
Question 5: How do you achieve smooth solder joint at the junction of multiple pieces of glass?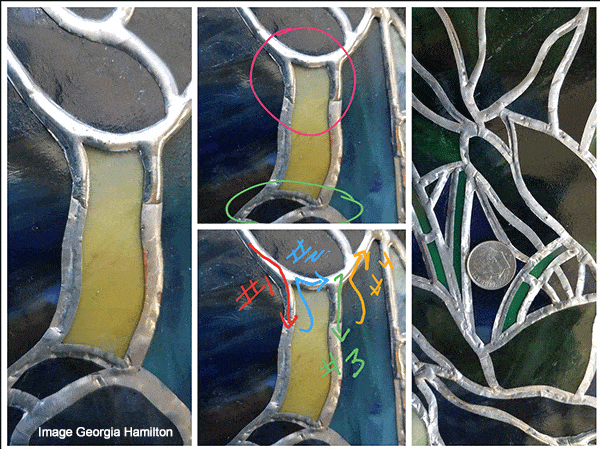 Milly's Answer:
Continue a little way past the junction, leaving a little 'tail' of solder, then return and do the same from the other solder lines to the junction, leaving a little 'tail' in all directions (see image, above*)
When you've finished the main line you can go back to each 'tail' and easily pick up where you left off.
This will avoid solder collecting at and forming lumpy intersections.
It's far easier to pick up a single line than going back to the join to neaten it.
*thanks to online student Georgia Hamilton for providing the illustration
Question 6: How can I prevent a cloudy film forming beside my solder lines? And what exactly is it?
Milly's Answer:
Wipe the solder clean with alcohol before you solder
Keep wiping the flux and gunk off while you're soldering
What is it?
My online student Gail Koebke* found out the 'official' answer to this by writing to a solder manufacturer:
That ugly grey gunk is called dross. Dross is a byproduct of flux residue and oxidation.
If the blob builds up so much that the solder starts to run over the sides of the foil use a little alcohol on a small piece of kitchen paper and clean off the seam.
Now go back and add a "little" fresh flux to the seam, and run over the seam again. This usually will result in a clean solder seam, but if the dross worked its way into the solder as you worked the first time it might come back to the surface and continue to give you grief.
In that case just clean it again, re-flux a little bit, and run the seam again.
*Thanks Gail, very top notch information sleuthing 🙂
Question 7: How do you tack leaves (or other shapes) on top of beaded seams?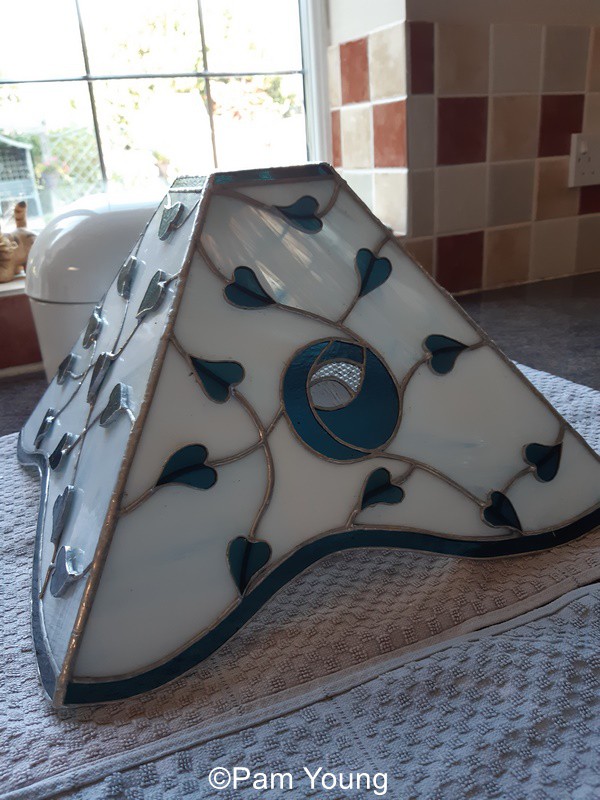 Milly's Answer:
Flux the top and tail of the leaf
Melt a small blob of solder at either end and tack solder by holding the iron perpendicular to the stained glass.
This reduces heat transmission and gives you more control.
To neaten the seam let the tack solder cool
Reapply flux
Bring the iron tip flatter towards the seam to increase heat transmission and melt the blob into the seam
Temperature Tip. If you're a quick worker, 420, if slower, 360
If you have any other tips, feel free to add them in the comments below. You may help others achieve smooth solder seams and eliminate common problems. My students often find good ways of explaining things to help the penny drop!
Have unsightly gaps? Go here to see a video on how to fill and solder them
Check this page out if you want to learn about the other stages in making Tiffany-style stained glass