The BEST thing about stained glass cost-saving tips is that they leave you more $$ for glass, beautiful stained glass. Below you'll find a series of cost saving tips. I hope you find them useful. Feel free to share your #1 tip at the bottom of the page 🙂
Click the links below to go to the section:
Saving Oil
Careful Template Use
Save Solder
Make Jump Rings
Cheaper Cutting Rulers
Holding Things With Cheap Household Items
Saving On Stained Glass Cutting Oil
The first stained glass cost saving tip is really simple. Try using kerosene or sewing machine oil instead of the relatively expensive cutting oil sold in stained glass stores.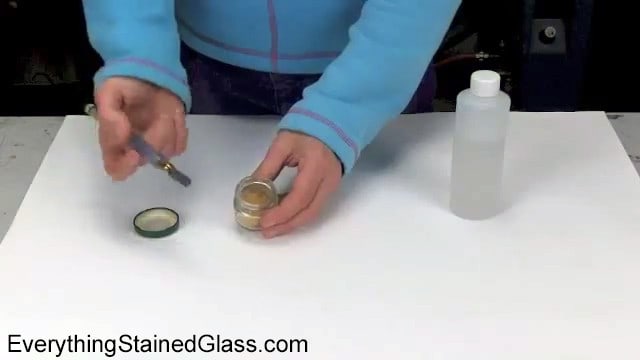 Sometimes the barrels of the cutters leak. Rather than waste oil try using a little jar with a bit of sponge soaked in oil. You can put the lid on and use it as and when needed.

Cost Saving Tips for Stained Glass
The biggest savings to be made when cutting glass are by placing your templates in the right position so that you waste less glass.

Can you see the difference between placing the glass randomly (left in the photo above) and neatly in a line (right, above)?
There's a lot of wasted glass all around the edges of the random shapes. If you have a lot of similar size shapes, you can put them all in a row. Choose the strip of glass that you like, thinking about the grain direction and colour.
Make one cut along the length of the glass and then across for each of the pieces.
A huge 2/3rds of that hobby cut have already been saved! And you're left with that little nice bit at the bottom that can be used too.
When you cut the shapes, do the inside curve first, making it one of your cuts. Then do the top side. Remember that you have to go from one edge of the glass to the other to make a successful cut. By doing it this way you only use about 1/3 of the sheet rather Speaker 2: than about 1/2.
---
If you're new to stained glass or coming back to it after a break there are many tips and tricks you can learn to make it easier – and cheaper! – for yourself.
If you don't have a local class my Stained Glass Made Perfect course has helped many beginners and refreshers nail the essential techniques and and go on to find success with more ambitious projects. The course is self-paced and online so you can learn these techniques even if you can't easily get to a class. You can find out more about it here Stained Glass Made Perfect.
---
Save Stained Glass Solder
Speaker 2:
Don't throw away those annoying little bits of stained glass solder that get left at the end. Simply join it together with your longer solder stick.
To do this, join them together by holding your iron tip flat over over the two ends until they melt. Leave it for a few seconds to let it cool and harden. And then you've got an elongated mega stick with no wastage!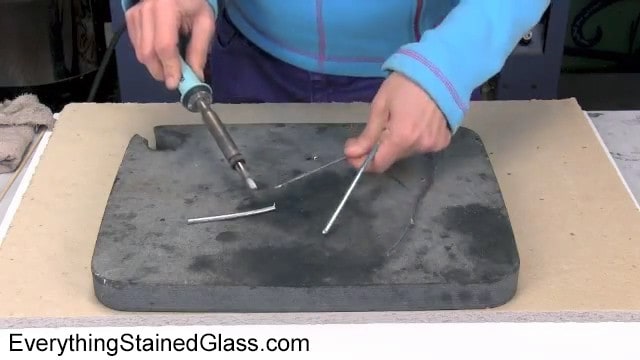 Make Your Own Jump Rings
Jump rings are quite expensive to buy but this stained glass cost saving tip will shows you how to make your own.
Get some tinned wire – I'm using 14 gauge but you can adjust this depending on the size of your project. Don't make it too low though, otherwise you won't be able to wrap it easily.
You can see a range of tinned wire on Amazon here (paid link)
Think about the diameter of the ring you need and find a dowel or pencil that corresponds to this.
Wrap the wire around your chosen object repeatedly. I make 3 rings in the video but you can keep going and make up to 10 by keep wrapping it round and round.You're effectively making a small spring.
When you have enough rings, cut the wire and slide it off the dowel. Now you've got the little spring.
Now cut it with wire cutters.

The first one is usually not usable as it's incomplete. Cut along in a straight line and the wire circles begin to appear. All you have to do then is bang them with a hammer to flatten them out.
And there you have it, a handful of cheap jump rings at sizes to suit your projects 🙂
Speaker 2:
Save Money on Cutting Rulers
 Do you find the cork backed steel rulers for cutting glass a little bit expensive AND too shallow? If so, here's how to use materials to make your own cheaply and the correct height.
Can you see from the video that a regular steel rule is too slippery and not high enough off the glass surface to be any good when cutting stained glass?

You need a packet of those plastic sticky pads that stop doors or drawers slamming
Then clean you ruler and stick the pads along underside of the ruler
One of my readers suggested staggering the pads to make it more stable – top tip!
That's all there is to it. You have a non-slip ruler that is the correct height for cutting glass.
Cheap Tools For Holding Things
One of the constant problems when making stained glass is managing to hold everything together and in the right place. You have to keep things still, make angles and generally make sure that the piece doesn't move in the making. Unless you're an octopus, this is tricky!
Reader Georgia Hamilton has very kindly put together an ingenious variety of ideas to hold things in place that use inexpensive or everyday items. She has taken photos and explains how she uses them below. So useful, thank you SO much Georgia!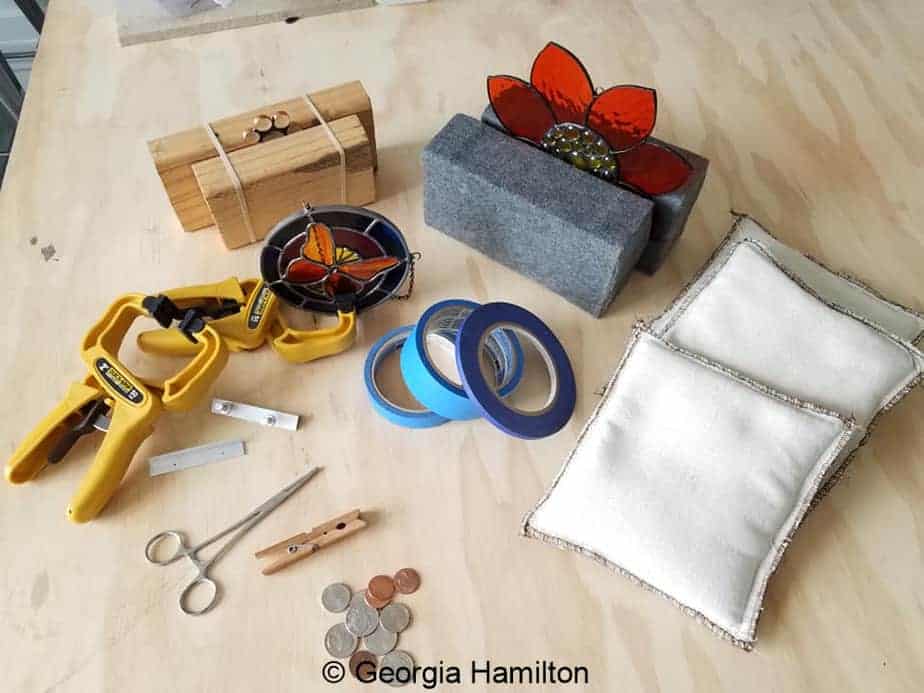 01
Above are some of the items Georgia uses for holding things in place and at angles. Coins are great for levelling pieces and the aluminium Morton strips can be used for angling things like butterfly wings when soldering.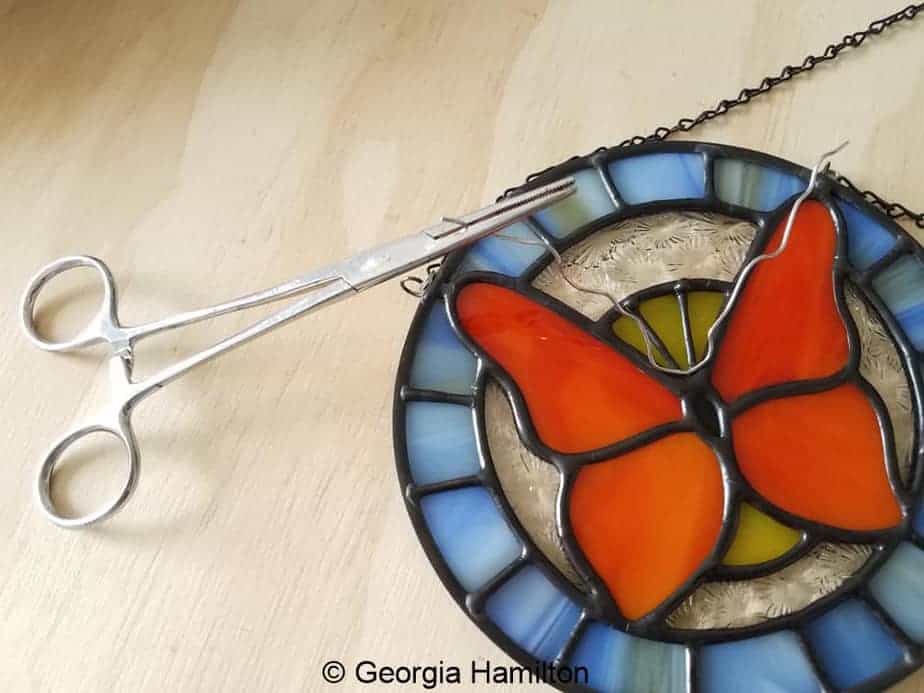 02
These scissor-looking things are called Hemostat clamps. You can buy them online for about $5. You can get them at fabrics stores and sometimes pet stores. What works well for stained glass is that they don't require you to hold them closed because they latch together. Also, they're very narrow so can be use for small delicate items.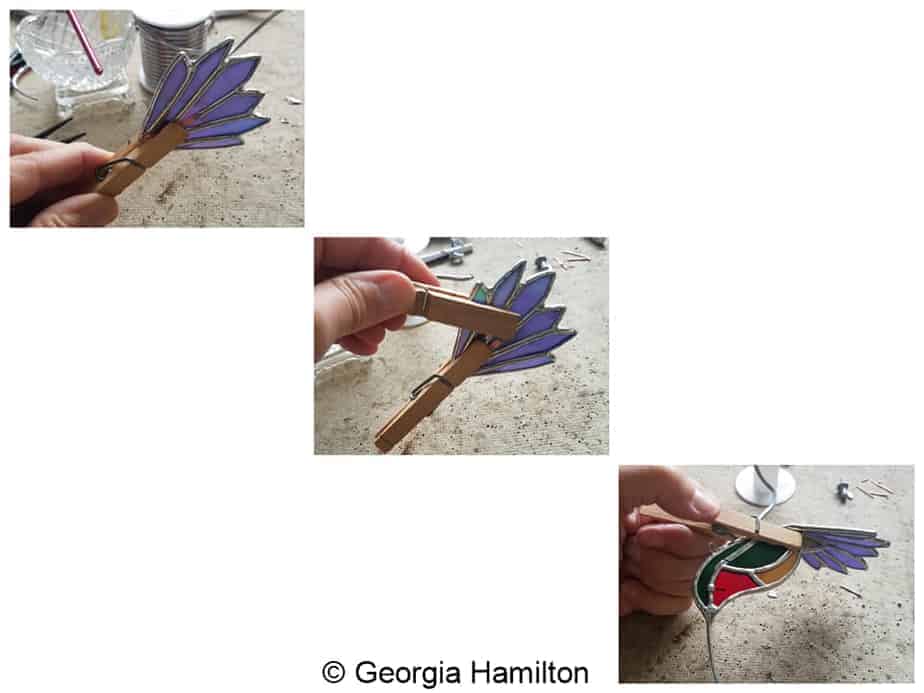 03
Clothes pins are also handy and readily available. Plus, like the hemostat clamps, they are a reverse clamp, so you don't have to hold them closed like you do pliers.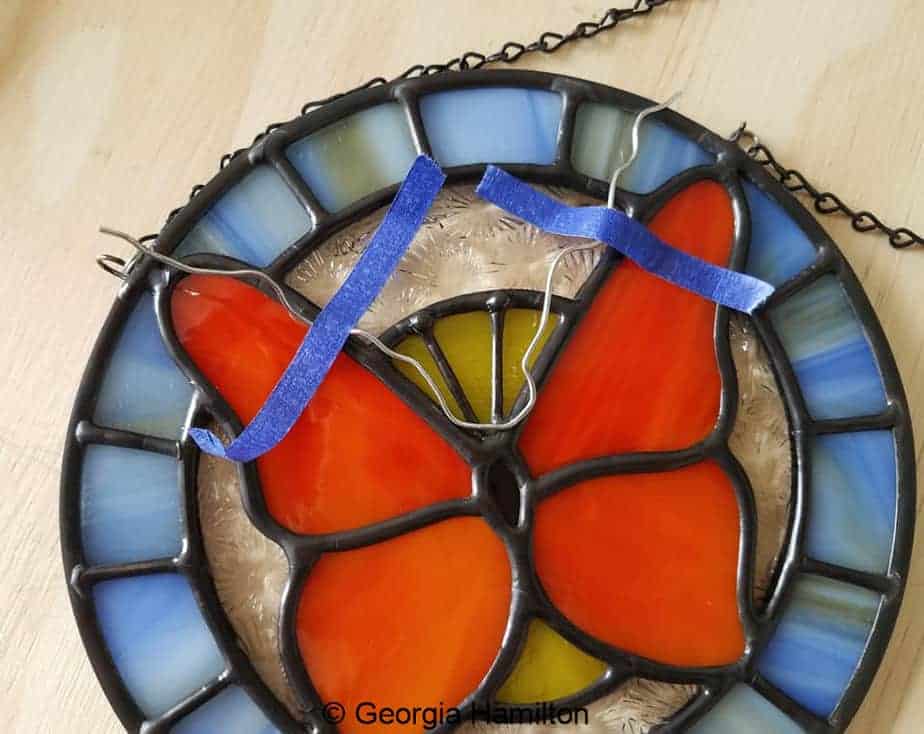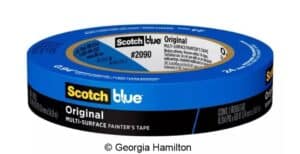 04
Blue painter's tape is great for all kinds of things. You can tape down wire embellishments and solder them in place. The tape removes easily, doesn't melt and solder doesn't stick to it.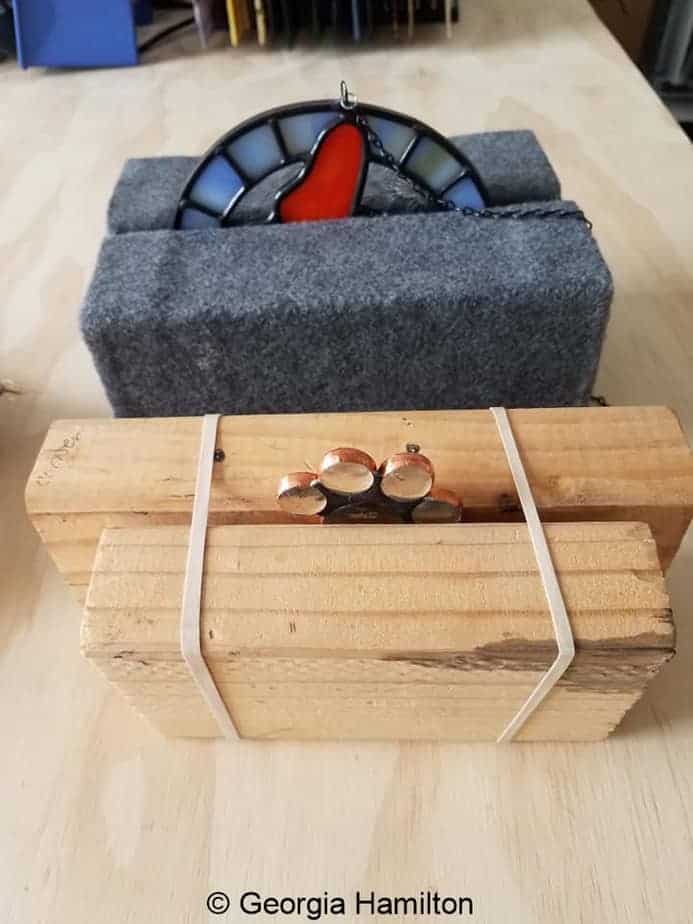 05
The clamp in the front is just scrap 2×4's held together with rubber bands. The back items are 2 bricks that Georgia glued felt to. They're heavy enough to hold larger things upright without falling over. The felt protects the glass and solder from getting scratched.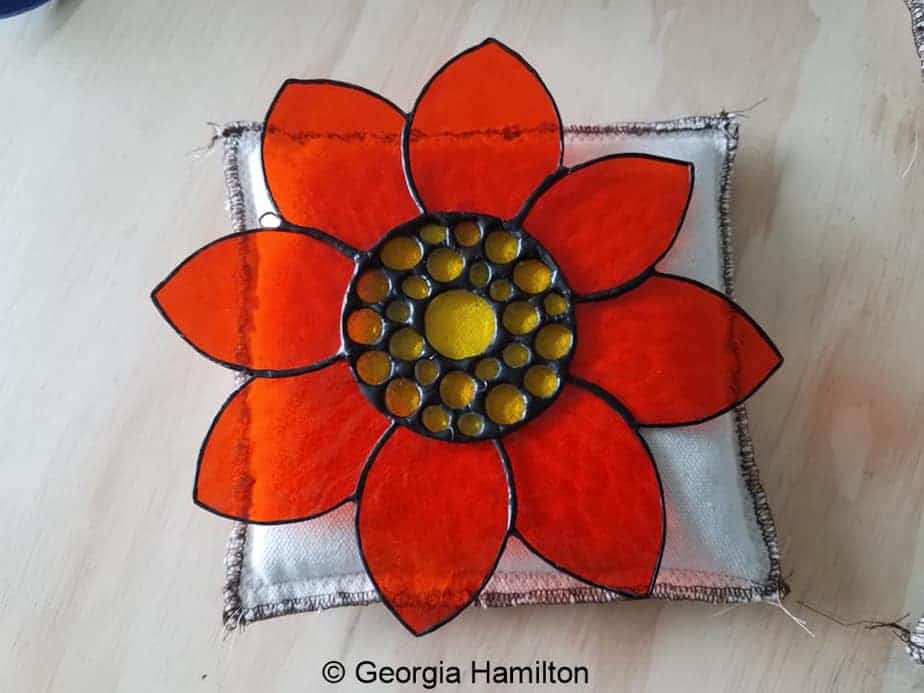 06
Georgia makes these mini sandbags using a cheapie canvas dropcloth to cut squares from. Cotton canvas is more flame resistant and the sand won't melt or break down. Plus it is softer than beans. She cuts four squares for each bag to make them doubly thick. She then sews them up with double seams and fills with sand.
They're handy for positioning items at an angle or when you have projects with nuggets, jewels or bevels that stick out on one side of the piece and you need to solder the back. These keep things level and protect the jewels.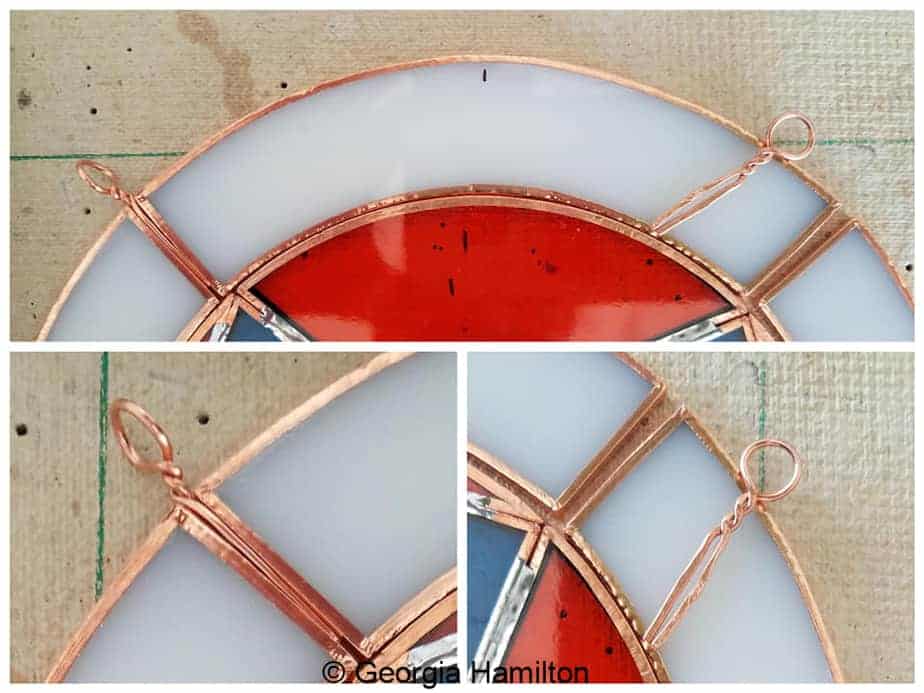 07
Georgia prefers loops with tails rather than simple rings. They're much more secure because they're soldered into a seam. They can be pinned into position and soldered in place without needing to grasp anything with pliers.
I'm hoping you'll find these tips useful and that save a little bit of money when you're making stained glass. I bet you have your own tips? If so, feel free to add them in the comment section below to help your fellow stained glassers. Thank you.