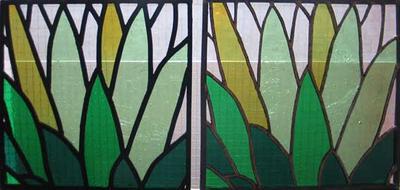 Lead came (Left ) Copperfoil (Right)
I have never done stained glass before, but have been very interested in it for years. Can you please tell me what the difference is between the type that uses the copper came and the leaded type and which kit/s would be best.  Andy
Milly's reply:
Hooray! I love it when someone who has been wanting to make stained glass for years decides to give it a try. Welcome to stain glass, Andy!
You're right to separate out copperfoil and lead came, they're very different techniques:
Copperfoil (right in above photo). This method is the one that Tiffany started, and is the one most used in the US.
The glass is cut to a pattern, and is then wrapped around the edges with a sticky copper tape. This tape is then covered with a bead of solder, which has patina applied to it before being polished.
My copperfoil tutorials will take you through the whole process from the beginning.
Lead Came (left in above photo). This goes way back to medieval times.
The glass is cut to a pattern and then, instead of copperfoil, lead came is used to join the pieces together. This comes in 6ft lengths and is cut to size and bent around the glass shapes. Then each join is soldered, before the panel is cemented to make it strong and weatherproof. It is then polished.
My Lead Came Tutorials explain the whole process.
What to use each for?
Copperfoil gives a less uniform look than lead came, so if you like trees or other organic subjects, it would be the best option artistically. It is very good for fiddly, small shapes – think Tiffany lamps!
It's a cleaner process and a little bit easier for beginners I think. It doesn't take up so much space, if that's an issue for you.
Copperfoil is good for 3-D projects such as lampshades and boxes, free form suncatchers, internal window panels.
Lead Came is best for external windows as the cement makes it waterproof and hardy. Think Chartres Cathedral…
It it quicker than copperfoil if you're doing a big panel, and works out cheaper because solder is more expensive than lead. You use far less solder in the lead came process.
Artistically, lead is better if you like graphic designs, as it can be very straight and looks 'clean'.
Stained Glass Kits.
There are some tools that you need for both techniques – up to the cutting. But after that they differ. It is easier to start with a ready-made kit.
I've looked at lots starter kits for sale, and have recommended two that I like the look of – one for copperfoil, one for lead came. You can find out about them both here.
I could go on…. but I think that's answered your questions. I hope you'll come back and keep us up to date with your progress.