How to Solder Stained Glass
Stained glass soldering joins all your foil-wrapped pieces of glass together by running a bead of solder along each seam. It isn't the easiest technique to learn but it's one of the most exciting, as it allows you pick up and see your project for the very first time.
What You Need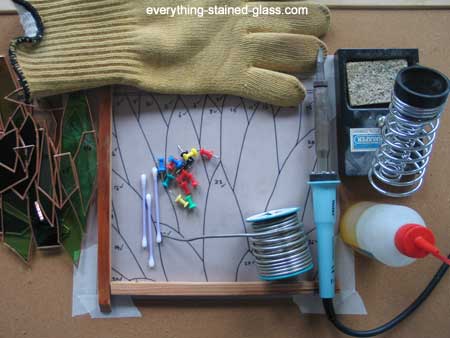 Flux
Wet sponge
Q-tips or a cheap brush to apply the flux
Your pattern
Homasote board (*paid link) or ceiling tile to pin your work on
Push pins (if your project isn't square)
Masking tape
*Just so's you know, if you click and buy through the link within 24 hrs I get a small % from Amazon, (not you!). Thanks in advance but no worries if you have a local store – I'd always support them first 🙂
Use a fume extractor or solder in a well-ventilated space.
Stained Glass Soldering
It's best to start by holding all your pieces together with small blobs of solder to hold them in position and stop them from moving about. This is called 'tack soldering'.
---
If you're having trouble with getting your soldering smooth there are a couple of techniques you can learn to improve it.
If you don't have a local class my Stained Glass Made Perfect course has helped many people achieve neater solder lines in their work. And we know how important they are! The course is self-paced and online so you can learn these soldering techniques even if you are unable to get to a class. You can find out more about it here Stained Glass Made Perfect.
---
1. Positioning the glass
Stick your tracing paper pattern on to the board and place all your foiled pieces carefully in position
If you don't have batons, tape them together in a few key places so that they can't move
If you have a homasote board and pins, you can pin them securely in place

2. Tack soldering
Use a stained glass soldering iron that is at LEAST 80 Watts (I use a Hakko FX-601 (*paid link)) and tack your panel together with soldering to hold it in place.
To do this, brush a little liquid flux on the crucial joins and melt one blob of solder on each of these joins
You're then save to remove the masking tape

3. Soldering the seams
This is not as easy as it looks in some videos! Don't worry if you're not making a perfect line straight away, it takes lots of practice to know how much solder to put on and how fast to move along the seam.
The 3 most important things to remember are:
good soldering is a balancing act between heat and time. If your iron is hotter you need to move faster. Conversely, if you prefer working more slowly then turn the heat down if you have a rheostat or change tips if you have a tip controlled iron.
to keep the tip of the iron silver and clean by wiping it on a wet sponge every now and again
to make sure you have enough flux to melt the solder. Keep adding more when necessary
What shall I do when I get to an edge?
If you want to put a zinc or lead came frame around the project, stop soldering 1/4″ short of the edge
If you're making a free-hanging sun catcher, keep soldering right up to the edge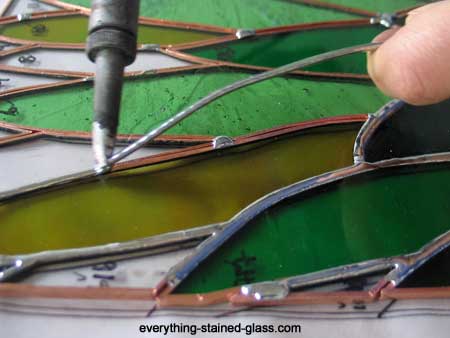 Brush flux along one or two seams to start with so that it doesn't evaporate. Don't put too much flux on as it can can get trapped when you solder the other side and bubble up, causing craters
 With the hot soldering iron in one hand and the solder in the other, move them both slowly along the seam together
 Position the solder a little way up from the end of the tip so that you don't accidentally stick it to the foil
The solder will melt and run down on to the foil
Make sure the iron tip touches and heats the foil too so that the union between solder and foil is as strong as possible
There should be enough solder to cover the foil and fill any gaps between the pieces. Filling these gaps with solder strengthens the piece.
Stop soldering by either moving the iron tip sideways on to the glass quickly (don't stay on the glass with the tip) or lift vertically off the seam
When you reach a join, don't stop! Follow the solder through in all directions about 1/2″, keeping each 'tail' hot. Return to each 'tail' and pick up the seam from there. It's neater if you pick up on a single seam than on a join
The solder should be beaded (slightly rounded) rather than flat
4. Making stained glass soldering neat
Sometimes the solder just looks a mess. Luckily, there's a technique that works like magic – the 'hold and lift' method.
Instead of moving the iron along with the solder, you keep it in the same place and allow the heat to work.

Flux the area and clean your tip to make sure of the best results
Hold the tip flat over the problem area for 2-3 seconds, and then remove it upwards
Magic! a neat join is achieved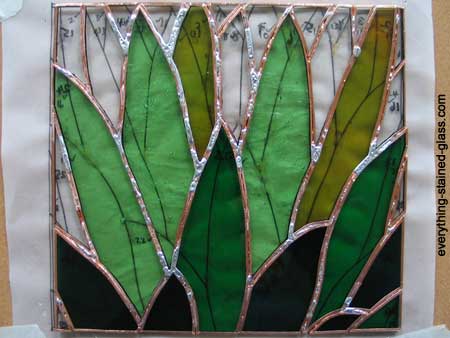 5. Soldering the reverse side
 Carefully turn the panel over. Some of the solder might have leaked through. That's okay, just make sure you use less solder in these areas
Repeat the process as above
If you need to rework any areas make sure you let it cool down first, clean and reflux. Otherwise it may leak through to the first side.
Stained Glass Soldering – Troubleshooting
My solder disappears between the gaps!
If your cutting isn't 100% accurate (like the rest of us!) and there's a bit of a gap between the pieces, solder will drain through to the other side. This isn't a problem, as you'll deal with it when you turn the project over.
Just keep adding small amounts of solder until it eventually beads up.

I've soldered the second side neatly, only to find that it has leaked through to mess up my first side. There's too much solder, how do I get it off?
Luckily, just as you can add solder to the seam, you can take it off too.
Move the tip of the iron quickly across the seam where there's too much solder, and flick it off onto a heat-resistant surface. You can always pick it up again and reuse it where needed.
Use the hold and lift method described in 4. above to neaten the area afterwards.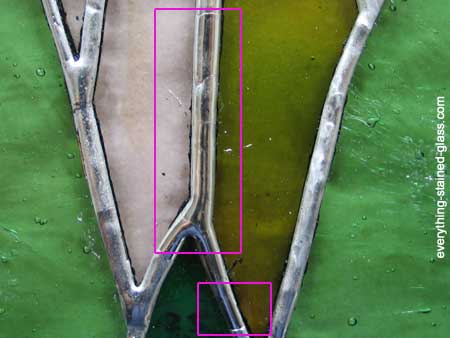 My flux doesn't work and the solder doesn't melt.
This could be one of 3 things:
the flux has dried up or drained away and you need to reapply it
your soldering iron is not maintaining temperature and you are experiencing a 'cold spot'. Be patient and it will get back up to top temperature. If you have a dial controller with or on your iron, turn it up a fraction and test it out.
the tip of the iron is dirty from the flux and solder, and needs wiping clean on a damp sponge to allow it to work properly. Sometimes the tips get a black residue on them which is difficult to remove. I use a tip cleaner to restore the tip to its shiny glory (*paid link)

The solder has stuck to the glass and I'm frightened it will crack it.
Don't panic! Brush flux over the solder and seam, and 'gather' it up with the hot iron by holding the iron on the seam. You're right, you will have to be quick so that the glass doesn't break, but it's unusual for that to happen.
*Just so's you know, if you click and buy through the * link within 24 hrs I get a small % from Amazon, (not you!). Thanks in advance but no worries if you have a local store – I'd always support them first 🙂
Helpful Resources
I've found this really great 3.45 minute video from Delphi Glass that shows stained glass soldering. Wow, this woman is good! Don't worry if you can't do it this quickly, that will take a lot of practice.
Stained glass soldering for copper foil
Once you've soldered both sides and you're happy with it, you're ready for either Zinc Framing or, if you're not framing your piece, Soldering Edges.
There's another page here that addresses some more Common Soldering Problems
PIN IT FOR LATER!