Improve Your Stained Glass Cutting Technique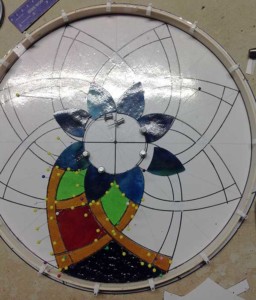 There are lots of factors that result in an accurate stained glass cutting technique. The angle of the cutter head, the pressure and consistency to name a few.
You know this but continue to struggle. Your panel grows bigger and bigger. There are uneven gaps resulting in untidy soldering seams. It's disheartening.
---
If you're experiencing all these little annoyances with your stained glass making there are ways to nail these basics once and for all.
If you don't have a class nearby my Stained Glass Made Perfect course has helped many people rectify these small – but irritating! – mistakes. The class is online and done in your own time so you can master all the techniques even if you aren't able to get to a physical class. You can find out more about it here Stained Glass Made Perfect.
---
 Click here to jump down to frequently asked cutting questions
Stained Glass Cutting Technique – Preventing Flares
Here are 3 quick ways to avoid those annoying flares that stop your glass pieces from fitting snugly together:
Always break glass with thumbs when you can, it makes the cleanest break.
For cuts going to a point try starting the run at both ends first before fully separating the glass. You'll hear a little 'click' as it opens the fissure – that's the glass telling you it's ready to break apart.
Whenever possible open the glass from where you ended, not began, the score.
You'll get a little flare at the pressure points of the pliers that can't be 100% avoided. These tricks will keep them to a minimum. Feel free to add any more tips of your own at the bottom of the page, thanks!
Stained Glass Cutting Technique – A Guiding Hand
Have you thought of using your non-cutting hand to help guide the cutter head? The weight from the cutting pressure holds the glass in place as you cut.
It really does make a difference.
I know, I know, you're taught to hold the glass with your non-cutting hand. You're told that the glass will move if you don't hold it. It's not that this is wrong, it's just another way.
Try This
Have a look at the Tiny Video Tip – taken from the Stained Glass Made Perfect Course – and see how accurate the cutting is.
Then try the method for yourself. It might feel mighty weird to start with but promise me you'll stick at it for a bit?
It will become easier the more you practise and it might be the accurate cutting answer you were looking for.
You just didn't know it!
Question: Gaps In A Complex Piece
I bought 3 of your stained glass courses which are very, very helpful. Because I have made quite a few pieces already and attended class courses, I thought I would try a more intricate pattern for my copper foiled piece. Everything is cut and foiled but I am worried about two areas (photos below) where there are slightly bigger gaps than ideal.
My difficulty is that I don't have any more of the white glass the daisy petals were cut from. I would recut the offending petal if I could. I hoped there would not be such a gap.
Do you think these gaps are small enough to ignore? And if not – how on earth do I sort it? Janet Leonard
Milly's Answer:
Trimming the foil around the gap to make it narrower is one way of approaching gaps. It reduces the width of the solder line, disguising the gap. It's an alternative to recutting all the glass again.
You could recut the two surrounding pieces (in pink, below) and trim the surrounding foil (in green) to reduce the gaps.
It's good not to be too rigid about gaps… sometimes, especially with flowers and organic subjects, the varying gaps add to the life of the piece, making it seem more alive. What in nature has regular gaps?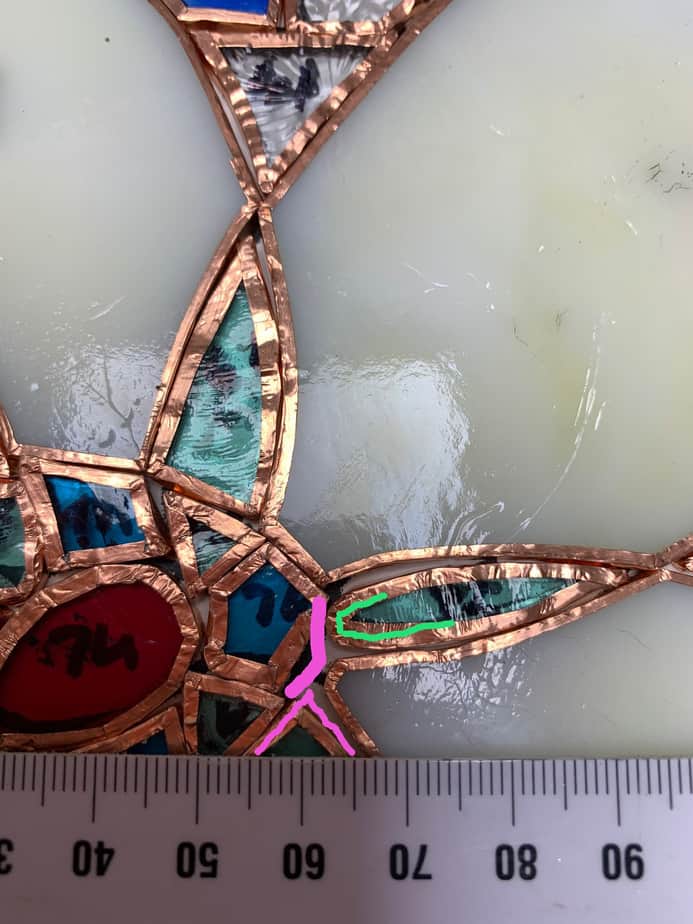 A Happy Ending
Here is a photo of the daisy panel, sorted as suggested by you. I did cut back the foil as you suggested but then decided to just recut that piece as well and I cut back the foil on the new piece.
Thank you very much indeed for your help. I am much happier now with the piece. The changes did take quite some time but definitely worth the trouble.
And here's a picture of the finished work in all its glory – it's stunning, isn't it?
P.S. I love that Janet took the bit of my advice that helped her and made her own decisions about the rest. That's what I want to see, you choosing what works for YOU  🙂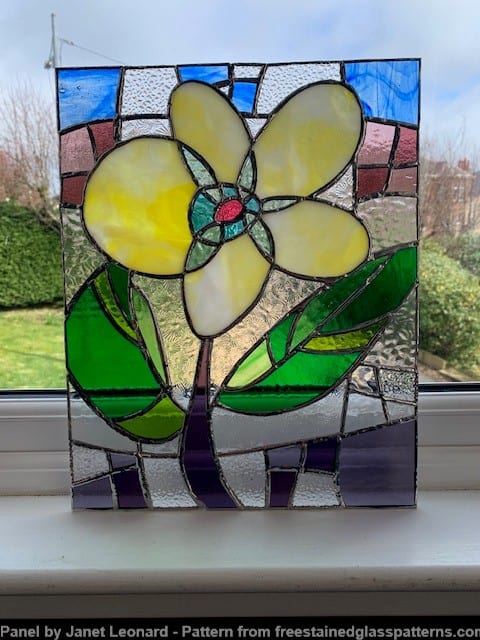 The pattern is a free pattern available from this website here:
Free Daisy Stained Glass Pattern

FAQ – Common Glass Cutting Questions Answered
Q1: Should you always cut textured glass on the 'back' side?
Milly's Answer:
There are no hard and fast rules although generally we cut on the non-textured side. If the textured side is smoother and better for cutting then use that side.
If you want the texture on the front of your finished panel and have chosen to cut on the non-textured side – don't forget to turn the pattern over before cutting.
Q2: My cut and foiled pieces never fit and have gaps, what can I do?

 
Milly's Answer:
Cutting Accuracy. Some methods of cutting glass are more accurate than others if you're a bit less experienced. For example the 'English' method – cutting on a light box – works better for the more experienced. Templates, on the other hand, are good for beginners. Have a look at the three different cutting methods here and try one that suits your level.   
Fitting Accuracy. With regard to the fitting, you may know that you have to leave a small channel (1mm for foiled work) between each piece for both the solder (to strengthen the panel) and the width of the foil (this adds a surprising amount to the size of the panel overall). Either or both of these can make the piece ill-fitting.
You can use pins to help keep the glass in place and keep the channel nice and neat, as illustrated in the photo at the top of this page. There's more about this pinning technique at Point 4 on this page here.
Q3: What's best, to cut all the glass at the same time or to work in sections?
Milly's Answer:
You can do either. You can:
a. cut all, check all for size and fit, then foil and solder all at the same time or
b. cut, foil and solder sections as you go along, fitting the sections together as you go
Soldering smaller sections is very helpful for those who have trouble with accuracy. 
Personally I prefer a. because I get to see everything in its entirety before I start the next process which gives the opportunity for adjusting colours and fitting.
I also find it easier and quicker to stick to one process at a time, especially for a larger panel when you'd have to clean and cover the foil and/or solder each time to stop so as not to invite oxidation.
Q4: I'd really like to know what kind of oil can you use in a glass cutting tool with a little tank? Can I use an oil I use in the kitchen (maybe canola?)
Milly's Answer:
Sewing machine,  2 in 1 oil or lamp oil work perfectly in oil-filled cutters. Cooking oils are too heavy and claggy.  I wouldn't recommend them for cutters.
If you have trouble with leakage you can bypass the barrel completely by using a small jar with an oil-soaked sponge in it. Simply dip your cutter wheel in every so often as you go.
Q5: Do you have any recommendations for pens to use for tracing patterns on dark glass. I have tried some paint pens (silver and gold) but they tend to get sucked under the stencil material and don't give a crisp line.
Milly's Answer:
You can use white chinagraph pencils. They're waxy and can be sharpened to a point to make a thinner more accurate line. It's never a crisp line though I'm afraid.
Cutting out and sticking templates on the glass is the best method for really accurate cutting of dark and opaque glass. You can see how to do the template method on this page here.
If you know anyone who would benefit from these quick tips, feel free to Pin on Pinterest or Share on Facebook with your friends. Thanks in advance.
For a whole host of Stained Glass Cutting Tutorials go here
Cutting Stained Glass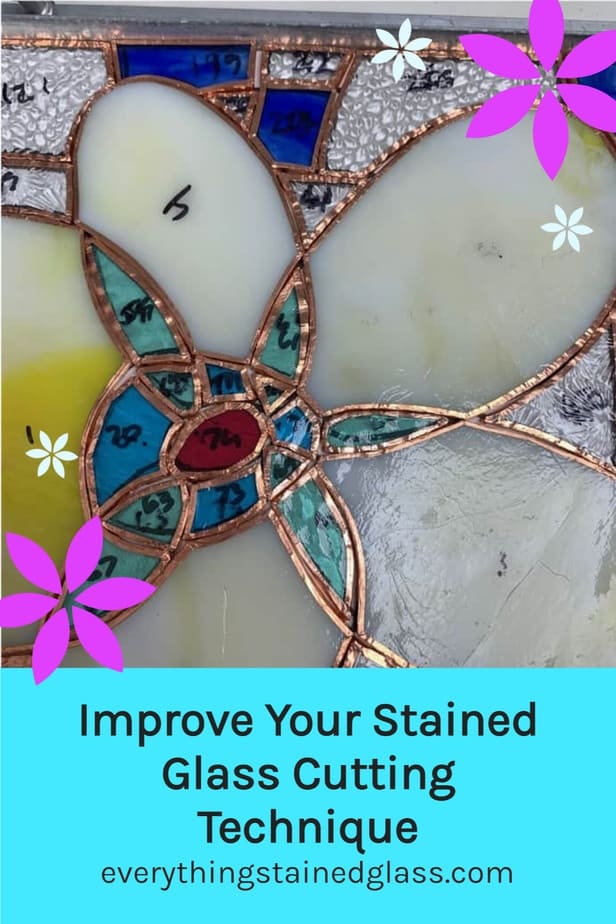 5 Ways To Cut Stained Glass
Cutting Stained Glass Circles
3 Methods For Cutting Glass Shapes
---